POSTED BY Jagoinvestor ON February 24, 2016
Indian Govt has brought a new amendment in the EPF rules, according to which the members will not be able to fully withdraw from their EPF before they reach the retirement age.
The maximum one will be able to take out is their own contribution and its interest (which was raised to 8.8% recently), and that can be done only after 2 months of ceasing employment.
The only exception shall be made for female members resigning for the purpose of marriage or pregnancy or child birth. I came across this news from Nitin Jain when we got an mail from his employer about this notification. Thanks for Nitin to send the notification PDF to me.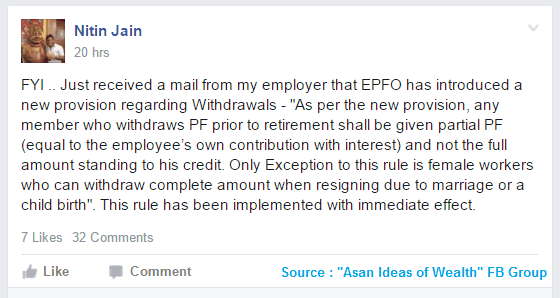 Below is the snapshot of the exact wordings taken from the notification which was released by the govt recently. please find out the PDF of the notification here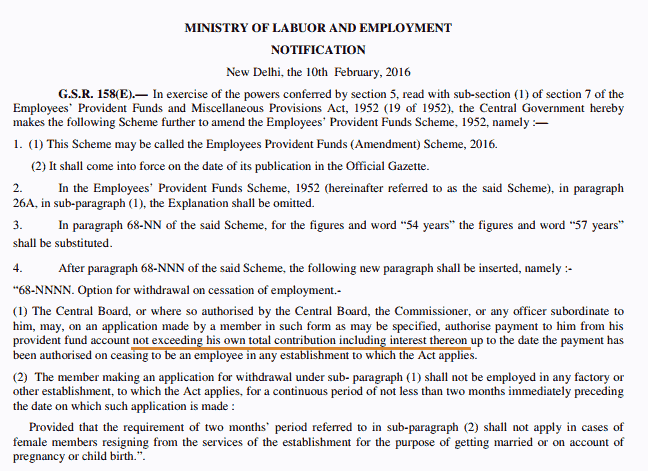 So whatever your employer is contributing to EPF and the interest on that part will be retained in EPF till the retirement age and you will be able to use it only at the end.
Many investors when they change jobs withdraw from their EPF's and till now they used to get the full amount. But this is not going to happen from now onwards. What this means is that if you have an EPF account, your relationship with EPFO is lifelong now, because your account will be active till you retire (or die)
This is not a sudden decision taken. It was properly planned many months back itself and there was news about this restriction coming up in future, however that time, it was said to be the limit of around 75% of the total amount, but now it's close to 50% only (employees share only).
Also note that as per the stats from EPFO; out of the 13 million annual claims pending with the EPFO, over 6.5 million claims are for 100% withdrawal, that's 50%. This means that out of every 2 claims which EPFO gets for withdrawal, 1 of them is for full withdrawal.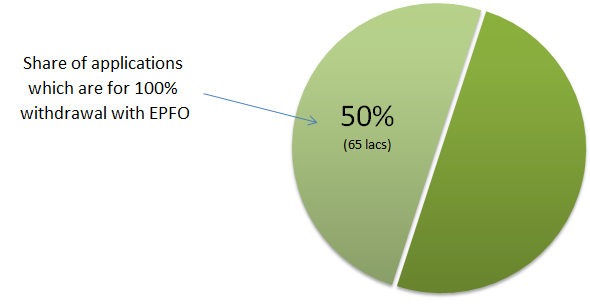 This means that a big portion of claim withdrawal applications was coming from people wanting to withdraw the full amount. Now with this new rule, the number of applications to EPFO will also reduce drastically.
Is this new change in EPF withdrawal rules Good or bad?
From an employee's point of view, the flexibility to withdraw the full amount (the painful process) has gone and now you can't just take out full money like you used to do earlier. EPF is a social security measure, and was designed keeping that in mind, but people used to apply for withdrawal the moment they changed the jobs most of the times, now with this new change, it will not be possible and in reality one will be forced to keep a part of their wealth in EPF till their retirement
No matter how much I try to think like an employee, my experience of working with thousands of investors tells me that it's a good move. PDF is the only saving at the moment, which happens by default for a salaried person, and even though one does not touch it for years, eventually a big percentage of the population always thinks of withdrawing the money on job change and the money gets utilized somewhere.
Retirement Age increased from 55 to 58
Another change in the notification is that the retirement age is increased from 55 yrs to 58 yrs, which means that one can now only consider themselves to be retirement from the EPF point of view once they turn 58 yrs. One can also apply for a pension only at that point in time.
This is a good move if you think long term. Consider a person who is 28 yrs old, and his salary is Rs 30,000 per month. Assume that his basic salary is 40% of the gross amount, which here comes to 12,000 per month. Now on this, he will get 12% of salary deducted as for the EPF and another 12% will be added from the employer which would total Rs 2,880 per month.
Now if the salary increment happens @7% per year and the return on EPF continues to be 8% per year, the person will retire with 80-90 lacs of EPF corpus at the time of retirement, provided he does not withdraw anything in between. However now even if the person chooses to withdraw the money in between, with this new rule the employer contribution is going to the restricted and one will bound to have 40-50 lacs at a time to retirement (with the assumptions above). Below is the chart which shows how the numbers move.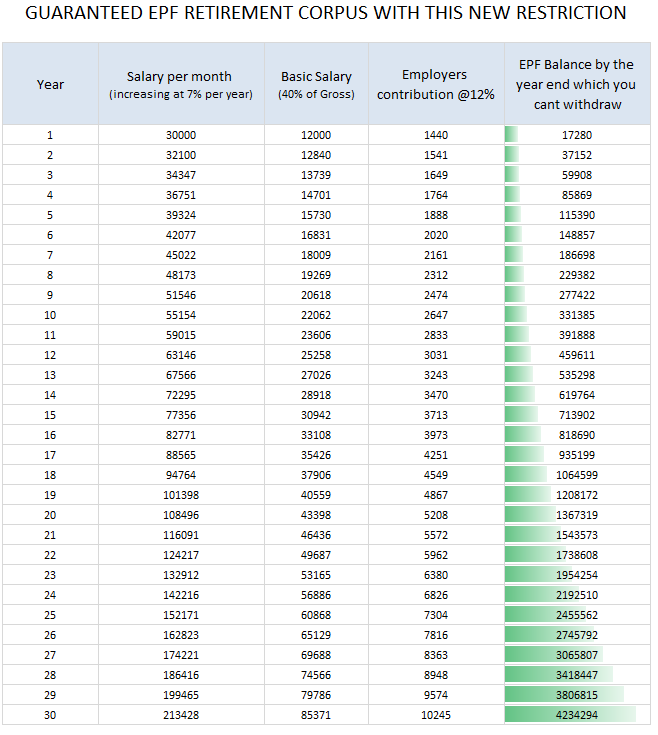 Note that the above chart is only for illustration purpose, The only point I want to make it a decent amount of money will be there at the time of retirement because of this new forced rule.
Please share what you think of this new rule. Do you think it's good or not? How do you react to this?