POSTED BY Jagoinvestor ON December 9, 2015
Here is a great news for all EPF account holders. EPFO has come up with new and revised forms using which EPF withdrawal process is now super easy and can happen without employer signature or any involvement. Now you can directly submit the EPF withdrawal forms and the settlement will happen directly into your bank account.
Earlier, the EPF forms were first sent to employer for their verification and signatures, which used to take a lot of time and many a times employers used to harass employees because they had the power to block the EPF withdrawal. However with these new changes, withdrawing from your EPF account is going to be very easy and fast and now it makes a lot sense, because EPF should not be linked to employer anyways. Few months back, with the concept of UAN, the EPFO had anyways delinked the EPFO from the employer to some extent, and this move looks like an extension to that.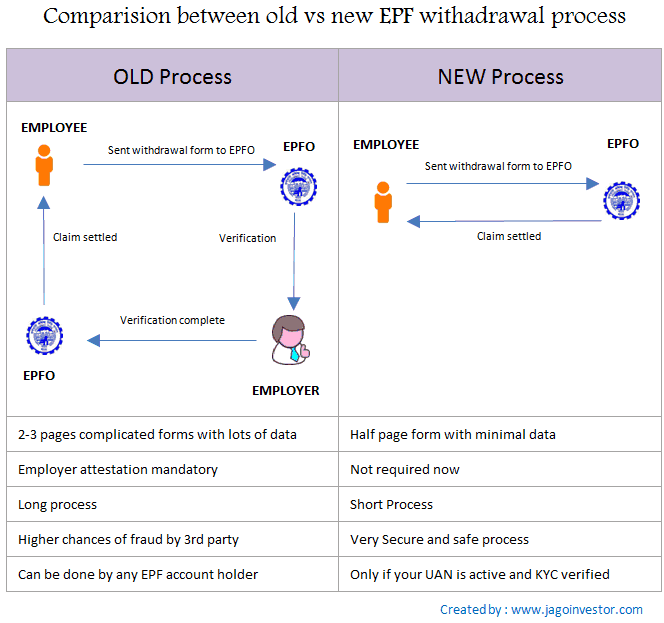 New Forms – 19 UAN, l0-C UAN and 31 UAN
EPFO has issued 3 new forms which will be used for as follows
Form 19 UAN – You can fill this form to withdraw from your EPF at the time of retirement or leaving the job. Taking our money from the EPF is allowed only if you are unemployed for 2 months. So in case you just change a job and join a new company within 60 days, you can not offically withdraw from EPF, You need to apply for EPF transfer in that case
Form 10-C UAN – You can fill up this form in order to withdraw from your EPS amount. EPS account is a seperate account linked to your EPF which is for the purpose of pension. Note that one is allowed to withdraw from EPS only if your EPF is not more than 10 yrs old.Check more details on this here.
Form 31 – UAN – This form can be submitted if you want to partially withdraw from Employee providend fund (EPF) account for the purpose like marriage, house buying or medical emergency. There are different rules for different situations. You can check more details on this in this article
Note that there exist forms 19, 10C and 31 already (without the word UAN), but now the new forms end with the word "UAN" to differentiate between old and new forms.
Who can fill up & use these new EPF forms?
Here is the catch!. The new EPF forms can be used by only those employees who fulfil following two conditions
UAN must be active and should be linked with aadhaar number
Your KYC details (especially bank account number) must be verified by employer using digital signature
If the above two points are true for you, only then you can use these new EPF withdrawal forms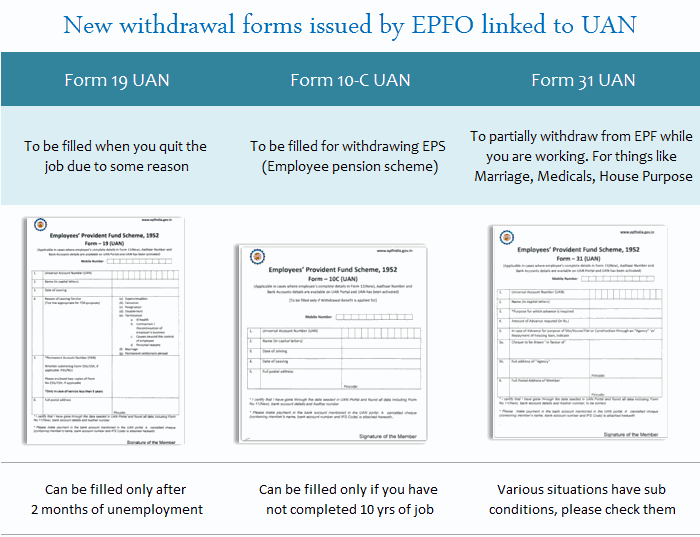 Step by Step process of withdrawing money from EPF account
Let me help you with the steps of EPF withdrawal now. For the sake of explanation, we will consider the case of Form 19 UAN, which is used to withdraw the EPF money once you leave the job or are retired. The same process is used for the other forms as well.
Step 1 – Make sure your UAN is active and KYC details are verified
These new forms can be used only by those whose UAN is active and all the KYC details are verified by employee as explained above.
Hence, the first step is to verify your eligibility. For that, you can go to http://uanmembers.epfoservices.in/ and login with your login and password and then go to Profile->Update KYC Information, where you can either update the details or check them. It looks something like the below example (thanks to my close friend who has passed his details to me for creating this snapshot)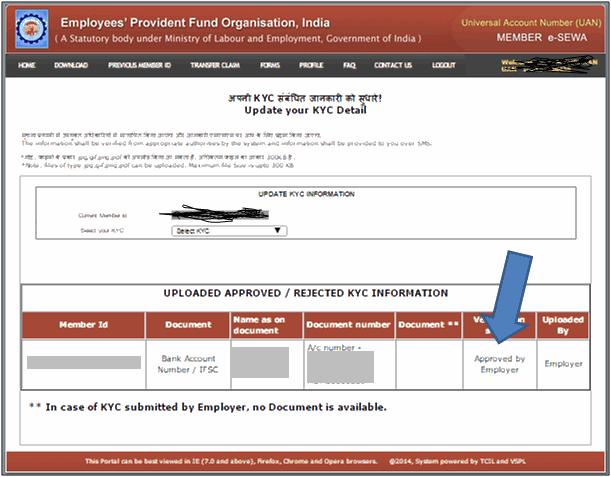 In case, you have more than two UAN allotted to you, then you should discard one of them and should be using the latest one provided to you by the current employer.
Step 2 – Fill up the EPF Withdrawal form and send along with cancelled cheque
Once you have verified that all the details are fine. You can then fill up the form. Below you can see form 19 UAN as an example. One has to provide the Mobile number, UAN number, date of leaving, the reason for leaving the service (make sure you choose it properly, because TDS will be applied depending on that reason),PAN & full postal address.
Note that apart from this form, you also have to attach the cancelled cheque of the bank account which is mentioned in the UAN KYC details.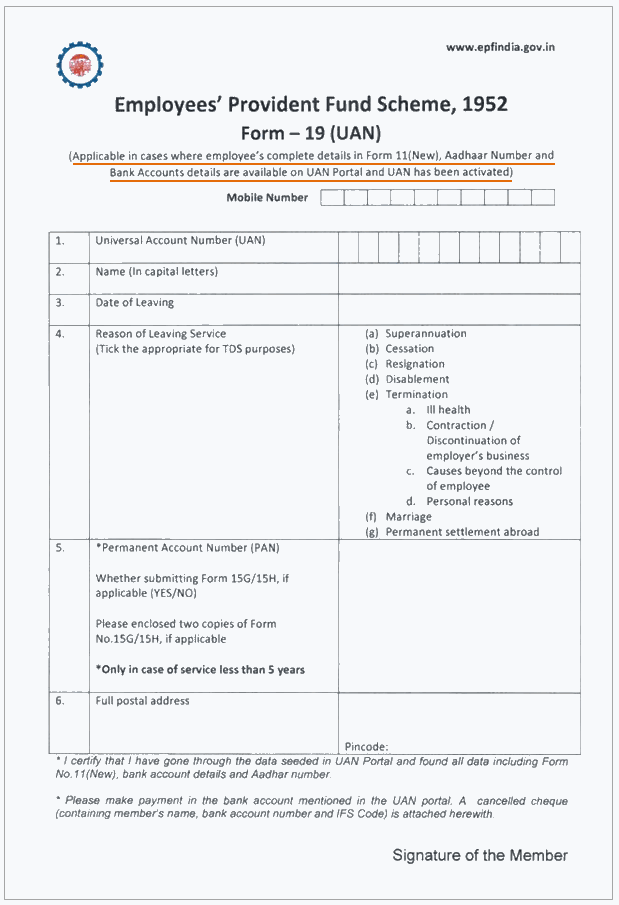 Step 3 – Send the form to the EPF jurisdiction office
Finally, the last step is to submit this form, along with the cancelled cheque to the EPF office which comes under your jurisdiction. The simple way to find the exact address of the regional EPF Office is to go to http://search.epfoservices.org:81/locate_office/office_location.php and enter your state and district of the office where you work/worked. You will get the full address. You can then courier the documents to that address.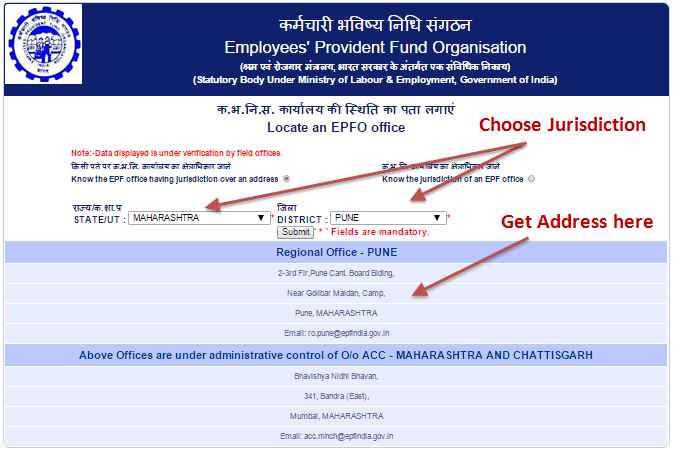 The above 3 steps will help you to withdraw from EPF money easily. If you want to withdraw your complete EPF amount, then you need to fill up form 19 UAN and form 10-C and send both of them.
BONUS – Fill up form 31 UAN to withdraw from EPF for purpose of buying house
Let me also share one very important thing related to buying house or repayment of house loan through EPF amount. Form 31 UAN can be filled for partial withdrawal for the purpose like buying house, repaying home loan or things like medical emergency or marriage at home. For more on this, please look at this article.
You can see the snapshot of form 31 UAN below. If you look at 4th and 5th point, you can clearly see that you can take the money directly in the name of the "agency", which can be the builder or the company which is helping in construction of house. The cheque can be taken for that.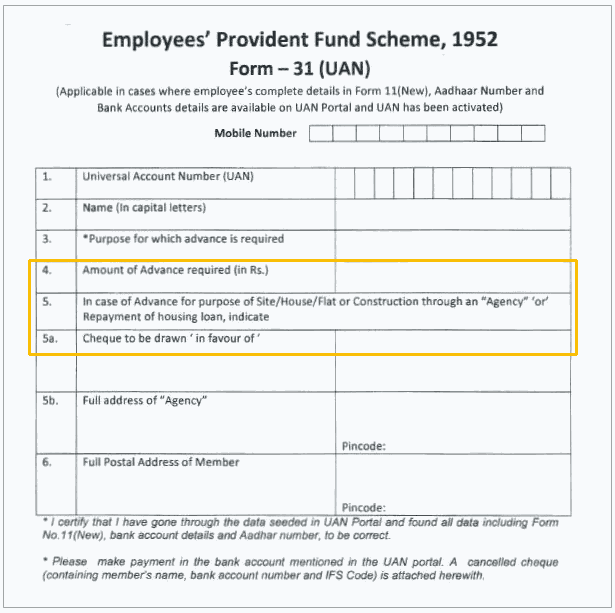 EPF Withdrawal process to be online very soon
I hope you are now clear about these EPF withdrawal forms and how to fill them up. Note that very soon these facilities will become online, it's just a matter of time. Once that happens, the process will be much smoother and fast, because things will become online.
Let me know if you have any doubts or any questions on this topic. Do you think these forms will help in EPF withdrawal a bit faster?