POSTED BY Jagoinvestor ON March 20, 2020
As I write this, Coronavirus is already spreading in India and there have been 148 positive cases in India. 3 people have died.
Coronavirus is spreading across the world and has killed so many across the world (especially China, Italy, Iran, and Spain). A lot of us have bought life and health insurance policies and the natural question you might have is "Does my insurance company cover coronavirus?"
And the good news is the answer to that is "YES". I also called up the customer care of my term plan and health insurance companies and got a confirmation in audio format which is there below if you want to listen to it.
Almost every life insurance and health insurance policy will be covering coronavirus related claims and policy holders don't have to worry about it. Even IRDA has issued a guidelines against coronavirus and how insurance companies should deal with it in its recent circular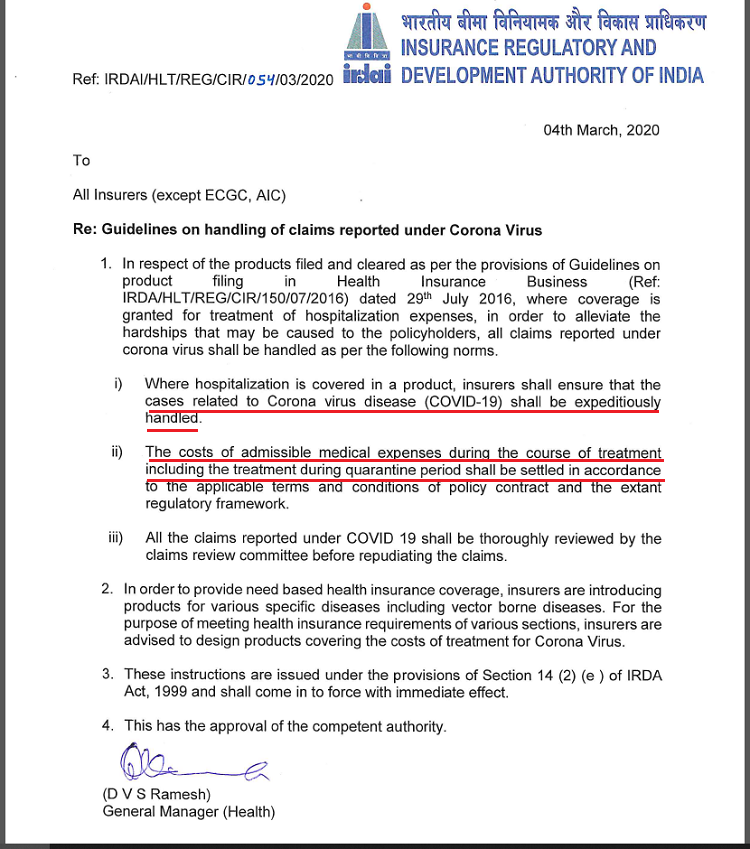 Life Insurance & Coronavirus (Covid-19)
I just called to the customer care of the insurance company from where I had taken term plan and they told me clearly that the entire claim because of coronavirus will be paid and we do not have to worry about it.
Here is a clarification from Aviva Life Insurance on Coronavirus coverage
Death from these kinds of natural calamities and illnesses are covered in life insurance. So if you have a running life insurance policy, you should not worry about it at all. The claims will be paid
Health Insurance & Coronavirus (Covid-19)
Even in health insurance policies, the claims against expenses for coronavirus treatment and quarantine will be covered. However, when I called my health insurance policy company, they told me that while the treatment in recognized hospital will be surely covered just like other illnesses, the treatment at home will not be covered (this was Religare Care)
Here is a clarification from the customer care of Religare
One of my teammate at the office have the policy with Birla Sun life and they got an SMS which clearly told them that they need not worry about it and its covered. Here is the snapshot of the message –

So, I think you should not worry at all about its covered by your health insurance company, however, you may want to call your company customer care number and verify in case you want to be double sure about it.
Get clarity from your Insurance company
Only the active insurance policies will be cover coronavirus related claims. If someone is in between the purchase of the policy and gets the virus, the policy might not cover it. Please get clarity on this from insurance company. Also on some articles, I read that some health insurance companies may not cover a disease that is declared as an epidemic or pandemic by the World Health Organization (WHO).
So to be double sure about it, it's better to go through your policies and check this on your own with customer care.
Do let me know what you think about this matter and if you have any more questions.