POSTED BY Jagoinvestor ON March 22, 2012
Are you planning to buy a term insurance for less than 50 lacs of sum assured? I would suggest better take it for more than 50 lacs sum assured and there are two main reasons for it- which I will share with you in a moment. A lot of people who want to split their life insurance cover into 2 policies, split it in such a way that the sum assured of both the companies are below 50 lacs.
For example– If you want to take a cover of 80 lacs, you might want to take 40 lacs from first company and another 40 lacs from some private company, or any similar combination. But did you know that the premium you would be paying can get you much more sum assured than you had imagined. It might be the case that you can take 60 lacs life cover from each company you were planning and still pay the same premium. So now lets see in detail those 2 reasons why you should be taking a sum assured of more than 50 lacs from a particular company term insurance plan.
Reason 1: Discounted Premiums For 50+ lacs Sum Assured
Have you ever noticed how the premiums for online term plan keeps on increasing till you move upto 50 lacs, but the moment you reach 50 lacs and move beyond, the premium suddenly reduces? Now you must be thinking, what logic on this earth makes premium for 60 lacs policy lesser than the premium for 40 lacs? See an example for recently launched Bharti AXA eProtect online Term insurance plan. The premium changes when you change the sum assured from 40 lacs to 60 lacs for 30 yr old make with 30 yrs tenure.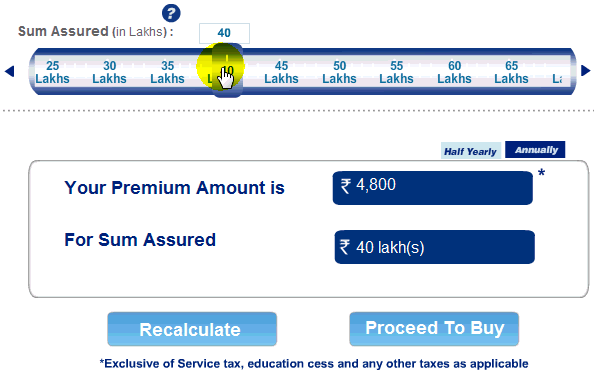 Why the premium reduces when the sum assured increases beyond 50 lacs? Sourav Shah of Aegon Religare helps us to understand this –
At higher insurance rates, the medical tests are compulsory for most companies. Mostly this limit is over 49.99 lakhs. So as such when a customer goes for medicals, the company is sure that they are insuring a better quality of life with a higher life expectancy. As such the risk with insured population of customers undergoing medicals and being issued a policy, is much lower than with customers who opt for lower sum assured and are not required to undergo medicals.

It's a risk-reward mechanism. The company offers an incentive to the customers to undergo medicals by offering lower charges for higher cover. Only people who do not have enough time to go for medicals opt for life cover of lower amounts where premiums are higher. But this doesn't mean that customers who do not undergo medicals and pay higher premiums should worry at all. Once they have declared all details correctly to the insurance company and are issued a policy, they are as secured as those customers who have undergone medicals. Also the medical costs are borne by most companies. For instance AEGON Religare bears the cost of medicals for all customers.
So from this statement what I can understand is that if you take the policy for more than 50 lacs, the company makes you go through medicals (mostly all of them) and that way they can sure at the start itself, if they want to issue a policy to you or not. In case you go for lower sum assured, then they charge higher premium because they dont make medicals compulsory! . So this reason for lower premium for more than 50 lacs should be the first reason why you should opt for more than 50 lacs cover. As you can see from the snapshot above, premiums for 40 lacs and 60 lacs are almost same, so why settle for 40 lacs ?
Reason 2: Medicals are compulsory for Term Insurance of more than 50 lacs
It's mentioned that even those people who do not go for medicals, don't have to worry about their claims if they are not around, because they are generally paying more premiums, for the reason they don't have more than 50 lacs of cover. However, personally I think it's a grey area despite all the regulations. Let's take a case, suppose you are suffering from high BP, but you are not aware about it and then you take a term plan for 30 lacs where in there are no medicals and in the declaration you mention that you don't have any illness, because basically you are not aware about your own illness. Now in this case, what difference does it make if you are really aware about it yourself or you are not aware about it. Later on after 5 yrs suppose if you die, then company can prove the point that you had high BP at the time of taking the policy, but how will they prove that you were aware about it or not.
You all know that ICICI iCare has no medicals in their term plan upto sum assured of Rs. 1.5 crores and that's the reason why their premiums are higher than other companies term plans because they factor in this point that there would be many people with illnesses. Some might be aware about it and some might be not. But today if you have the option of clearing things in black and white and have your medicals done, then its better that you do it, so that tomorrow there is no chance of any confusion and repenting (oh .. you will not be around even).  Even Sourav Shah of Aegon Religare thinks alike .. here is what he says about this "no medicals" term plans.
Yes, you are right. A term plan without medicals will obviously factor in the cost and be planned accordingly. But it dosent mean that there should be problems at the time of a claim. If the customer at the time of taking the policy declares all facts correctly then there shouldn't be a problem. But as a personal view Yes, I would definitely recommend that a customer goes for medicals and then applies for a term plan as this leaves no room for ambiguity or any doubt that the customer was absolutely healthy when he undertook the plan. But then this is strictly my personal view.
So were you planning to split your term plan and take two term insurance plans for less than 50 lacs? Better take plans for more than 50 lacs each and mostly it will not affect the premiums. What do you think about these 2 points which I have mentioned? Do you agree about these points about term insurance !