POSTED BY Jagoinvestor ON May 17, 2014
Good News! . Finally LIC Online Term plan is launched. The name of its online term policy is LIC e-Term and can be bought via LIC Direct initiative. Investors community was waiting for this online term insurance from LIC from very long time and finally many will buy the term plan to cover their family. In this article I want to give you a crisp review of LIC Online Term plan.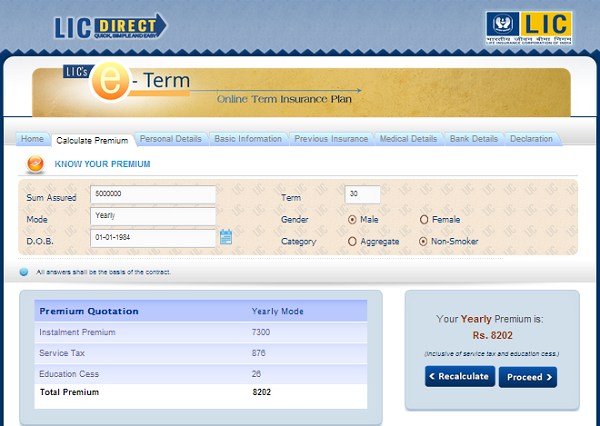 Let me share some of the features of LIC Online
1. Completely online buying – without agent help
Like any other online term plan, LIC e-Term is completely online term plan. You just need to calculate your premium, give your details online and then buy the policy by paying the premium. Incase you need to appear for medical examination, that will be done offline.
2. Different premium for smokers and non-smokers
There are two categories of premiums which will apply. The first one is called Aggregate category which will apply for all those who will choose the sum assured between 25 lacs and 49 lacs (it does not matter if you are smoker or non-smoker) . This category has to be chosen if you are smoker anyways (incase you take more than 50 lacs of sum assured)
The next category is non-smoker is called Non-smoker if are choosing sum assured more than 50 lacs and if you are a non-smoker.

3. Eligibility Conditions and Other Restriction
Minimum Sum Assured : Rs. 25 lacs for Aggregate category and Rs 50 lacs for Non-smoker category
Maximum Sum Assured : No limit
Minimum age at entry : 18 years (completed)
Maximum age at entry : 60 years (nearest birthday)
Maximum cover ceasing age : 75 years (nearest birthday)
Minimum policy term : 10 years
Maximum policy term : 35 years
4. Cooling-off period
If the Policyholder is not satisfied with the "Terms and Conditions" of the policy, the policy may be returned to us within 30 days from the date of receipt of the policy bond stating the reason of objections. On receipt of the same the Corporation shall cancel the policy and return the amount of premium deposited after deducting the proportionate risk premium for the period on cover, stamp duty charges, expenses for medical examination and special reports, if any.
Cheaper Premiums of LIC Online Term Plan
The great news is that LIC Online term plan premium is much cheaper than the offline version of its term plan. If you see the premium rate charts, you will see the premiums for LIC e-term is around 20-30% cheaper then the offline version.
For example – The Yearly premium for LIC online term plan for 50 lacs sum assured was Rs 7,300 (for 30 yrs old male and for 30 yrs term), compared to Rs 11,600 for the offline version (LIC Jeevan Amulya II) . For the same profile HDFC Click2Protect charges Rs 6,000 , so LIC online term plan is around 20% costlier to HDFC Click2Protect plan.
Here is the graphical comparison for the premium difference between 3 policies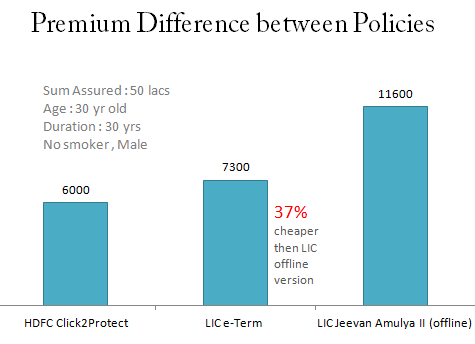 Details you have to provide for taking LIC online term insurance ?
When you buy the online term policy from LIC, here will be few things required. Those are as follows
Details about your occupation/ Educational qualification
PAN number
Your Income Details ( Form 16 / ITR for last three Years or P&L Account)
Details of all your previous life insurance policies (like policy number, sum assured, plan etc) taken in last 3 years.
Details of family members like age, state of health, age and cause of death (if applicable)
Details of your medical history including illnesses, injuries and any medication.
Bank details like Account number, MICR code etc.
Can NRI take the online term plan from LIC ?
Yes, NRI's can also buy the term plan from LIC, but it clearly mentions that they will have to be present in India for medical examinations.
Step by Step process of buying LIC Term plan online – VIDEO
You can just go to this LIC eTerm Page and start the process of buying the plan. Below you can watch a 10 min video on how to buy LIC online term insurance policy in step by step manner. I have explained more of the things in the video itself.
Comments on LIC Platorm and overall experience
I have gone through the overall form filling experience and I find it well researched and thorough. LIC has taken a lot of time to come up with platform. Given the popularity of LIC and the trust of its customers, LIC will surely be going miles and will gain millions of new customers. Investors now are well aware of the importance of term plan and its popularity will only grow overtime.
Are you buying the LIC Term plan ? How did you find the review ?