POSTED BY Jagoinvestor ON April 14, 2014
This is a bit old news now – but a lot of you might not know that LIC has relaunched their Term plans (offline) few weeks back. LIC has two term plan policies now called Anmol Jeevan II (below 25 lacs sum assured) and Amulya Jeevan II (Above 25 lacs sum assured) , and now both of these are relaunched (earlier one was Jeevan Anmol I and Amulya Jeevan I) to make sure that they comply with new IRDA regulations which came some months back.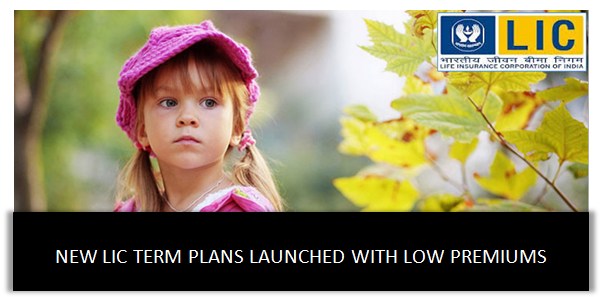 The main change in the new term plan and the old term plan is – that SINGLE premium option has been removed from these term insurance policies and the premiums have dropped due to change in mortality rates, which was due from long time for LIC to adopt (that was the main reason why LIC term plan premiums were very high compared to other companies)
Lower Premiums for New LIC Term plans
For the simplicity purpose, in this post we will just talk about LIC Jeevan Amulya (Sum Assured above 25 lacs) and not LIC Anmol Jeevan.
So now the premium is lower.  Consider an example where a 30 yr old person wants to buy a 25 yr policy . In this case the old LIC Amulya Jeevan premium was Rs 292 for every Rs 1 lac sum assured, however in the new Amulya Jeevan , its only Rs 196 , which is a reduction of approximate 33% .
Now with this new rates – if a person wants to buy Rs 1 crore term plan with LIC – then it can be bought at only Rs 19,600 , compared to Rs 29,200 earlier !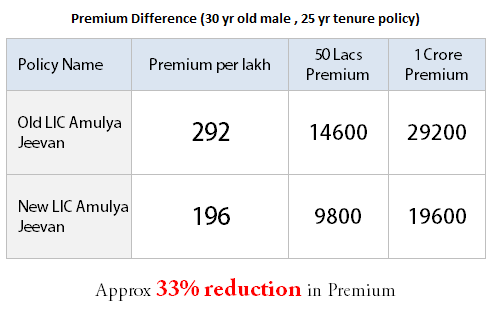 Is LIC Term plan premium lower than other companies? 
No , LIC Term plan is still one of the highest even after reduction in its premium rates, but if someone is hell bound on buying a term plan from LIC only, then its a great news for them. If you consider other private companies – then the premiums are much lower for other companies like Bharti Axa, Aviva or HDFC Click2Protect . For example – A policy of 1 crore sum assured (25 yrs tenure) , most of the other companies will charge below Rs 10,000 per year, however in case of LIC its Rs 19,600 which is almost double .
Already bought old term plan from LIC long back , Will your future premiums be lower?
I dont think so, if you already have bought LIC Amulya Jeevan Term plan some time back, you will be paying higher premium which was decided at the time of buying and you will continue paying that only. So now its your choice if you want to re-purchase a new term plan or not, But better check the premiums difference in case you plan to repurchase it now , because if you re-purchase it now, your current age will be considered and it might happen that the premium difference is not much for you.
So now – if you still have not bought a term plan , and if you are only interest in LIC term plan, then its a good time to buy the term plan from LIC – go ahead !