POSTED BY Jagoinvestor ON January 20, 2014
2014 has started, and I wish you all a Happy New Year!. We are into the 4th week of our Investors Bootcamp and I recently brought up a very important point there, which was, "What is the that one thing which stops you from saving for retirement?".
When I dove into this topic and heard the responses from some of our Plan F participants (senior participants), I came across a simple reason, which can really destroy someone's hopes for a comfortable retired life.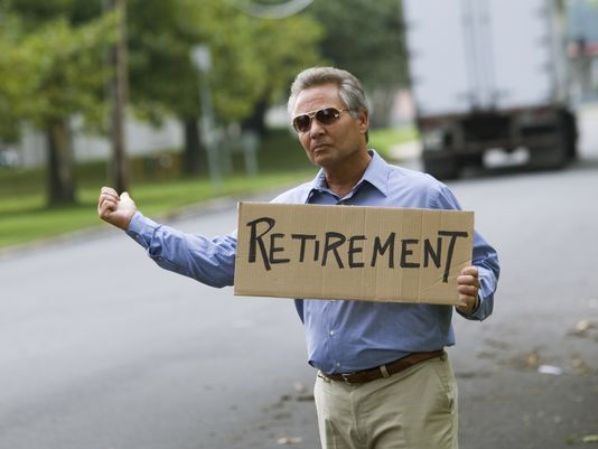 I was late to realise that I was very late
When I ask someone, "Have you starting saving some money for your retirement ?", I hear a "NO" and the justification for it is – "I still have a lot of time, so why hurry? I am just 26 right now".
I say – "Fair Enough, makes sense"
And then I put this question to the same person 5 years later, and the answer is – "I still have lots of time, so why hurry? I am just 31 years old".
I still say – "Makes sense, at least for now".
But you know what? There comes a time, where you suddenly realize that "Oh my god, its a bit late now", because all the time you were thinking – "I will do it later" and never realize that its getting late. Remember, "Someday" is code for "Never". When you have 30-35 years in hand for a goal like retirement, that goal is so distant that you feel it is idiotic to plan for it right away.
You feel, "let the right time come", but you do not know what the right time is going to be. Is it when only 20 years are left? Or is it when 10 years are left? Or when only 5 years are left?
This is exactly the same situation as when you have to provide tax investment proofs to your employer. When you have 20 days in hand, you feel there is a lot of time. Then 10 days pass and you feel "It's just few hours of work, I will do it very soon".
This procrastination continues, and you keep convincing yourself that whatever time is left is more than ENOUGH. Then suddenly, when there is "just enough time left", something else comes up unexpectedly – some important work surfaces, or you have to go somewhere, or you catch fever and you eventually miss the deadline. Now you are thinking, "I should have started early; I lost time, thinking there is enough time ahead".
You wait for the "Right Time"
Unsurprisingly, you repeat this behavior when planning for your long-term goals, especially ones like retirement. We put off thinking about it because the retirement event is so distant in the future that it sounds comical to even plan for it now. So, we wait for the "right time", but never declare that "right time" to ourselves – it's just a concept in our head that never gets real.
Ask any 25, 30, 35 or 40 year old about their retirement, and they will say – "I still have enough time ahead", let me think about other important things right now". Then they turn 45 years old, things get serious and they "start" considering doing something about saving enough money. This is the first time, they realize – "I think its high time now, I should make a start towards my retirement planning". Again 2-4 years pass, they are now touching 50 years, and then the PANIC mode kicks in, because they can see very clearly that they will run out of money in their retirement.
It suddenly becomes clear to them that time has flown and that the "right moment" to start saving money for their retirement was years ago. They have taken care of most goals in their life, but they have forgotten to protect their own retired living. All the time when they could have really taken risks and could have grown their wealth has passed. Now they just want their money to be safe and this is obviously a situation where you can only get sub-optimal returns.
At this point they have no choice but to live out a life of regret. Even if they do not wish to depend on their kids, they still have to.
30-30 rule to retirement
In my 2nd book – "How to be your own financial planner in 10 steps", there is a full chapter on retirement. While writing that chapter, I was stuck at one place where I had to show the reader, the flaws in their default thinking about retirement planning and explain to them that they should start planning while they were young. After a lot of thinking, I came up with a rule called "30-30 rule of Retirement Planning".
The rule states that an average person works for 30 years and then, after retirement, lives for another 30 years (just a benchmark number). Imagine you are 30 years old. You will work for next 30 years (till you are 60) and then you will live for another 30 years (till the age of 90). For the first 30 years, you will earn and consume the money. For the next 30 years you will not earn, but will still consume money.
Right now, I imagine you are earning, but it is still tough to run your life – there is no surplus money left, you are still not able to achieve so many things. If this is the situation right now when you are "making money", what about those 30 years, when you will not earn a penny?
You earn for next 60 yrs, not just 30 yrs
I know all this sounds terrifying, but you have to realize that, at any cost, you have to earn for the next 60 years of your life (30 years of working life + 30 years of retirement).
So now lets look at your 60 years in two segments of 30 years each – the first 30 years is PHASE A (earning and consuming) and next 30 years is PHASE B (not earning, but still consuming).
Now Map each year of this Phase A with Phase B and what you earn in this year X (2014), some part of this money has to be saved for the respective X + 30 year (2014 + 30 = 2044). What you earn in year 2015 has to feed you in 2015 and 2045 (+30 years). Only if you save each year, will you be able to fund the companion future year, which will be exactly after 30 years.
Look at things like these.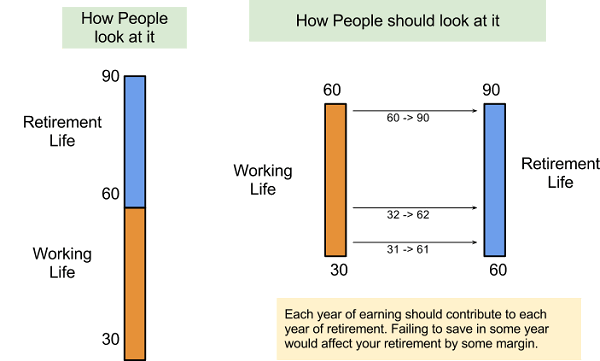 (Image comes from – "How to be your own Financial Planner in 10 steps" book)
So it's very clear that if you lose the next 10 years, then the pressure of retirement saving will build up on the next 20 years of your life. If you lose 20 years of your working life and do not save anything for retirement, then the last 10 years have to shoulder that burden and you will have a punishing time ahead.
Benjamin Franklin once said – "You may delay, but time will not". You are probably heading for disaster if you are living in this myth that you will save a lot later when the time comes. It never happens.
So sow some seeds right now for your retirement. Buy a piece of land, start planning for a second home which you will use to get rental income, start transferring at least 10% of your income each month solely for the goal of retirement, build an additional skill so that you can earn more in the future, marry a working spouse and don't blow your money each weekend on that movie which you knew was not worth it! Start taking small steps
You have to ensure that by the time you turn 40, you should have at least a small retirement corpus – this should be your first milestone.
Are you all set to save enough for your retirement corpus? Are you sure you will not get trapped in this "right time" thing ?