POSTED BY Jagoinvestor ON September 9, 2013
One of the biggest traps for real estate buyers are "Sample Flats". When you visit properties sites to inquire about any under construction properties or ready for possession flats, the builder or the sales person there shows you a "Sample Flat". The moment you look at a sample flat, something happens to you. The sample flat is so beautiful and mesmerizing that, you feel like you are in love again, some kind of beautiful music starts playing in your head and for a moment, you visualize the future with your family living within that same sample flat and how you and your loved one's are enjoying the ambiance and premiumness the sample flat offers.
You are delighted !
But – This is trap, set by Builder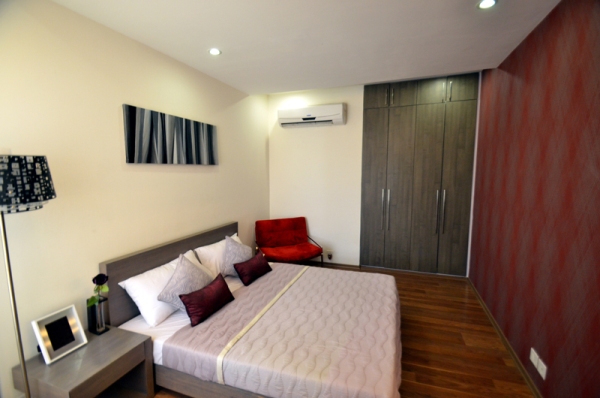 Why you get trapped ? 
Because you are human, you have emotions and you have lots of dreams for your family and yourself. Because in this competitive society, you have to grab your share of status and show to the world, that your time has come finally! .
Builders know how to exploit the human psyche and how to manipulate your aspirations. Every person wants to give himself and his family the best housing and the most spacious and premium living conditions – a fact, well known to the builder. When they create sample flat, all these things are kept in mind and the sample flat is constructed in a manner that makes you fall in love with it at the first sight. The builder's goal is to ensure that your emotional mind is activated and prevents your rational mind from questioning things or think hard. You should be hypnotized! . Check out this guy sharing how his builder did not fulfill his promise
Lets look at 2 important points you know should be aware about the so called sample flats, which can save you from potential disappointment some time in future when you hunt for your dream home.
Trick #1 – Sample Flats are created to look more "Spacious"
Everyone wants a big house at a lower cost. Given there are 4-6 people in family on an average and lots of belongings in home, a bigger house is always preferred than a smaller one. You should have space for all the things you have at home, without making your home look cluttered. So few tricks are used to make sure that the sample flat looks more spacious artificially! . Here are they
There are no doors in toilets and bathrooms, and some of the walls are merely glass partitions, which creates a visual illusion of more space.
There are no doors between rooms in a sample flat, which makes the flat appear more spacious than it really is.
The ceiling is much higher than the real flat and is just increases the volume of sample flat, thus giving a feel of space.
The lighting using in sample flat is suggested by interior designers, who are experts in creating optical illusions.
The furniture used in sample flat is kept smaller, so that in comparison the rooms and kitchen looks bigger.
Even the other things like bed, almira's and dining table in kitchen are placed in such a way and are of smaller size, to give a feeling of more space.
The walls are much thinner in sample flat, compared to the real flat, which again gives more spacing. They are known to use gypsum boards and not the real cemented wall.
What you should do ?
Once you visit a sample flat, the first thing you should do is slow down and stop yourself from getting biased by the spacious feel of it. For a moment, consciously tell yourself that you know its not reality and a kind of trap (remember 3 idiots – "All is well, All is well") . Visualize the furniture, bed, kitchen belongings, all the almira's you own at home. Your Sofa, your TV, your Waching machine and Refridgerator and every thing you own and ask where will you keep it ? Also consider those new things you might buy before moving to new property ?
If you are seriously considering buying a house, then actually mark places where you will keep what and check the space it will take (mentally atleast) . Seek help from ladies at home, because they have a better understanding of minor details and can tell you, if the flat will be able to accommodate everything with higher accuracy (and in most of the cases, women are anyways more bothered for those things compared to men).
Note that rather than blaming builder on using these tactics and fooling you, I would suggest being self-reliant, as there is nothing illegal in what the builder has done. Yes, its kind of unethical and the tricks employed here, are just a way of exploiting human psychology and aspirations. But then, there is no law on all these points and anyways, the agreement will mention that the sample flat was just for demonstration purposes and the look and feel of the actual flat may be a little different. I want you to be prepared for this, rather than complaining about things.
Here is one real life experience I found on the net, which talks about the same thing we are discussing here
At the time of booking Builder shown a central park as well as a very huge green area (80% of the project), the same is also shown/mentioned in the Brochure given to me during the time of booking. He also showed a sample flat and did a sale agreement with me.

Now builder is constructing three new towers on the park area and also cutting down the green area as he is coming up with another project on the same green land – Source here
Trick #2 – Sample Flats gives the feeling of PREMIUM
Who does not want a premium and beautiful home? Everyone does!
We want our house to be better than others, we want to make sure we get the best. We aspire to live in premium homes (majority of them, if you dont). Builders do their homework properly and put all their efforts in making sure that the sample flat looks the way most of the people cant actually afford!.
I mean to say that every bit of work, furniture, finishing and material used are expensive and of very high quality and high standards. In many cases, the cost incurred in making the sample flat look premium is more than the cost of the flat itself (Imagine 50 lacs flat having 50 lacs of premium things inside it, just to make it look premium).
The fixtures and furnishing used are of world class quality and brand and is so premium that instantly a prospective buyer imagines him selves owning it.
The floor tiles used are of high quality and more beautiful than what you get in reality.
The view you get from Balcony and Windows is really great (lake view, greenery, beautiful mountains), but in reality your flat might be on the other side of the project, which has all the old buildings and has a crowded road (may be after some years) and you will not get the same view which you saw in sample flat. This is because the sample flat is created first and the location chosen for it is well planned and for the purpose 🙂
The furniture used in the sample flat is very expensive and promises high lifestyle. Imagine 5-6 lacs worth of Sofa set, whereas you will buy only 50k worth of sofa in your case.
The walls will have beautiful paintings which most of people want, but cant afford .
Tip – This startup called ArtSquare sells ART and Paintings at affordable price to common man. Boy! , they also have the feature which shows you, how it looks on the wall. check out this example.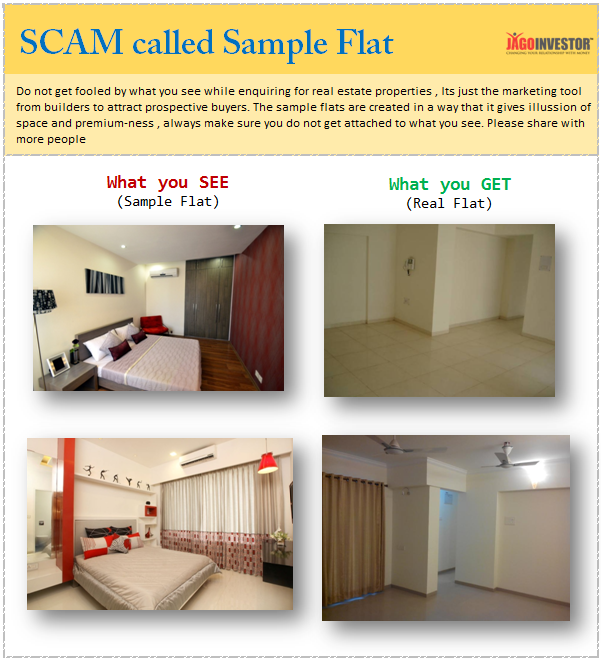 What to do ?
Incase of under-construction property, you cant do much, you can only rely on the builder words and do some research on how truthful they are by talking to their old project buyers (actually go there, and talk to some flat owners about their experience). Before booking the flat, you need to get all information from builder on the materials going to be used, which brand they will be, what kind of wall paint , which fittings ? which wires ? what kind of tiles ? everything in detail ! .
Note that, you are going to get unfurnished flat, and then you have to put everything from fan, AC, bed, sofa and everything else you have at home. So its important to check out the unfurnished flat apart from sample flat, but its possible only when you are buying a ready to move in property. Check out this debate on Under construction property VS Ready for Possession Property if you are considering which is better than other.
Conclusion
As buying home is one time decision, its always better to be more present (physically and mentally) to reality and not take the decision in hurry. Sample flats are not reality and you have to get that. You also should control yourself and your family members emotions (a lot of real estate buyers complain that ladies fall for the beautiful looking flats and get excited by beautiful wall colors, premium kitchen and the wall texture giving wow-experience and then do not comeback to reality from the unreal world they reached after looking at sample flat. Slow down and take the right decision.
I want to hear your views now ! . Have you seen sample flats in past or recently ?