POSTED BY Jagoinvestor ON November 5, 2012
Should you buy real estate properties from small builders ? While you keep hearing about big real estate projects, there are tons of buildings and buildings and apartments build by small builders also and they are quite high in number. Today I want to share 3 instances of dealing with small builders.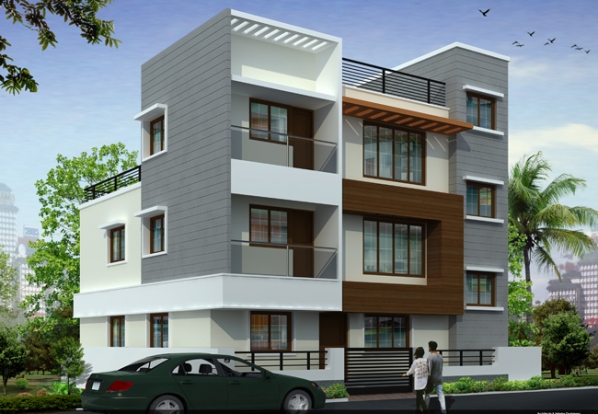 Case 1 : Real life case of Real Estate Fraud
One of the readers had invested in a property with a small size builder , but now he found out that the builder is arrested for fraud. He is now stuck with the investment and paying the EMI for the property whose future he is not sure about. Here is the full case
In Jan 2011 i have booked,Registered and stamp duty paid property located at Navi Mumbai(CIDCO property)and all the required documents are submitted to HDFC for under construction property.After verification and search report the Loan sanctioned. The payments are made according to Demands and Work completion by developer on time to time basis.Till the 70% of work completion all the payments are made(April 2012),but after that 19th July 2012 the developer has arrested by local police for cheating and fruad registration(Double registration) on his running projects.

In this issue he was arrested and the news spread across through all the media news papers that Customers are Cheated for Crores of rupees by Navi Mumbai Developer since May 2012.In this case on his arrest i have also made police complaint that, "The construction work has stopped since last two months and Developer has shut his office and mobile.According to media news i am also feeling that i was cheated and the home loan EMI are still there."Now the developer and Police is also asking me to take back my complaint otherwise developer will sell that property to others and only give me the money which i have paid till the date. When i asked my bank about this to kinldy hold my EMI till the issue will solved.How do i pay EMI of the loan which i took for my Home and without getting home how do i proceed further for EMI?Bank said,"We have given a Loan to you not developer,even though all the documents are clear from Developer according to procedure.And my registration documents are Mortgage with the bank.So i have pay the EMI for the 70% Loan amount which i took from bank till the 70% work completion by developer."Now i am paying EMI's without getting Home. So guys pls think 100 of times before proceeding for Under-construction property.It doesnot matter whether it is a branded or Unbranded(Known/unknown Builder)
Case 2 : Unathorised Floor in the Project
One of the readers shared on our jagoinvestor forum that he has invested in a real estate project by a small builder, but the builder has violated rules and added another floor without approval. Now his money is stuck with the builder and he is not able to take any concrete decision
Recently I have booked a flat in bangalore with a small time builder. The catch is he has got approval (BBMP approval) for G+4 floors but he built an extra floor (My flat is on 4th floor). Does SBI approves the loan for apartment in such project? The builder is saying that there are 20+ loan approved from SBI (total 120 flats in project) and he will get my loan approved as well. He is also saying this is quite common practice now a days in Bangalore and he will keep this floor for renting purpose only.

Even if SBI approves my loan, should I buy this flat? What are the complications, I would face in future if selling off this flat (or will live in that flat). I have given 20% of the money as booking amount.
What are your suggestions in my case?
Case 3 : Builder not replying to many queries
I had a terrifying experience with a small builder, who projects himself as a Mid size builder(He completed one small project, of 20-30 flats and he himself given promotion as midsize builder and compares himself with some reputed mid size builders in Chennai).

I got all the documents from builder in a professional way(he gave all documents in set saying these are the documents required for legal verification) and gone for a lawyer verification(its my mistake not to wait for lawyer opinion) and he gave me enough evidences that he applied for a project approval form SBI( I told him, i will get HL only form SBI, after reading articles in Jagoinvester, Thanks to Jagoinvester for their precious articles) i believed him because he behaved very professionally(He is educated and worked for a consulting firm for more then a decade, making me believing he is professional) and i overshoot-ed the lawyers advice( i didn't receive it for 15 working days) and made agreement and paid 20% of the property cost and then got a call form lawyer(actually lawyer couriered me the docs, but I didn't receive them) saying courier was returned and he asked me to make a personal visit to his office.

The facts came into the picture with 10 queries( all of them are so simple like EC patta and couple of explanations) and i sent the same list to my builder and got promised, those silly queries will be answered in 5 days, and i waited for 15 days but no reply to lawyer from builder and after repeated follow-ups'(not with Mr. Professional, but with a staff in builders office) finally she went with answers and from my side i too gave the agreement copy for further evaluation and final advice from lawyer( as he is empanelled with SBI, it can be submitted for loan processing). The horrifying truths came out, he further raised additional queries and a builder cheating was projected. There are multiple problems in the land (it is total of 1.5 Acer).

1. Some part of the land was amortized with a PSU (not SBI) for 50L and he paid the amount in the month of July and obtained NOC (still the documents are under encumbrance) and attached the NOC with the documents and he is giving for customers for property verification. But when my lawyer made a background verification( as he has good networking with many bankers), it came to the limelight that he obtained loan again for 50L in the same bank after a month of time.

2. some part of this land is hereditary(legal heirs are 2 brothers and one sister) , sister didn't sign the document and her brothers sold(here it is JV) the land to the developer, got her signature as witness.After some time she can go and fight legally for her rights on the property, and lawyer requested for a rectification deed and he objected and told he can provide a NOC(generally NOC is valid for 6 months of time, i really don't know how NOC is valid in this contest)

3. DTCP approval is not obtained

4. There is difference in land available as per patta and land showing in project documents

5. Parent documents before 2004 are missing and told those can't be retrieved

After presenting all the above(only critical are mentioned) queries, he tried to convince me and get my loan from some other financiers(of course i have a option to choose form PSU and NON-PSU), and offered some gifts (as he is planning to market his flats in Diwali offer such as free modular kitchen,( he increased the price of the flat by rs.200, but not for my booking, as I have done it earlier. Just to hold my booking he offered me this Diwali gifts)) and some other junk promises. I demanded for immediate cancellation of booking and refund all amount on the same day. However, I am in confusion state. If he clears all the above queries it is a great deal in that area and the price I paid was killer price.
I requested him to put all his words in a piece of paper (of course it is a judicial stamp paper of Rs.20, again Kudus to Jagoinvester for education me how to deal in such cases, especially with builders)Got a concrete promise to fix the queries in 15 working days else the entire amount will be refunded. 15 days passed and I have no communication from builder or from his office.On the final day I gave a call, asked him the status, and got a horrifying answer that he is still fixing the problems and when questioned deeply, got the terror answer that he did not start anything until date. Moreover, requesting me to wait for another 2 weeks.

I rejected his request and told him to arrange for cancellation deed and check, for the amount, and he rejected saying he will deduct rs.25 as per agreement. I initially rejected his check and told him I will collect the amount what ever after presenting the issue in front of consumers forum. Moreover, after short conversation he realized that I would make mess( i searched this property in internet and he also told me 70% of his customers are thru internet) if the total amount were not refunded. So guys please be aware and do a lot of background checking before investing your hard earned money.

Vultures are all around us in the form of builders, relaters and especially mediates or brokers or agents or what ever it is… (via)
Background Check of Builders before you purchase Property
It would not be fair to say that one should avoid small builders, but one has to be more cautious with the small builders compared to bigger ones. Here are the 5 things one should always check before they deal with a builder – small or big. This checklist will make sure that your pain is reduced later and the chances of getting in trouble will be minimised.
1. Enquire about their previously Completed Projects
You should always ask them directly about the previous projects they have completed. Better visit them too, and ask the locals and people living there about delays if any and the issues they faced. You should also search about those projects on internet and watch out for any grievances and complaints.
2. Check if they are part of some builders association
There are few associations and groups for builders community and there are codes of conduct defined for builders. Some of those associations are "Builders' Association of India" (BAI) and "Confederation of Real Estate Developers Association of India" (CREDAI). Its always a good idea to watch out if the builder you are dealing with is a part of those associations or not. While you can't say that not being a member is always a wrong thing, but you can always ask him why he is not a member. I would say a builder who is part of those association would be more serious and professional compared to other small time builder.
3. Check the rules incase of Delay or Cancellation of Project
You should always ask for the rules and terms and condition which will apply incase of delay or cancellation of the project. Ask them for an agreement copy even before paying the booking amount. Do not get too impulsive with the project and hurry. Watch "Compensation clause" which talks about the compensation paid to the buyer in case of any issues.
4. Search on internet for his review and past
Always do a thorough research about the builder and his quality of work on internet and different forums. While in general all the builders have some or the other bad reviews from someone, watch out that the internet should not be filled with bad reviews totally! In case you do not find any information or very little information about the builder, then you are mostly dealing with some new guy in town, who might be truly unprofessional. Avoid it.
Do you know someone who had dealt with small builder and was stuck with the situation or faced any issue? This can even happen with big builders. Share your experiences in comments section…