POSTED BY Jagoinvestor ON July 1, 2013
Have you ever thought of applying for Priority Banking with your bank (also called as Preferred banking)? A lot of banks offer something called "Priority Banking Solutions" to their customers who qualify the eligibility criteria. A priority banking customer is treated in a more special way and is taken care of priority by the bank. Let us talk about it in detail and does it make any sense for you as a customer to apply for priority banking customer or not?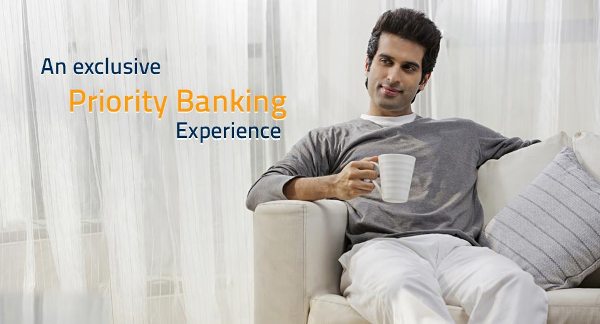 Why does a bank have a Priority Banking Model?
The first question to understand is why do banks have a Priority banking model at all? The reason is very simple, to treat different levels of customers differently. If you want to harshly put it, then its just a way of keep a separate list of High Net-worth Individuals and focus on them more and service them in a better manner, because one customer who is eligible for priority banking will give 100 times more business/profit to the bank compared to a normal customer. A preferred banking customer will have a few eligibility criteria to honor, which is generally linked to his bank amount balance.
When I looked at HDFC Priority Programme, its eligibility criteria mentions this –
You are eligible for the HDFC Bank Priority Programme ** if you:

Hold at least one Savings or Current account, sole or joint, with HDFC Bank.
Maintain a minimum Average Monthly balance of Rs. 15 Lakhs across all your accounts (Savings, Current and Fixed Deposits*)
OR
Maintain an Average Quarterly Balance of Rs. 2 Lakhs in your Savings account.
OR
Maintain an Average Quarterly Balance of Rs. 5 Lakhs in your Current account.
The requisite balance can be maintained over your accounts and over those of your immediate family members.
In the same way, other banks also keep criteria for maintaining a high balance in saving bank account. That simply means that the bank would get lots of cash to use for their own business and naturally they can treat these customers very well. Check out this survey on the best banks in India.
Facilities provided to Priority Banking Customer
A Priority banking customer has few advantages over normal customers and gets more features. Some of the most common one's are
Separate queue for in the bank so that you don't wait
No charges on NEFT and RTGS transactions through Net banking
Free "At Par" cheque book payable at any Bank branch across the country, so you do away with the need to ask for demand drafts
Charges waiver for DD cancellation, Cheque return, Duplicate statement charges, Demand Draft Charges, Discount in Locker Charges,
Cheque pick-up facility
No charges on balance inquiries and cash withdrawals if you transact on Other Bank ATMs in India.
Many other benefits
Premium Credit Cards
However, all this is not so real and true
While banks list down these facilities on their website, on the ground level – there are many real-life customers who say that at the end of the day, you never get what is promised from these banks. There are a lot of things just on paper. Most of the banks just use the Preferred banking route to attract high net worth customers and finally end up calling then for investment products. A relationship manager keeps in touch with you (the target), he has all the information on how much money you have and when money comes and goes out of your account.
Here are 2 real-life experiences related to Priority banking from our questions and answers forum. Hope you get some good ideas from it.
Case 1 – Yogesh Shares his experience
There are no major benefits for being Classic or even Priority customer except some savings in NEFT charges and cheque book requests. I was HDFC classic customer for last 10 years. Around 9 months back they changed my status as Priority customer without taking a consent from me (same reason..as I opened some FD the bank) I just received letter that I am now Priority customer.

I did not notice any big difference of status being Classic or Priority customer.

The facilities they have are actually only on paper. Despite of a lot of follow up locker facility when one new branch had recently started and lockers were available, I did not get it. I was told to take some Young star policy in case I want locker. I denied this condition and the result was they did not allocate locker to me. So 50% discount is on paper. In last 10+ years I even did not meet personal banker for more than 5 times. My experience is personal banker keeps on changing periodically (on an average 2 years for each PB) and sometimes you need to trace who is your PB !

Question one may ask why I am still continuing with HDFC bank as classic customer. The simple reason is the bank is closer to my residence and with very less crowd.

In the last month I broke my FDs because of some reason and immediately they put my account into 'Others' category and again without informing me ! I could know that after they started charging me for account statement, signature verification/wife's name change for mutual funds, NEFT transactions etc. So now I have instructed them to update my account as to 'Classic Customer' status as I still meet those criteria. Important thing to note…my Personal Banker did not take action immediately this time. That person told me s/he will forward my request to relevant department. Also at the same time this Personal Banker asked me to send request to know new Personal Banker !
Case 2 – Ayush Shares his experience
In my opinion there is no harm in being a Priority or privilege customer and using benefits offered by the bank (if they are of any use to you and are saving you time and money)

The main drawback here is, your name will go into their database as a customer with more money than some (or say lot) of others. This may result in some unwanted call such as credit card / loans / insurance or other banking products. When it comes to the actual banking needs there is nothing big that you will get. The relationship manager may keep calling you with information on new products.

My personal experience being a classic customer with HDFC is not so encouraging when the genuine banking needs are there. For example, I requested that I need a safety locker in HDFC branch but just like other customers I am on waiting list. In case I am lucky enough to get a locker, I have to pay only half the annual fee but will I get a locker is the question, that remains. You can save a few Rs. by saving on DD charges (to a certain limit), NEFT charges etc. but nothing big.

I am continuing just because I have all my banking /investment etc through HDFC and do not want to change and this classic banking is an added thing on to that account.
Conclusion
Most of the people have very basic banking needs, especially after Internet banking and mobile banking has arrived, your dependence on cheque books, Demand Drafts, and any physical visits to banks has reduced. For most of the people, anyways banking is just a small part of their financial life and they get most of the facilities and what they need from their basic banking account only. For them, it does not make a lot of sense to apply for priority banking . However, there are many investors who are heavily into banking due to personal reasons or for their professional needs.  For many of them, few features which come with Priority banking might mean a very big thing. If you are one of them, just see how much of it will be eventually used by you and then take a call.
What do you think about it? Would you like to become a Priority Banking customer or not ?