POSTED BY Jagoinvestor ON November 29, 2012
It might happen that your cheque's start bouncing and do not get accepted from Jan 1, 2013 . There is a new standard in banking called as Cheque Truncation System or CTS 2010 , which all the banks have to follow now. RBI has issued a circular telling all banks that they should only process and accept those cheques which follow CTS guidelines.
What is Cheque Truncation System or CTS ?
Its just a new improved structure for chqeues and a set of guidelines which will change the way cheques are being processed and cleared. Right now, all the cheques are sent directly physical to the other bank for clearance, but with this new Cheque Truncation System guidelines, the banks will send the digital version of cheques (read scanned image) to the other bank and the clearance will happen almost same day or very fast. Some of the features of CTS cheques would be
It would have the wordings "please sign above this line" at right bottom
All CTS-2010 cheques will have a watermark with the words "CTS INDIA", which can be seen against a light
A bank logo will be on cheque with a Ultra Violet Ink , which can be seen only under UV Scanners.
The Cheque Truncation System 2010 enabled cheques will not allow any alterations. If there is any mistakes, the cheque will be invalid
"payable at par at all branches of the bank in India" text will be at the bottom of all the cheques
There will be IFSC and MICR code on the cheque
You will have to sign the cheque will a darker ink, so that your signatures are valid for scanning.
If you look at these features, you can simply see that these are required for digital processing and once these Cheque Truncation System enabled cheques arrive , the whole banking system will start clearing the cheques in a must faster time. This will improve banking and save paper 🙂 . Below is a sample of cheque which fulfil CTS criteria's.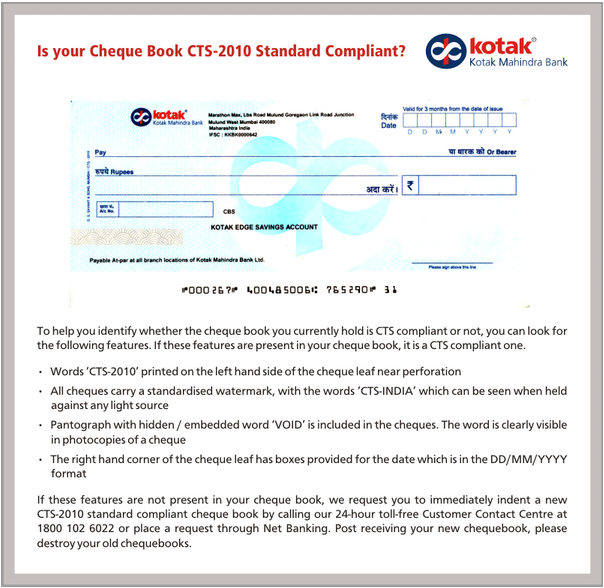 SBI has already told all its customers to get new cheques because all the old cheques will become invalid , In the same way HDFC bank and ICICI bank have also told their customers to get new cheque books.
What you must do ?
1. Replace your Post Dated Cheques
If you have given any post dated cheques to someone like for your home loan payments or for some other kind of payment, then its the time to replace them with fresh cheques else it will just bounce and you might have to pay the bounce charges
Deposit any Old Cheque now
At times, we accumulate old cheques and deposit them for clearing only after many days or weeks. If you have any cheque which is to be cleared, better deposit it and encash !
A lot of banks have also asked its customers to give return back the old invalid cheques at their branch and collect new cheques, not sure why they need old cheques , why cant they issue the new cheques directly ? Also note that the cheques will be sent to the last updated address only. Learn more about CTS here .
You already have CTS-2010 compliant cheque books ?
Note that RBI has directed all banks to issue Cheque Truncation System 2010 enabled cheque books already from last many months. So it might happen that your cheque books are already complaint with those standards . So please check it once and dont rush to bank to issue you new cheque books . Like one of the reader found out that he already has the right cheque's .
Banks like ICICI Bank and Axis Bank had already started issuing CTS-2010 compliant cheque books since last year. So please verify whether cheque book you have a already CTS-2010 before rushing to bank to get a new one. After I placed a request for new cheque book, I found that my existing cheque book issued to me in Mar-2012 was already a CTS-2010 one.
I hope you are clear about Cheque Truncation System (CTS) and how your cheques will become invalid from Jan 1,2013