POSTED BY Jagoinvestor ON August 24, 2020
Today we will discuss an interesting topic – How many times of your annual expenses do you need as your retirement corpus to retire comfortably?
For example, if someone has an annual expenses of Rs 6 lacs per year, then can they retire with Rs. 1.8 crores (30 times)? This is the focus of the article today!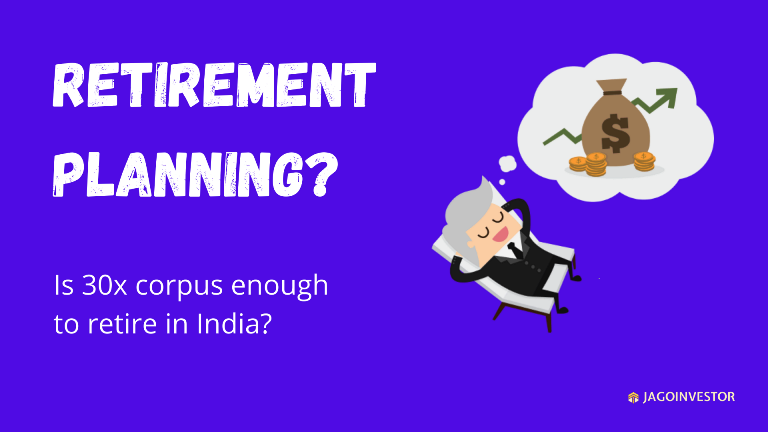 The current state of "Retirement" Advertisements
From last 4-5 yrs, I can see a lot of conversations, articles and YouTube videos which talk about retirement and its importance.
There are many retirement plans and pension plans also launched these days which talk about importance of retiring with enough money and a secured way of generating pension once you stop working.
There is no doubt that retirement is top most financial goal (and the longest one) for any investor. We all will probably have a much longer retirement life than we imagine today. Our parents also have retired just few years back (or going to retire soon).
A 60 yrs old person can expect to live anywhere up to 85 – 105 yrs in future. With changing life style, less dependence of kids, increasing expenses at retirement – planning for retirement has become much more important than any time in history.
The problem is that we don't know when we will die. You CANT plan for just 20 yrs of retirement, because what if you die at 100 yrs? It's quite a tough thing to predict when you will die, and almost impossible to plan for it.
Hence the best you can do is take the worst case, and plan for a very long retirement.
Retirement Planning is very tough
First thing you should know is, that there are many variables when it comes to retirement. There are things like
Inflation
Returns
Taxation
When will you die
When will you retire
When you do any retirement calculations, you make some assumptions and you get an answer.
One big problem is that in reality there can be a lot of changes in these numbers, and your planning can go for a toss. Hence you need to look at things realistically and plan in such a way that takes care of worst scenarios.
Next 40 yrs cash flow
So let me start with asking how your expenses will look into future? If someone wants to retire today, how will their next 30-40 yrs of cashflow may look like.
Assuming that you want to retire at some point of time and your annual expenses at retirement is 1 unit. Then how this will change over time?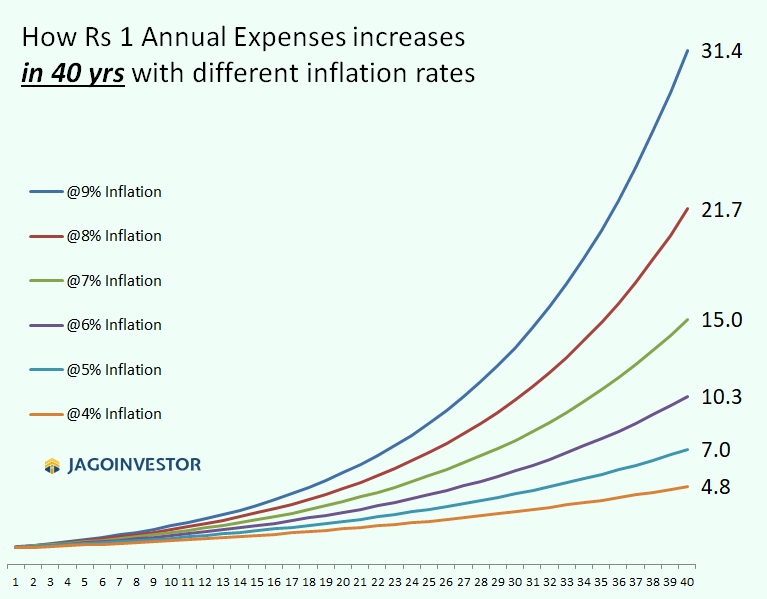 Can you see how drastic the expenses can vary in your retirement life due to various inflation rates? Note that in reality, the expenses might come down a bit once you are old enough like 80-90 yrs, but I have still not considered it because there can be other types of expenses like medical costs which will shoot up.
Is 30x corpus enough for retirement?
Now let's dive deeper into the main question and focus on this article – "Is a corpus of 30 times yearly expenses enough to lead a long retired life?"
The short answer is YES, but before I go deeper into the answer – let me show you a case study
Imagine a person retires with following numbers
Per month expenses in the start of retirement = Rs 12 lacs (1 lac per month)
Corpus = 3.6 Cr (30x)
Inflation Assumed = 7%
Post Tax Returns = 9%
How long will the retirement corpus last in this case?
The answer is 43 yrs as per excel calculations. For simplicity purpose, for now we have taken a case where inflation, returns are all fixed and the person only needs the monthly expenses as per increasing inflation and no other withdrawals are done till end. In which case, the corpus change will be very smooth.
Here is how it looks like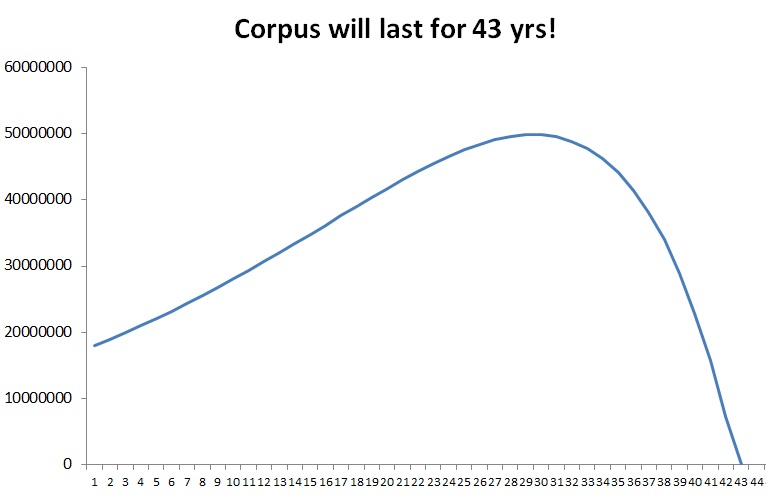 What if your assumptions are wrong by 10% margin?
Most of the calculators just give you an answer like above graph, but does not ask a question – "What if things go wrong?"
What is the inflation is more than what you assumed?
What if you needed more income in future than you planned?
What if you were not able to generate the returns you assumed?
What if you had less corpus than you originally planned?
How different will be the result now if you are wrong by 10% margin on all 4 variables?
So, lets see that case too.
Corpus is 10% less = 3.24 cr (instead of 3.6 cr)
Monthly Expenses are 10% more = 1.1 lacs per month (instead of 1 lacs)
Inflation is 10% higher than assumed = 7.7% (instead of 7%)
Returns are 10% lower than assumed = 8.1% (instead of 9%)
So instead of 43 yrs, how fast the corpus will finish now?
The answer now changes to 27 yrs
Yes, from 43 yrs .. it now changes to 27 yrs, which is 16 yrs earlier.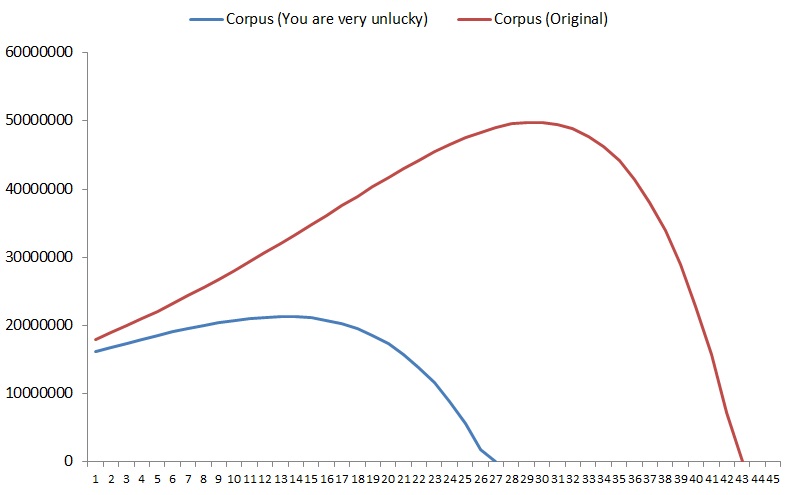 However in real life, either all 4 things can go wrong by some margin, or just 1 or 2 or 3 things may go wrong.. so there are various scenarios here..
Nothing goes wrong
One variable goes wrong
Two variable goes wrong
Three variables goes wrong
All four variables go wrong
This in total makes 16 different combination.. We have seen the best case (when nothing goes wrong) and worst case (when all 4 variables go wrong) ..
But when we see all 16 variables together .. it looks like below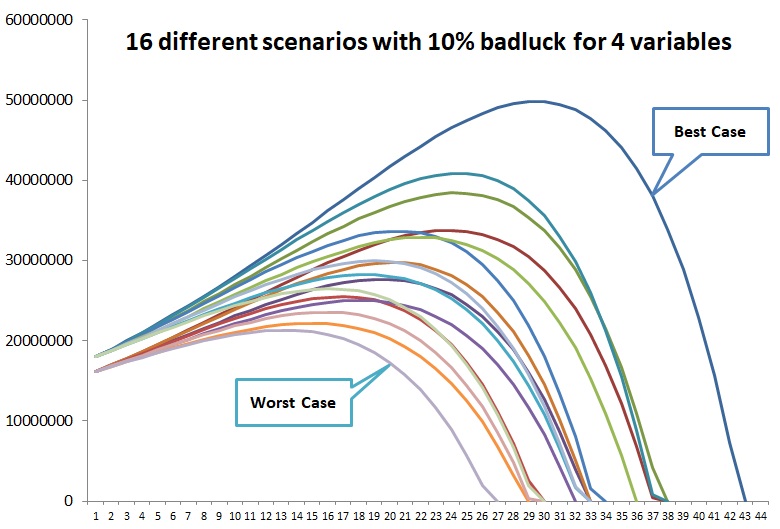 Note that these calculations above are assuming an inflation of 7% and post-tax returns of 9%. If you take lower returns or higher inflation, then the results will be different ..
Testing the data for 250 iterations
I assumed that Inflation and Returns will come down slowly over long term as we move towards a more developed economy. We might reach to a 2-4% inflation (starting with 7% today) and 4-6% returns post tax (starting with 9% today). I added a variation in calculations and plotted 250 variations of the same chart and here is the results.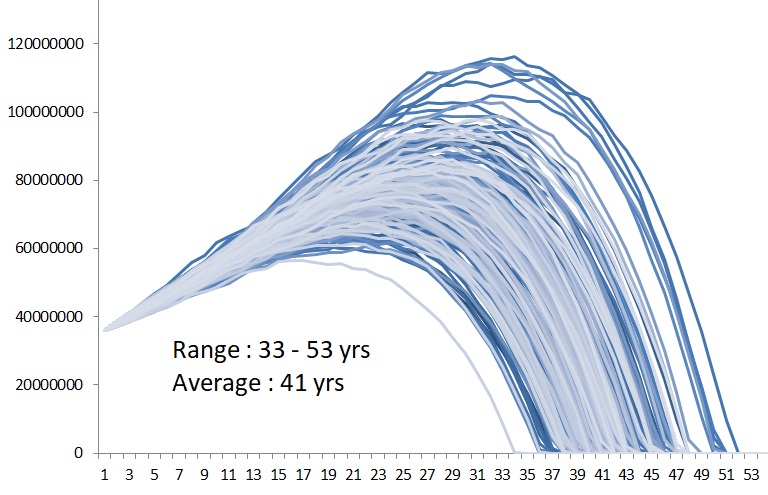 As you can see from above graph, the results can vary a lot depending on inflation and returns combination. On an average the corpus lasts for 41 yrs.
I also took 5000 iterations to see how long the money finishes and here is the plot.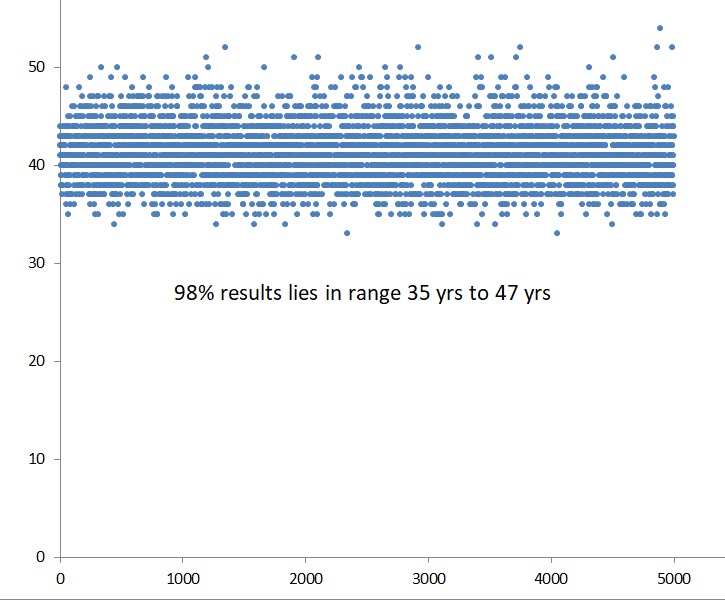 What we observed was that 98% of the times the money lasted in range of 35 yrs to 47 yrs, which is a decent enough planning, but the assumption is that all our assumptions about inflation and returns hold true.
Investing in Fixed Deposits for Income Generation
A lot of investors are extremely conservative and don't want to invest in anything other than bank fixed deposits. We know that bank fixed deposits are highly secure, but at the same time – they are extremely inefficient in taxation and also provide below inflation returns.
But let's test that case as well.
Let's assume that a person is putting all their money in fixed deposits only. In which case the returns can be taken as 4% post tax (30% tax deducted from 5.5% returns)
Below I have shown how long the retirement money will last when a person has 60x, 50x, 40x, 30x, 20x and 10x corpus. I have done 250 scenarios and plotted them to see how the corpus ends.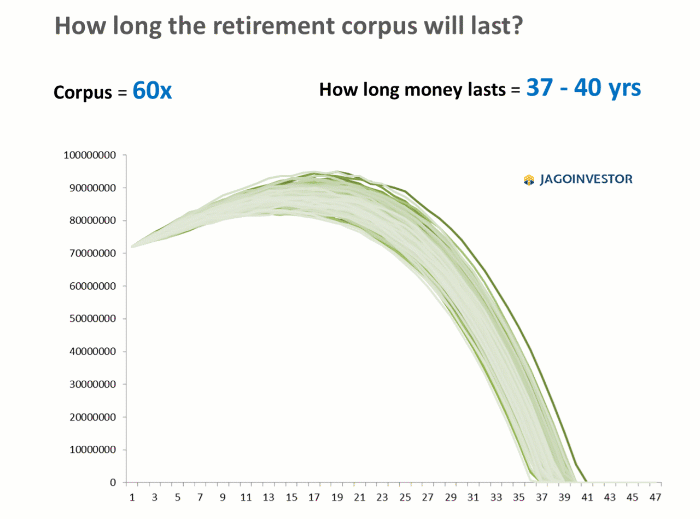 As you can see, when the returns are lower – you need much more than 30x corpus if you want to last it for a very long term.
With just 30x, it will last for just 22 -24 yrs. The frustration of seeing your money finishing while you are still don't see your death coming your way might be very horrible experience.
So conclude, Yes 30x corpus is good enough to retire, but the assumption is that you will not be dipping into that corpus to withdraw any big amounts like for buying house, or for your kids' education or any large medical emergencies.
Better to have those things separate than your 30x corpus.
What if my corpus is less than 30x?
It's going to be an issue if you are retiring with less corpus like 20x or 10x or 15x. In which case, you will have to make sure that you also have some decent equity exposure to bump up your returns so that your corpus can last longer. We at Jagoinvestor are working on various strategies which can be used to make sure that the corpus last longer using an equity exposure and generating a regular stream of income for our clients.
Do let me know what your thoughts about this article are.
Also, if you are interested in the topic of retirement planning and want to listen to a casual but very detailed talk on this topic, do listen to my talk with P V Subramanyam where we have discussed various aspects about retirement
Disclaimer : Note that these calculations are highly complex at times and there are lots of things which contribute to the calculation. I don't claim to have done things perfectly from statistical point of view. This article is only a basic calculation with some high level assumptions. Do talk to your financial advisor before creating your retirement strategy.