POSTED BY Jagoinvestor ON October 7, 2011
ICICI Prudential has launched their new online term plan called "I-Care", which will replace its old term plan called the "i-Protect" (read iprotect review). This new i-Care term plan has some interesting features like no medical examination till the age of 50 and up to 1.5 crores of sum assured can be taken.
Features of I-Care Term plan
The biggest surprising feature of i-care term plan is that there is no medical examination for customers who are up to 50 yrs old. For all the health related information the company will depend on the declaration made by the customer as there won't be medical tests applicable. This will make sure that the policy is accepted as soon as possible as there is no medical examination in between. Also there is something called "Policy acceptance" in i-care, which means that once you submit the application online and make the payment, it will be reviewed and finally it will be accepted, after which your insurance coverage will start. Some other features of i-care policy are as follows.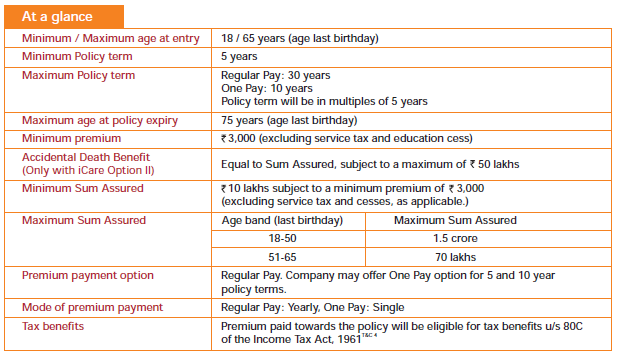 Additional features
There will be high cover available to those people who have active home loan in their name.
The premiums once declared will not be increased later, as there is no medical exam later.
Riders in i-care term plan
There is only one rider in i-care term plan just like iProtect had and its accidental death rider. So here are two options one can go for while buying i-care term plan.

iCare Option 1 – Sum Assured
If you take option 1, then you just have a basic sum assured cover which will be paid in case of death. Even if you die in accident you will still get the basic sum assured.
iCare Option 2 – Sum Assured + Accidental Death Benefit
In this option, if one dies due to accident, then the nominee receives extra money equal to sum assured (subject to maximum Rs 50 lacs). This means that; if a person has taken second option with sum assured of 80 lacs, then he will get 80 lacs on death if the death is due to anything other than by way of accident. But if the death is due to accident, then nominee will get Rs 1.3 crores (80 + 50)
Below are the indicative premiums for both the options.


Note : Please make sure you read the terms and conditions properly (mentioned in the 5th and 6th page of the embedded doc above).