POSTED BY Jagoinvestor ON January 27, 2012
LIC Jeevan Ankur (Plan 807) is the new traditional Children Plan from LIC. It has come at the right time when most of the people look for investing their money for tax savings and given the right time (markets doing bad), it is expected to get a lot of interest from parents looking for parking their money in something safe.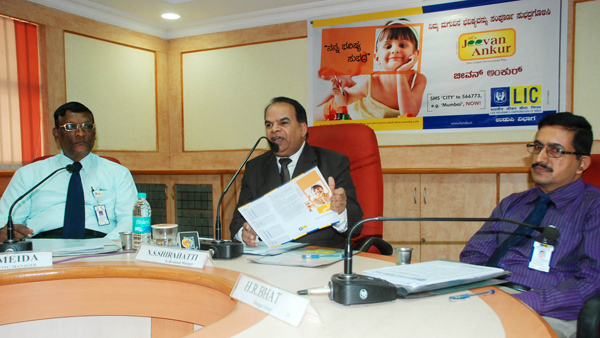 Jeevan Ankur is a traditional endowment plan where you pay regular premiums and at the end of the policy term the sum assured is paid along with loyalty additions declared at maturity. The nominee in this plan has to be your child (which makes sense), assuming that the plan is bought purely from the point of securing child's future. (Learn how LIC Policies work)
If policyholder dies before Maturity
In case the policy holder dies before the maturity of the policy, the basic sum assured is payable immediately and a 10% of sum assured is payable each year till the end of the policy term as the income. This is a good option which makes sure some payment is made each year without fail. The premiums are not to be paid after policyholder's death. Though there is no specific wording about this waiver of premium, it is very obvious.
If the nominee (child) dies before maturity
In this case, the policy holder can nominate another child and other benefits continue as it is. If there is no other child then, the benefits will continue and the maturity proceeds will go to legal heirs.
Optional Riders like Critical Illness and Accidental death benefit.
Apart from base plan in LIC Jeevan Ankur, you can also add two riders in this plan at extra cost. These riders are Critical Illness rider and Accidental Death rider.
Critical Illness rider: One can add critical illness rider for an amount in range of 50,000 to 5,00,000 and in case of diagnosis of some defined illness, an amount equal so critical illness sum assured will be paid. However this is available only if the policy holder age at maturity is below 60.
Accidental Death Rider: One can also get a rider called Accidental Death rider, which will pay additional sum assured in event of death . The maximum sum assured for accidental rider can be upto 50 lacs and the condition is that the maximum age at the time of maturity has to be 70 yrs.
Other Features of LIC Jeevan Ankur
There is option of regular premium payment and Single Premium (one time)
Minimum and Maximum age of the policy holder at the time of taking the policy has to be between 18-50 yrs and minimum and maximum age of child has to be 0-17 yrs
The maximum age of policy holder at maturity has to be 75 yrs.
The maximum policy term is 25 minus age of the child.
No loan facility will be available under this plan.
Surrender value and Paid up of Jeevan Ankur Policy
To surrender this policy or making it a paid up is very similar to other endowment policies, where it attains the surrender value only after the premium payment for minimum 3 yrs and the surrender value will start from 30% of the premium paid (excluding the first year premium). In case of paid up policy, you will get your premiums at the end of the maturity period.
Returns from LIC Jeevan Ankur Policy
Just like other endowment policies even LIC Jeevan Ankur seems to provide lot of features and bundles things in such a way that it's too tempting, but from investment point of view, its returns are not something to cheer about. Consider this example- If 30 yr old male wants to take a 10 lacs sum assured policy for a 20 yr tenure , the premium would be Rs 41,350 per year (as per the chart on LIC website). Assuming that the payment is done on yearly basis and the sum assured is above 5 lacs, the rebate's would be 5% (2% + 3%) so the final premium would be around Rs 40,000 per year. So if a guy pays 40,000 per year for next 20 yrs he would then get 10 lacs as sum assured and loyalty additions extra. Loyalty additions generally range from 10%-20% of Sum assured, assuming its 20%, the final maturity proceeds would be Rs 12,00,000 .
So if you pay Rs 40,000 per year for next 20 yrs and get back only Rs 12,00,000 , the final return (IRR) turns out to be only 3.7% CAGR return over long-term. Note that the actual IRR would depend on the tenure , if you take the case of 10 yr tenure , then the IRR would be different , but overall the returns from this policy is extremelly low.
Best returns only if death is premature
The policy return would really work out well if the policy holder death is premature, the early, the better. Assume that in the same example as above, if the policy holder dies after paying 2 premiums in that case, the total outgo would be Just Rs 80,000, but his family would get Rs 10 lacs and Rs 1 lac per year as income. This looks very attractive but note that this is the situation whose chances are very less and just because of this point, you can't buy the policy.
Look at Liquidity also
The only thing which most of the people concentrate is returns from the policy, but one of the parameters to look at is liquidity of the policy too. The biggest nightmare can happen if you need your money from the policy after 2 yr or 5 yrs or 10 yrs. In that case the money you get back is horribly low and that's where most of the people feel the pinch.
Should you buy Jeevan Ankur?
I am really trying now a days to let you decide on such questions. As I have done this short review its enough for you to decide if you want this policy or not. The returns over long-term are guaranteed only to certain level and a lot depends on loyalty additions. If it's not good every year, then returns can be extremely bad, else it might be okay. I personally don't see a reason to invest in this policy. A plain term plan and SIP in balanced funds looks better option to me from returns point of view and definitely from liquidity and simplicity point of view. I hope you liked this review of LIC jeevan ankur