POSTED BY Jagoinvestor ON December 15, 2011
This article will teach you how to apply for your cibil report online . Some months back, I had written an article on CIBIL report which was well taken. A lot of readers applied for CIBIL score and were shocked to see their CIBIL report was messed up because of some past sin committed in area of credit card, home loans, personal loans. A lot of you applied for CIBIL report which took some time, energy and lot of commitment, but majority of readers didn't take any action and just told themselves "I will apply soon" .. that "soon" never happened and seems like CIBIL heard your prayers. CIBIL scores are now available online. Fill a form and make the online payment in 10 minutes, authenticate some questions and get your CIBIL score online in your email in next 4 days ! . I applied for my personal CIBIL score and I got it in just 2 days in my email . My score was 835 ! . yippee !
Procedure to get your CIBIL report online
Note that you can only get your CIBIL TransUnion Score (Including CIR) by paying Rs 450. You cant get CIR alone .
1. Fill up the online form
The first step is to fill up a form online here . It asks Name, address, Phone details along with Identity and address proof. At the end it would ask your Loan account number (credit card number in case of credit card) . Make sure you fill up the form correctly and also double-check that you are putting correct address, identity proof related number like PAN number , Passport number etc. Once you are done with this step, you move to step two, which is payment online.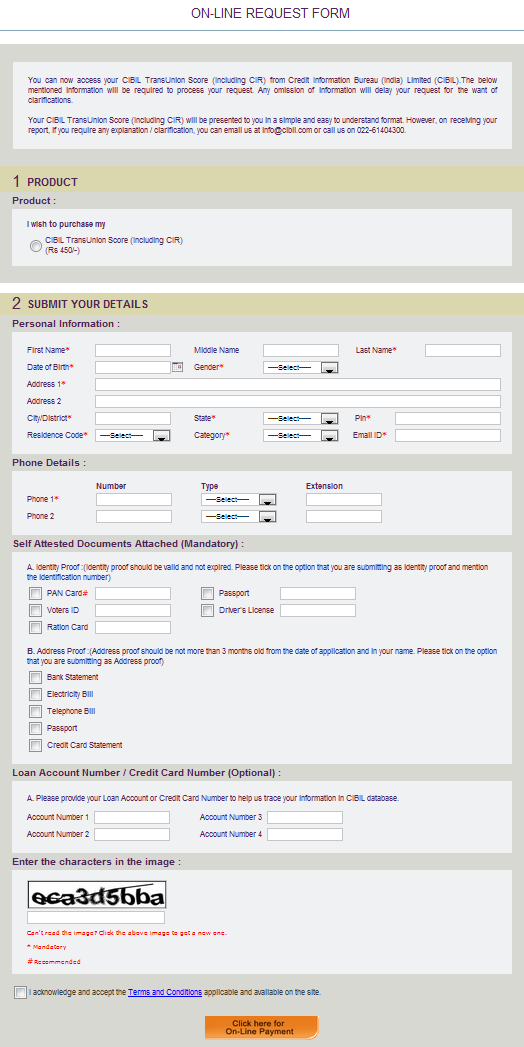 2. Make an online Payment
Once you have filled up the form, and click on "Make Payment" button, you will be redirected to the payment gateway where you can make the payment of Rs 450 by credit card, NetBanking or other ways . I would suggest making a payment using net banking , because I used credit card option myself two times and it failed , but with Net banking option, I didn't face any issue.
Make sure you do not close the page after making the payment, it will redirect you to a CIBIL page where the 3rd step will be performed. Note that before you move to 3rd step , you will get an IDENTIFICATION ID number , please make sure you note it down properly.
Tip : The reason why we keep getting transaction failures (with payments getting deducted) is because of the way the CIBIL website handles cookies. Its always better to clear off everything in your browser before attempting to pay for your report. I found this the hard way after my payments were deducted a couple of times (1 refunded and 1 waiting for refund). Thanks to Vijay for this finding
3. Authentication
Now from security point of view, now you will have to answer 3 questions which would be related to your credit history. Once you answer these questions, your authentication will be successful and you will get your CIBIL score card in your email in next 4 days. You will get this message once authentication is successful
We will e-mail your CIBIL TransUnion Score (Including CIR) within 4 business days*. The On-Line Payment Confirmation is emailed for your record. For any queries on the status of your request, you can write to us with your Transaction Id at info@cibil.com after 4 business days.
You will get a receipt of payment which you can print right away and you will also get an email with PDF copy of your payment and other details.
What if authentication fails ?
Incase the authentication step fails while applying for cibil report online, don't worry .. all you need to do is take the print out of the payment receipt (you get it in email also) , self attested photo copies of the required documents (identity and address proof) which you had put in the form in the start , and send it to CIBIL address. You should get back your CIBIL score in next 10 days.
Documents Required & CIBIL address

1. Online Payment Confirmation
2. Identity Proof – PAN / Passport / Voter's id (Identity proof should be valid and not expired)
3. Address Proof – Bank Statement / Electricity Bill / Telephone Bill / Passport / Credit Card Statement (Address proof should be not more than 3 months from the date of application and should be in your name)

Address

Consumer Relations – Disclosure Request,
Credit Information Bureau (India) Limited, Hoechst House, 6th Floor, 193,
Backbay Reclamation, Nariman Point, Mumbai 400 021.
Data Security ?
While CIBIL says that the whole process to apply for cibil report online is secure and there has been rigorous testing, I personally realised that it's not 100% secure. First the email id where you want to order the CIBIL score can be any email id , all i need to know is your important documents numbers and your credit history and some numbers , which I feel a lot of people share with their close friends and relatives sometimes . So the real security would happen when you do not disclose your credit related data to anyone .
In last few months we have seen that there have been many complaints from hundreds of people on how they could not get a loan because of their low CIBIL score or some bad past record . Banks are seriously looking at these scores now and make sure you at least have a look at your CIBIL score once . So if you have any credit card or loan , you should apply for CIBIL score and have a look at it.
Try out ordering your CIBIL report online and let me know if you were successful or not . Also share your experience with CIBIL in comments section.