POSTED BY Jagoinvestor ON April 7, 2010
There was a time, when mutual fund investing was limited to calling an agent and investing through him. He filled a form for you, and only bothered you for signatures; This was called as "convenient service.".  Things have changed now though. With entry loads abolished by SEBI and with so many technological advances, we have different ways of investing in mutual funds .This article explains the different ways of investing in mutual funds: through agents, AMC's, demat, and web portals. Lets take a look-see…
Different ways of Investing in Mutual Funds
Through an Agent
This is the oldest and one of the most convenient ways of investing in mutual funds. You just call an agent and tell him you want to buy mutual funds. He comes right to your door, & fills in the various forms. All you need to do, is sign the forms. Since the abolition of entry loads, you now have to compensate the agent for his services, and pay him commission on the amount invested. Agents can charge anywhere from 1-2% of the amount to be invested. Make sure you don't pay him more than 1%, which is a good enough amount of brokerage, for expediting the process (filling in forms, carrying them to the Mutual Fund offices, having them processed et al.) If he gives you sound advice on what mutual funds would suit you, and would help you achieve your financial goals, you could then, compensate him more. That makes sense. Be cautious though! Check the details of the form and what is filled. Ideally, you should fill the form.
You should go with this way of investing only if you want convenience and comfort takes more precedence. Click on this AMFI Agent Search Link to search for mutual funds agents in your city. You can submit the search with different parameters and get a list of all the agents with their name, address & phone numbers. There are many agents who are linked with many companies (like NJInvest or Prudent Advisory) who provide login facility, where you can login and see your mutual funds Performance anytime . Read : How many Mutual Funds you should have ?
Direct Investing through an AMC
You can now invest directly through an AMC (simply put – the Mutual Fund companies themselves.) There are many mutual funds who provide online facilities for investing. To do so though, you need to have a folio number, which you get only after investing in a particular mutual fund, which means that you have to go physically to the AMC office to invest for the first time. Next time onwards, you can invest in that mutual fund, online through their website. Using this method, makes sure that your entire amount, e.g. Rs 100/-  gets invested and there are no charges here. The only hiccup, is the manual work involved at the start of the process; you have to take the pain of personally going to the office and then filling in the form. Sometimes, it's a bit of a headache. If you want to invest in funds from four different AMC's, then you have to go to all of them.
It would make sense to use this method, if the amount of investment is going to be large-ish and your tenure is  long-term. In that case, using this way, will save you lot of money in commissions. Just imagine that if you invest 10,000 per month in mutual funds, then with a 1% commission structure, you save Rs 100 per month, which is Rs 3,600 for a 3 yr period. So 3,600 is what you lose when you go with an agent who charges a 1% commission . Note, that you do not require demat account for this .
Read : List of Best Equity Diversified Mutual Funds

Investing through a Demat Account
This is one of the most convenient methods of investing in mutual funds. If you have a demat account, you can browse through all the mutual funds on the site, and just with a few clicks of a mouse, you can invest in a fund of your choice. But then again, you have to pay commission here, since banks are also agents. Some charge a flat fee and some charge on percentage basis. For eg., ICICI Bank charges Rs 30 or 1.5% per SIP, whichever is lower and HDFC charges Rs 100 per quarter irrespective of the amount invested. The biggest advantage of buying and selling through a demat account, is that you control everything from one place. Some of the players in online mutual funds selling are :
5 paisa
Geojit Securities
HDFC Securities
ICICI Direct
India Bulls
InvestSmart Online
Investmentz.com
Kotak Street
Motilal Oswal
Sharekhan
Investing through CAMS or Karvy
CAMS is the transaction processing company which services almost all the mutual funds in India. They process all the buying and sending the report etc to end customer . You can also invest directly through CAMS . All you have to do is Download the mutual fund form from the AMC website. Take a print out and fill the form . Then submit to your nearest CAMS or Karvy Investor centre along with copy of PAN card, SIP form(if needed) and cheque . For now , there is no way of investing online with them .
Here is the list of CAMS offices in different cities and Below is list of different AMC forms which you can download .
ABN AMRO Mutual Fund
AIG Global Investment Group Mutual Fund
Baroda Pioneer Mutual Fund
Benchmark Mutual Fund
Bharti AXA Mutual Fund
Birla Sun Life Mutual Fund
Canara Robeco Mutual Fund
DBS Chola Mutual Fund
DWS Mutual Fund
DSP Merrill Lynch Mutual Fund
Edelweiss Mutual Fund
Escorts Mutual Fund
Fidelity Mutual Fund
Franklin Templeton Mutual Fund
HDFC Mutual Fund
HSBC Mutual Fund
ICICI Prudential Mutual Fund
IDFC Mutual Fund
ING Mutual Fund
JM Financial Mutual Fund
JPMorgan Mutual Fund
Kotak Mahindra Mutual Fund
LIC Mutual Fund
Lotus India Mutual Fund
Mirae Asset Mutual Fund
Morgan Stanley Mutual Fund
PRINCIPAL Mutual Fund
Quantum Mutual Fund
Reliance Mutual Fund
SBI Mutual Fund
Sundaram BNP Paribas Mutual Fund
Tata Mutual Fund
Taurus Mutual Fund
UTI Mutual Fund
Break Down of How investors invest in Mutual funds [POLL RESULTS]
Here is a poll results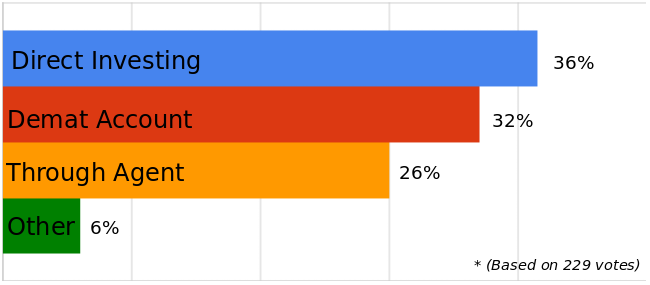 Note : This Poll is from the users of this blog only , so this result should not be generalised for whole country , Its just for the net savvy community.
Conclusion
Before choosing the way you want to invest in mutual funds , you should consider cost and convenience . If you are investing for long-term , you should definitely go through a way where there are less commissions or no commissions.  Only exception can be through an advisor who gives you very sound advice and you are confident that paying him a commission would help you get a better knowledge and returns .
Comments please , how do you invest ? What are your experiences and learnings ? Is there any other way ? Any tips from your side ?