POSTED BY Jagoinvestor ON February 24, 2010
Investment in how many mutual funds is enough? Though it depends on individual needs and situation, we can always arrive at a number or a range which should be optimal for a large chunk of mutual funds  investors. Many a times Investors invest in a large number of mutual funds which does not add any additional value to their portfolio most. They have to understand that investing in every new mutual fund coming into the market will not help them in any ways because after a point they have their investment in most of the companies in stock market. In this article lets see how many mutual funds a common man should invest in general.
Reason we buy mutual funds
Before moving forward, let's understand why do we buy Mutual funds at the first place? We sometimes neglect the basic reason to invest in mutual funds, the reason is very simple:
We invest in Mutual Fund because we have money to invest but we dont have the expertise to invest in Stock Market. We do not want to spend time to manage the investments directly in different stocks and we want to make sure that we diversify our investment across a number of different companies.
Statistics on Number of Mutual funds in a portfolio
I conducted a Poll on this topic and we have some interesting results .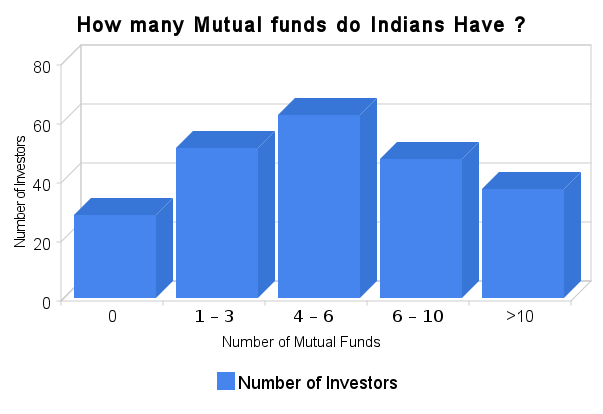 Facts
63% people invested in less than 6 Mutual funds
84% people invested in less than 10 mutual funds
50% people invested in 1-6 mutual funds
The maximum number of investors were in the optimal range of 4-6 .
Total Vote : 225
Average number of Mutual funds : 5.57
If you look closely the graph results mimic binomial distribtution (Ignore this if you don't understand), which shows that law of numbers apply even to this phenomenon and somewhere the average number of mutual fund converges to the most logical number by default .
Why it does not add much value when you invest in more mutual funds?
Each mutual fund on an average invest in at least 50-60 companies. If you buy 3-4 mutual funds then you are anyways going to invest in close to 100 companies overall (considering there will be some overlaps). So If you buy any equity diversified mutual funds, your money is going to be invested in some of the best companies probably 50-100 of them. Now when you buy another Equity diversified mutual fund there are high chances that the money is going to be invested in almost same set of companies in some proportion, so you are going to invest in same set of companies again. Buying 2nd mutual fund of same category will obviously increase your reach to some companies which were not part of the 1st mutual fund. But now as and when you add 3rd, 4th or 5th mutual fund, you will actually be invested indirectly to same set of companies. The price movement of these companies share prices will be same for all the mutual funds (most probably).
[ad#big-banner]
So what you have to understand is that after a certain point, adding more mutual funds of the same category is of no much value for the portfolio. Adding more number of mutual funds leads to another problem which is tracking problem if you are a kind of investor who buys a mutual funds and just looks at the NAV to find out if you are in profit or loss then you are not doing right thing. Mutual funds investing is very much close to Share investing where you track the instrument, see how it's performing, what's going inside the fund, how is fund manager doing, how are they churning the portfolio etc etc. So if you have too many mutual funds in your portfolio, it will be too tough to track them and your portfolio will be very cluttered.
You have to understand that investment of 1 lac in 20 mutual fund will roughly behave in the same way as investment in 5 mutual funds because finally the investment has happened in shares of top companies (roughly the same number of shares), so the investment value is result of the underlying share prices movement and not the number of mutual funds in the portfolio.
Thumb rules:
You can ask two basic questions to yourself to find out if your portfolio size is too big for yourself:
Can you name all the mutual funds in your portfolio and a 2-3 line explanation about what the fund does?
Can you guess roughly how does the movement in stock market affect your corpus in general? If stock market is going to drop or increase by X%, so you have a rough idea of what will happen to your portfolio at a high level?
Example of a Portfolio of Mutual funds
Let's create a sample portfolio of mutual funds. We will consider ETF's as a mutual funds for this example:
2-3 Equity diversified Mutual Fund (Tax + Non-Tax saving): See the List
1-2 Debt Fund: See the List


1-2 ETF's or Index Funds
Note that 2-3 Equity Diversified Mutual funds will cover almost all the big companies in your portfolio. Some ETF or index fund will give index level exposure and make sure you invest in top companies. Debt funds will add exposure to Debt part and no-correlation with Equity.
Most of the people do not invest in the same old fund they have bought, they feel that buying every other mutual funds in market will some way help them earn extra returns which is far from truth. Consistency in investment and faith in one of the good funds you have chosen is the right way to invest in mutual fund.
How having more than one Mutual fund in portfolio reduces the risk?
You have to understand the concept of standard deviation, it's nothing but risk and return potential from mutual funds point of view. So a single mutual fund has the highest standard deviation and the risk and return can be very high. Adding more funds will help in reducing the standard deviation of the portfolio. As per Morning Star Research (Many thanks to Hemant Beniwal for sharing this)
After 4 funds, the effect of adding another fund diminished. It's still noticeable, but not so dramatic. After 7 funds, things have mostly leveled out and after 10 funds, a portfolio's standard deviation stays nearly the same regardless of how many funds you add. Thus, once you own between 7 and 10 funds, there may be no need for more. In fact, the more funds you own, the more likely you are to own at least a couple that do practically the same thing. That could be a drag on your returns because if you have multiple funds doing the same thing, one is likely to be better than the others. Focus on the superior fund and you'll get better returns .
How do you Buy Mutual Funds? [POLL]
Comments, Please comment on what do you think is the optimal number of mutual funds?