POSTED BY Jagoinvestor ON August 19, 2008
Do you want to invest your money more safely? Here is one of the best options for you. ETF i.e. Exchange trade funds are one of the safe way of investing your money in equity market.
It is an investment fund traded on stock exchange, much like stock. These are attractive investments because of their low cost and stock like features. It offers both tax efficiency and lower transaction cost.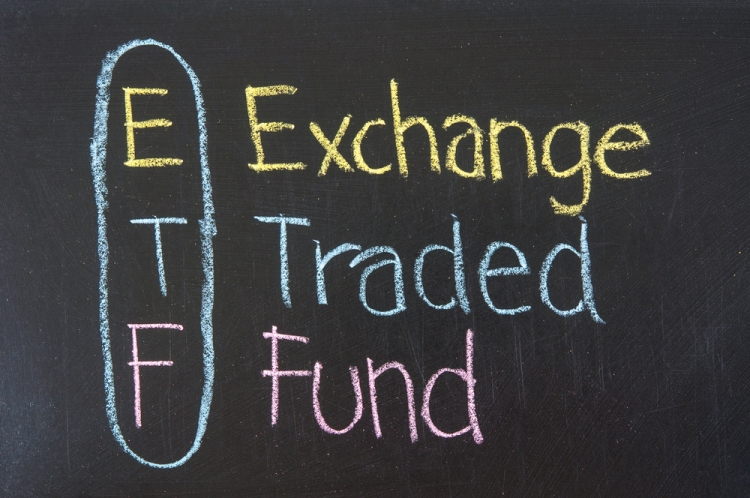 What are ETFs?
Exchange Traded Funds are a basket of securities that are listed and traded on a recognized stock exchange. Simply, they are mutual funds, whose units can be bought and sold on the stock exchange.
Given that an ETF is traded on the stock exchange, its price may not necessarily be the same as the NAV of the underlying portfolio. In other words, an ETF could have an NAV distinct from its market price. The reason being that the market price is usually driven by the demand and supply of units.
Hence there is a distinct possibility of an Exchange Traded Funds units trading at a premium or discount to its NAV.
For Example Nifty BeES , whose underlying is NSE , may not have same price as its underlying , For example if Nifty is 4500 , it may be possible that The ETF's value is 4600 or 4400 , depending on the sentiments and expectations.
Watch the video given below to know the current status of ETF in India:
How does ETF work?
Exchange Traded Funds are just like stock exchange. For that you need to open a Demat account by any medium like through bank, online brokers or through any consultancy.  Check for the prize value of the share so that you will know which of them are in your budget and then you can buy or sell your shares at any time you want to.
It is so easy like suppose you buy some shares at 10:30 in the morning and sell it at 12 pm. then again you can buy another shares after lunch.
Benefits of ETF
ETF's are the low cost simple solution for the generating good returns from stock market investment. The benefits of ETF are as Given below.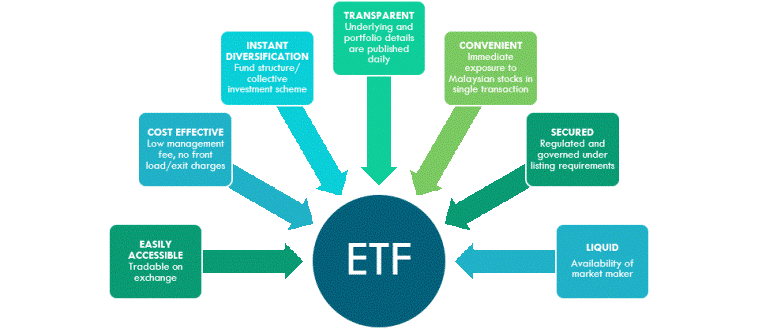 1. Easy to access:
ETF's can be purchased with just a single transaction. In EYF's you are buying mini portfolio's so it is way more easier than buying a basket of Indexes.
2. Cost effective:
Commissions are generally low on ETF as compared to the other tools. Besides this it there is no load fee's and managing fee is also very low.
3. Transparent:
The most important thing of your investment is transparency. You should know where have you invested your money and how's it performing. In Exchange Traded Funds, your portfolio details and underlying are publisher daily.
Difference between ETF and Mutual Fund:
Many beginners get confused between Exchange Traded Funds and Mutual Funds. Though ETFs are part of mutual funds, they are different in many aspects than Mutual funds. Lets see some of the differences between Mutual fund and ETFs: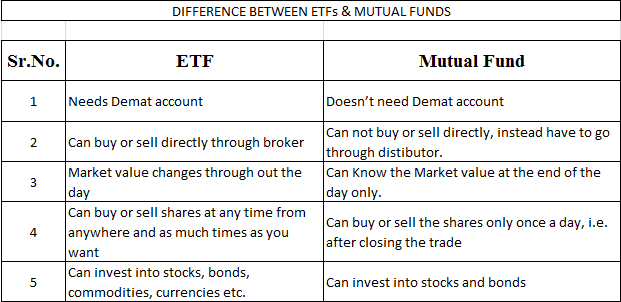 ETF's in India
Nifty BeES : Tracking NSE
Quantum Index Fund : Tracking NSE
ICICI SPIcE Fund : Tracking BSE
Bank BeES : Tracking CNX Bank Index
GOLD ETF's or G-ETF's
Gold ETF's are the simple investments products that combines flexibility of stock investment and simplicity of Gold investment. Gold ETF's are different from Gold savings.
IT tracks Gold prizes. Gold ETF's are one of the best form of Gold Investments. Earlier investors used to invest in gold in metal form. Then comes paper bond and now you can invest in gold through electronic form.
BENEFITS OF GOLD ETF'S:
No risk of impurities.
Flexibility in buying Gold. Like one can buy in smaller lot.
Held in electronic form.
No storage cost.
No security concern like in physical form.
Transparent pricing and potentially cheaper.
Can track your investment values in real time.
No wealth tax like in Metal form.
Advantages of ETFs
1. ETFs tend to be more cost-effective vis-a-vis comparable mutual funds. The expense ratio of a passively managed ETF (tracking a benchmark index) would normally be in the range of 0.50%-1.00%; for an index fund, it can be as high as 1.50%. And for mutual funds the entry load is 2.25% .
2. ETF's can be bought and sold anytime during the market hours , unlike the Mutual funds NAV at the end of the Day.
3. Given ETFs are traded on the stock exchange, and can be bought/sold on a real time basis; they tend to have low tracking error (deviation of ETF's performance from that of the underlying index) as compared to index funds.
Disadvantages of ETF
1. Investors need to have a demat and a trading account, with a SEBI registered stockbroker, for investing in ETFs
2. Costly to operate – You need demat account to buy ETF and the charges for demat account might compensate the low expense ratio of ETF. One of our blog readers comments on that