POSTED BY Jagoinvestor ON March 16, 2009
This is one of the questions which everybody wants answer to . You can do it , but it will require some effort, learning and dedication. Also you will have to develop some kind of discipline and change your attitude a bit.
We shall first see who all are into Direct Equity Investing. They are Mutual funds , FII's , Big experienced Investors with high experience and qualification . These people are 24/7 doing this job of researching the companies for long term investing . And even these people do mistakes and even they can predict markets directions always .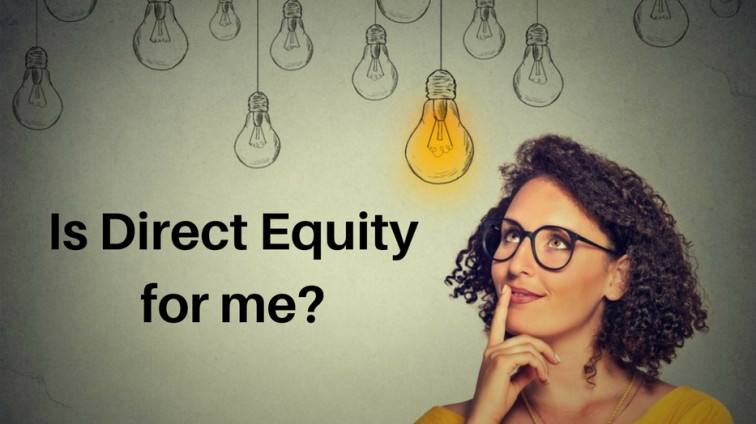 So now you can be one of the two kind of people.
1. Someone who has no interest in the markets and have no desire to learn things on his/her own.
They want to earn better returns than debt, but at the same time without bothering much. Then you better invest in mutual funds (SIP would be a good idea).
That way you can get returns over long term and don't have to put much effort (apart from choosing good mutual funds in the start and monitoring them once in a while in a year, which is not a big deal).
2. Someone who is ready to take more risk and can also devote some time to do his own study of stocks (not a big one, but basic atleast).
He has better than average interest in these things and also enjoys the stuff. If you are one of those than you can put some money directly in shares of companies after your own research and understanding, it can be any way you are comfortable with. You should learn some basics of Fundamental Analysis and then apply it.
For example: I can say, that After RPL – Reliance Merger, Reliance will be among the biggest refineries of the world (it was anyways, but now in better position), It has lots of exploration projects going on and company's is in safe and great management (as per the current information).
On the top of it Company has great valuations, and is available at many years low price and now overall markets are near its bottom. Just by looking at these facts, you can understand that it would make sense to BUY Reliance for long term, better accumulate it over the next 6 months, to catch the volatility too.
Can we go wrong and it may not give us good returns?
Definitely yes, Markets are the place where you should expect the unexpected. But at this moment that's the best we can do and should do.
Can you do better than Fund managers of mutual funds?
Some people may answer yes , and may be they are true, But personally I would say at this moment I can't do better than them. Reasons are as follows:
They are doing it from last 10 yrs, I might be doing it from last 6 months or 1 yrs (personally i dont do any ).
They are highly expert and qualified people. I learned accounts till my 12th only and it really sucks for me.
They have access to internal information and resources to do better research. I don't have it.
So, I may be able to pick a company once in a while which gives 100% in 6 months against there 20%. but over long term, chances of there sustaining in the business is very high. So think long term. Don't over estimate yourself.
You should understand that i am not trying to tell you cant do it. I am just trying to make sure that you understand your position in this game and your abilities to do things.
I personally like to do things on which i am good at and transfer the responsibility of other things to experts in that field. If I want the joy of it anyways, I will take a small portion of my portfolio and will play with direct equity. That is allowed 🙂
Watch the video given below to learn everything about Direct Equity:
Why Mutual funds Makes sense for Retail public?
Mutual funds are the products which are formed on the philosophy that many inexperienced and uninterested people who have money but no knowledge will pool all the money together and hire a person who has experience, understand the markets well, and can take better decision.
This person also has all the time dedicated to investing, so that thousands of investors don't have to monitor the investments and the returns which will be generated will be distributed to investors after paying this fund manager for services.
So it makes sense you any one like you , who may be a Software engineer, Doctor, businessman or another person, who has no time for all this investing thing. Its you who have to decide who you are?
Don't fell in the trap of high returns, With high returns comes the disaster too.
"Good return with some risk is much better than Exceptional returns with catastrophic losses".
I hope this article will prove helpful to your. Leave your views about this article in the comment section. You can also ask me if you have any query.