POSTED BY Jagoinvestor ON July 19, 2022
Today I will tell you about foreclosed properties and how you can buy them for lower than the market price.
What is the meaning of Foreclosed Property?
Many times, banks seize the properties when their owners fail to pay their EMI payments for a long time. These properties are called "foreclosed properties" and banks put them for sale in the auction in order to recover back their dues. Once the properties are seized by banks, they are the rightful owners of the property under the Sarfesi Act and they have 100% legal rights to sell off these properties.
These properties are mainly sold below the market price because the focus on banks is mostly to recover bank their dues and not to make profits. So you can strike a very good deal if you are ready to go through the process of buying foreclosed properties.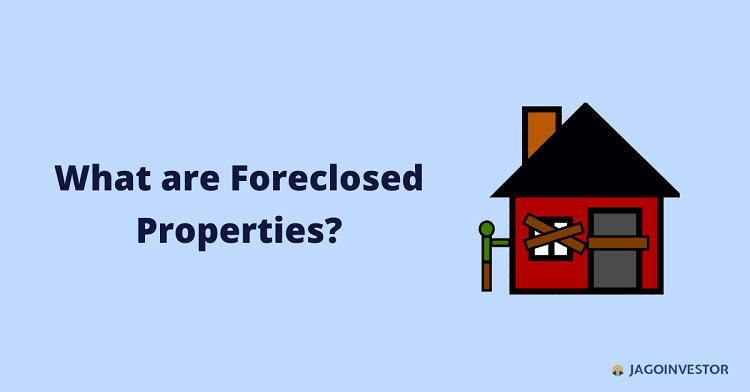 Advantages of Buying a Foreclosed Property
Price Advantage: Auction properties are approximately 20-25% cheaper than the market price.
Legal and Safe: Banks / Financial Institutions approve loans after verification of all the legal aspects only. Bank Auctions are legally safe and fall under the SARFAESI Act and DRT Act.
Quick Process: The entire transaction will be over in less than 2-3 months period. Ownership will be transferred within a month's time.
Disadvantages of Foreclosed Property
No Guarantee of quality or internal condition: Bank cannot provide any disclosures as to property history/condition issues. If there is any damage to the property then the banks will not repair and give. Property conditions might be suspect due to damage done by upset homeowners.
Heavy initial Money requirement: Only serious buyers are entertained as you have to put a big amount as a guarantee
Tedious Process: To some people, the process may seem to be tedious and daunting.
How to find a foreclosed property?
The data and information about foreclosed properties are quite fragmented. There is no single central database of information but divided a lot. Here are some ways you can find information about foreclosed properties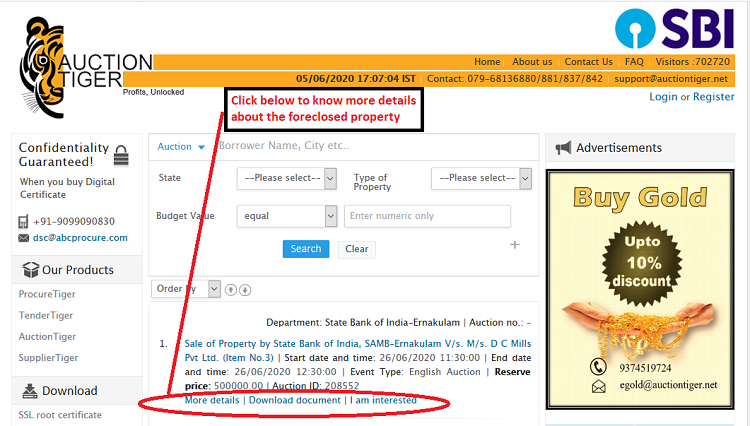 Next step after shortlisting the foreclosed property?
Once you get the preliminary information about an auction, you can visit the property along with the foreclosing bank's official.
All exact information about the property is given on the website such as the name of the borrower of the property, the property belongs to which state and city, what is the reserve price of the property, exact time and date of the auction of the property and so on
What do I need to do, If I want to participate in the auction?
To participate in the auction, you will need to submit an application and KYC (know your customer) documents, along with the bid value which can range from 5-20% of the reserve price, to the bank.
Then on the main bidding day, whoever is the highest bidder wins and they have to then pay the rest of the money to secure the property. There may be some advance to be made and the remaining money has to be paid in a few weeks. So you can go with a home loan if required, but remember that you will need to have a decent amount in your hand to participate in the auction anyways.
Beware of these small issues with the foreclosed property
Remember that the foreclosed property is coming into your hands from another owner who was financially distressed, and there is a good chance that there might be some
Pending property taxes
Pending Maintainance to Society
Pending Electricity bill/gas bills etc
Banks are not going to recover these and these are your headache, but even after paying these, you may be getting a great deal.
Is it worth buying a bank auctioned property?
Below is a short video that answers your question.
3 precautions to take before taking a Foreclosed Property
Do hire a lawyer so that all the legal papers can be checked thoroughly especially if the amount involved is very big.
Do not buy a very old property as that would require major renovations.
The chance of earlier owners staying in the house is less because banks usually ask them to vacate before auctioning the property. However, if the property is already let out, the tenants may be still staying in the house and it becomes your responsibility to evict them. Freeing a house of its tenant is difficult, especially if the tenant has been staying there for a long. The best strategy is to avoid a house that is already occupied by tenants.
This was all that I wanted to share in this article. If you have any queries post them in the comment section.