POSTED BY Jagoinvestor ON January 19, 2017
No, I am not sharing my personal opinion here in this article.
I am actually telling you about 451 people who have shared their personal data with us in a survey we conducted some time back and we are presenting you the data in this article. That data will help you know how others think and what are their numbers and that way you take a decision for yourself.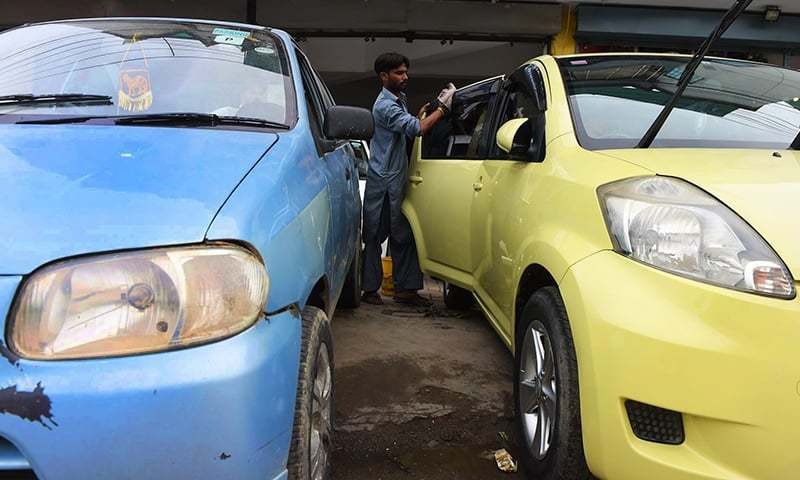 You mainly have to decide following 3 things when you buy your first car
Should I buy a brand new car or a 2nd hand car?
How much should I spend on my first car?
How much loan should I take?
451 people shared their data about their car ownership
We asked few questions in our car survey like their first car value (when they bought it), their per month income when they bought it, If it was a brand new car or a 2nd hand one, what was the % of loan they took, and some more questions regarding what they feel about the car.
I will share all that data in this article.
Point #1 – Should I buy a brand new car or a 2nd hand car?
Most of the people who buy their first car, generally go for a brand new car, however, some people also prefer to buy a 2nd hand car to start with and then upgrade it later to a new car in the future.
In my own case, I bought the 2nd hand car because I wanted to make sure that I am aware that I make a rough use for all my belongings and its better to first buy a 2nd hand car. Also, I had my budget constraints.
80% of buyers prefer buying a new car
Around 80% of the survey takers, shared that their first car was a brand new car, whereas 20% bought a 2nd hand car as their first car. The average cost for a brand new car was close to 6.78 lacs and in the case of 2nd hand car, it was close to 3.05 lacs.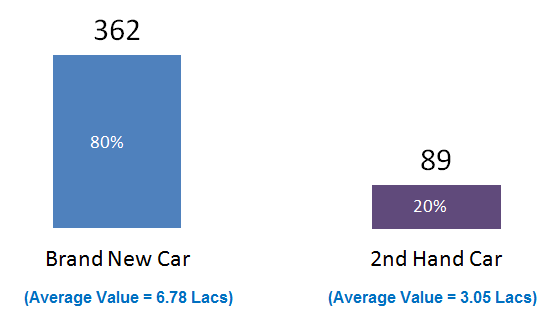 Pros buying New Car
The special feeling of ownership with pride
The latest technology, with current features
Peace of mind, as you know there are no issues with car
Cons of Buying New Car
Much Expensive compared to a used car
Much higher depreciation (Try to sell it in 6 months and see the price you get)
Takes away a good part of your wealth
More pressure on your cash flow if taken on Loan
Pros buying used Car
Cheaper and Most of the times can be bought without a loan
Low Insurance premium
Lower depreciation
Better resale value (buy for 3 lacs and sell again in 2-3 yrs)
Cons of buying used Car
Old Technology and features
Difficult to trace the history and find the legality
High maintenance costs
Inferior feeling in front of peers who own better cars)
For those who are interested in new vs used car debate can check this detailed article on Team-BHP
For how many years are you planning to own the car?
If you are planning to own a car for just 1-3 yrs, it's better to go for a used car. However, if you have a view of 5-6 yrs or more, then better go for a new car.
Also if you are tight on your budget and still want to buy a car, you can explore the used cars and after a few years you can upgrade to a better car. However, if have the capacity of buying a new car, you should go for one.
Below is a short video which shows you what all to check if you are planning to buy a used car
Point #2 – How much should I spend on my first car?
Now comes the next important point, which is how much should I spend on the car you are buying. A person earning Rs 10 lacs a year can buy a car costing Rs 5 lacs also and 20 lacs also if they want. However what is the right amount to spend on your car purchase?
This will depend on many factors like
Do you want to take a loan or not?
If you want to take a loan, how much EMI do you want to pay each month?
Is "Car" mere a machine that moves you from point A to point B, or is it much more for you?
What is the role of the car in your life?
How passionate you are about driving, fancy cars etc
How many times of your income should your car cost?
A good way to look at the potential car value you should buy is the X times of your monthly income. If a person thinks that he should not spend more 6 times his monthly income on the car and if he earns Rs 80,000 per month, then he should buy a car worth not more than 4.8 lacs.
If he feels it should be 10X, then not more than 8 lacs should be spent on the car. However the problem is no one really thinks this way when it comes to decision making, so let's see what were the actual numbers for various groups!
As per our survey data, those who bought a brand new car, for them this ratio was 9.7 on average (their car value was 9.7 times their monthly income)
And for those who bought a 2nd hand car, it was 6.4

Your Salary and what you feel "car" is?
What will be your car value will surely be
We also calculated the same ratio for those whose monthly salary was above 1 lac and below 1 lacs.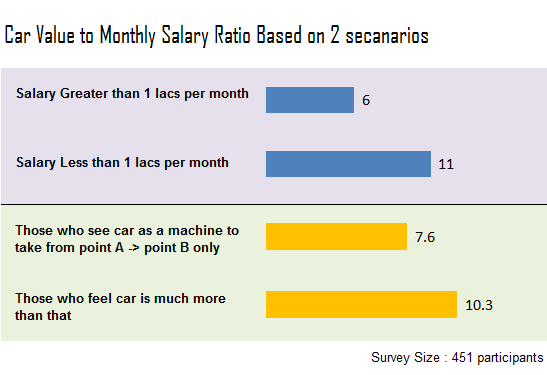 If you see the whole data above , you will figure out that if you are buying a brand new car, or if your salary is above 1 lacs per month or if for you a car is much more than a machine which takes you from point A – B, then you ideal money to be spent on your car is anywhere from 9-12 times your current monthly income, else if none of the above is true, then you can go with 5-7 times of your monthly income.
It's just a benchmark and a rough direction based on what hundreds of people do.
Point #3 – How much loan should I take?
Do you know that as per our survey 75% of the people who bought a 2nd hand car, did not take any loan?
Only 1 out of 4 people took a loan which was on average half the value of the car (to be exact, it was 52%).
However, when it came to those who bought a new car, 69% of them took a car loan and their average loan was 2/3rd value of the car price (rest 1/3 was down payment)
The amount of loan you take will depend on the price of the car, your capacity to pay the downpayment, your views about debt in life. I personally think a person should have the capacity to pay for full car value and only in extreme cases one should go for a car loan as its a depreciating asset anyways.
Burdening yourself with more EMI does not fit my philosophy that too for a car. This is truer if you still don't own a home or if you have not yet started investments for your long term wealth creation.
Below is a detailed information salary-wise and also thinking wise.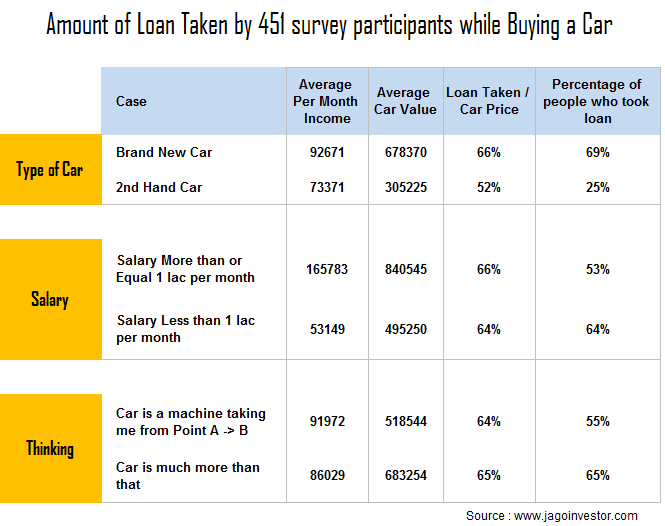 You will find two kinds of car buyers. One who feels that car is nothing more than a utility which does a job of taking you from point A -> point B. They are not that passionate about cars in general and view the car as just another possession.
Where as on the other hand, there are people who feel CAR is an important part of life. There are various life moments that are linked to your car. Your exotic vacations, long drives and many events in life will not be possible  (most of the times an expensive one).
Who is right or wrong?
None of the groups are wrong or right, its a view and everyone has the freedom to express what they feel about cars.
Coming back to car loan, I feel you should first try to avoid the car loan totally if possible for you, and if not, then you should take less than 50% loan only.
Otherwise, a big chunk of your monthly salary will go into paying your car EMI and your wealth creation might take a hit due to that.
Let us know what you feel about this topic in below comments section.