POSTED BY Jagoinvestor ON September 12, 2016
CIBIL has now started subscription services for its customers. Now you can get bimonthly or quarterly CIBIL Reports if you want to track your credit score on an ongoing basis, then this service is for you.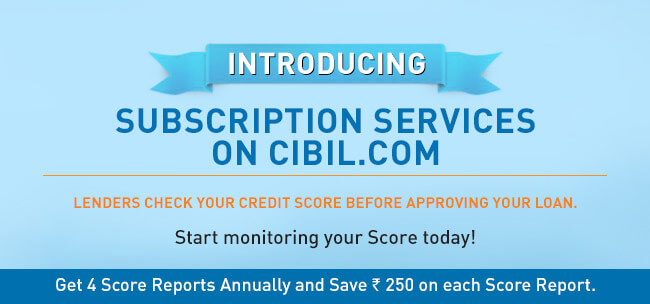 How to apply for the CIBIL report on a subscription basis?
Earlier you only had an option to buy your CIBIL Credit Report on a one-time basis by paying fees. Now you can buy it on a subscription basis if you wish to.
You need to visit https://www.cibil.com/creditscore/. There you will see 3 options which have 1 report (one time), 2 reports (half-yearly) or 4 reports (quarterly). One can choose any one of these options and fill up other authentication-related details and then make the payment online. You will start getting your reports on email.


Who should opt for the CIBIL subscription?
I think all those investors who are going to apply for loans in near future and want to keep a watch on their scores or those investors whose CIBIL Reports were bad earlier and they have taken steps to improve their scores, can apply for CIBIL subscription so that they get the periodic reports. However also note that from the coming year, CIBIL will provide one FREE report anyways
At this point of time, the one-time CIBIL Report + score costs Rs 550, if you apply for another report within the period of 12 months, then your total cost anyways will be Rs 1,100 , where as the quarterly subscription cost Rs 1,200. However if you are the first time applicant, I suggest only buy the one time report.