As I said in the first point, most of the times the emergency is not real, its often the created one!. However, this does not mean that you delay things beyond limit, thinking they will come back to you all the times. If there are other leads who are ready to buy the property, you will not be contacted beyond the point. So keep a balance
3. Don't get mesmerized by Sample flat or Jazzy brochure's
Human visualize and fantasize about everything in life
This is the reason when you see jazzy brochure's, the lush greenery, clean atmosphere and a world beyond reality, you visualize yourself living in the serene beautiful place which has no traffic, no tension and a all perfect life. I am yet to meet anyone with whom it has really happened 🙂
Please, do not do any booking only on the basis of the brochure, some presentation or looking at a sample flat.
Make sure you visit the actual project site and see the location, how well connected the area is city, how are the roads, what's nearby the place and other important factors. A lot of people book properties in real estate expo and exhibition, which I don't think is a good idea at all.
Real life example
I once met a sales representative who came to explain me about a project in WAI (near Panchgani, Maharashtra) and he sold a story which looked so amazing, that my inner self-was ready to book the property right then and there. I was so excited to take a look at the site.
However after a week, when I actually visited the site, all my excitement died because the reality was so different than what I had visualized. I must mention that it was not the sales executive fault here and he had not given any wrong information. In fact, he was a brilliant sales person and very professional.
The problem was me myself. I have over-estimated the greatness of the project and its location, because of the jazzy brochure.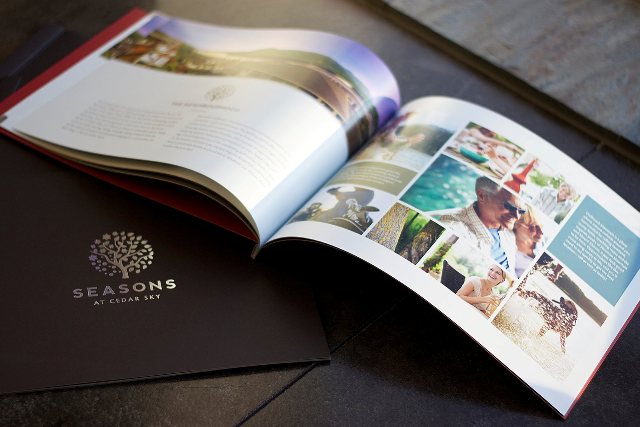 In case of residential flats, remember that the jazzy brochure and the sample flats are created to exploit the human imagination and sell you dreams. What you actually get in reality will not be exactly like sample flats you see.
You won't believe, but there are professionals who are hired by builders to give mesmerizing presentations to prospective buyers, especially NRI. Presentations are arranged in 5-star hotels and bills are paid in lacs of rupees. Here is one gentlemen explaining how it happens. Please see the video below
I am not saying that brochure's are not important. They surely play a big role in marketing and you get a very good idea of what is the project all about, but go beyond that.
Judging a property by just looking at brochure is exactly like hiring an employee by just looking at resume.
4. Ask for the legal documents and regarding the basic amenities
You are probably doing one of the biggest investment of your life-time. Right?
If your buy something which is junk, you will regret it all your life. There are millions of people in India, who are dealing with legal issues today because the land they bought is disputed, the required sanctions were not taken and many other issues. So just don't feel shy about asking legal documents. There is no hurry in doing the agreement.
Simply ask the sales representative to provide you all the legal documents, sample agreement copy and all approval related documents. For god sake, take the documents to a property lawyer and pay Rs 10-20k fees to consult him, before you buy that 75 lacs flat!.
The lawyer will check the documents and help you understand, if the project is totally fine or has some big trouble. Then you can take the decision of moving ahead or not.
It will save you a lot of money and energy in future. It's not a very healthy sign if the sales person is constantly avoiding the conversation regarding legal documents or if he is hesitant in providing you a copy of the agreement.
Ask about surrounding area and the development coming up
Apart from the legalities of the project, you also need to inquire in detail about the surrounding area and what all development is coming up in future. Ask things like
Is some flyover planned?
Is some college coming up?
What kind of markets are nearby?
How far is bus stand?
How far is the main highway
From where will the water connection come?
What about electricity connection?
While you might not be able to verify a lot of things, but at least you can know about the basic amenities. Things like water is really a cause of concern
5. Say that you are seeing other nearby projects as well
Before you go to the project site, inquire about the other projects near by. At least, go to the websites of those projects and memorize the names, location etc. If possible inquire on phone about their rates.
Then, when you are talking to sales representative, share with him about all this. Let him know that you are an informed investor and if he has to win you as customer, you should be offered a good deal.
I can assure you, there is always a possibility of Rs 25-50 per square feet discount if you ask for it 3-4 times. Tell them that you had heard about the lower rate from one of your friends or tell them that someone else from their sales team had called them and shared about the lower rate few weeks back and that's the reason you are inquiring. The sales person always has that much margin in his hands.
The big boss always tells them – "If you see that customer will go away, offer him up to Rs 25-75 discount per sqft, but only in worst case". There is nothing wrong in asking, the worst case is that you will not get it.
6. Don't be tempted with awesome deals and discounts, they are well designed
So the builder is giving you are modular kitchen included in the flat? WOW .. Who is paying for it? Definitely not you! . Come on! .
It's all included in the price. Instead of 49.5 lacs, he is charging you 50 lacs and giving away the free modular kitchen worth Rs 50,000. What's so great about it?
Some builders in premium segment also offer a car along with the house. Book a Villa and get a car. Sadly, that means "My project is not able to sell, here is my last trick on you by offering you a bait"
Trust me, If I were a builder who is selling a 4.5 crore villa, I can also come up with such offers. Increase the price and give the car along with it. At the end, its the customer who pays the price.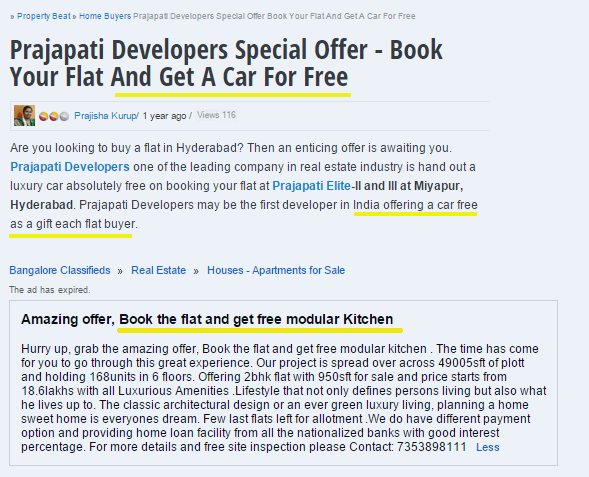 Understand that whatever you are getting is funded by your money only. No one in their right mind, will give any kind of discounts or offers because they have a big heart. It's all money game. It's just a way to emotionally exploit you and make sure you feel great about yourself. Just because its bundled offer, it looks very good.
7. Ask which all banks have approved the project
A good way to filter a good project from a bad project is to see if its approved by many lenders or not. If all major lenders have approved the project, its a sign that the basic level checks are done by lenders and you can now trust the project more. It does not mean that you should not do your homework further, but the primary level of investigation is done.
If a project is not approved by any lender or some not so famous lender has approved it (just a single one), there is a possibility that something is fishy.
Probably some approval is not taken care of, or may be the land is disputed. You should also ask them if they have a good crisil rating. Go and check the pdf on crisil website for that project.
I lot of small time builders offer their own EMI scheme like pay 20% now and rest in EMI for 5 yrs . This happens a lot in plots especially very far from city. I am not saying that they are bad always, but you should be a bit cautious with them on legality factor.
8. Don't get over obsessed with the "upcoming infrastructure"
There will be lots of promises (real and fake) made to you. You will listen about the lots of development projects, the ring road passing from that area, the grand temple coming up, the new wide road which is planned and many such things. Some of them might happen in reality, but not always.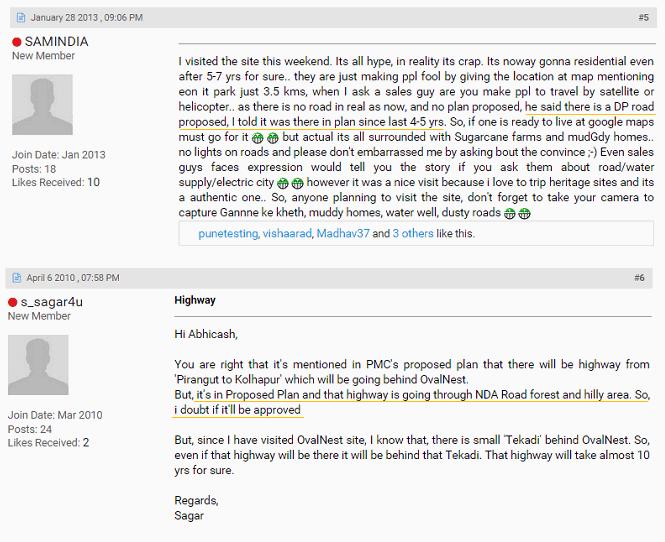 A lot of plots schemes are sold as "Proposed NA" status (which means soon it will be approved for residential purpose) and the agents will tell you that they have put an application to convert the land from agricultural to Residential which will take just 1-2 yrs.
But don't believe them blindly. Converting a land status is a big task and in most of the cases, it might take 10-20 yrs time or it might never happen. A lot of investors are stuck with the plots paying huge money which they cant use. Don't take decision in hurry.
Real estate is a complicated investment and a lot of factors decide if you are making a right investment or a wrong one. As its one of your life biggest financial decisions, make sure you do not hurry and take your time. Everyone is there to make money out of you.
I would like to hear about your experience and what you have faced in life with different real estate agents and builders. Please share your unique learning which can help someone else. I would like to keep adding more and more experiences and tricks which you will share with me here in comments section.