POSTED BY Jagoinvestor ON August 29, 2013
Today I am going to share with you information about the CRISIL Real Estate Star Rating (CREST). It's a product by CRISIL that rates a real estate project based on numerous parameters relevant to different entities such as investors and lenders. You can visit the CRISIL Rating page on its website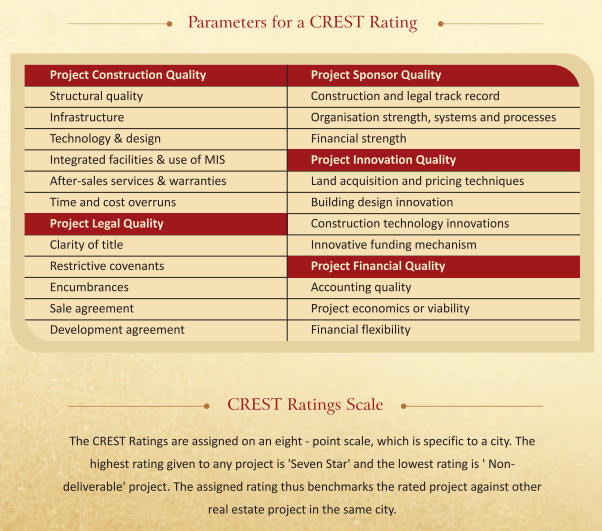 Parameters checked by CRISIL for rating a Real estate Project ?
There are various things that determine the final quality of a project and how good or bad it is. The CRISIL Real Estate Star Rating looks into the parameters listed below and then assigns a rating to the real estate project.
Construction and legal track record
Organisation strength, systems & processes
Financial strength of developers (s)
Structural quality
Clarity of Title
Infrastructure & Integrated Facilities
Restrictive Covenants
Finishes
Encumbrances
After-Sales Services
Sale Agreement
Likelihood of Time and Cost Overruns
Development Agreement
Accounting Quality
Project Economics or Viability
Financial Flexibility
Innovation in Construction technology
Innovation in Building design
Innovation in Project funding
Rating Scale
CRISIL has an 8-point rating scale for the properties, beginning from "1 Star" and going up to "7 Stars". The lowest rating is "Non Deliverable". On CRISIL's website, you can see the list of different cities and their associated CREST ratings. So if you want to buy a property in Bangalore (learn 20 terms in real estate here), you can check the CRISIL website to see if the property/ project you are interested in is mentioned. The project might have already gone through the rating process by CRISIL, and obtained a rating.
However, if a project has not been rated by CRISIL, it does not mean that the project is bad or is not worth investing in. It just means the builder has not applied for the CREST rating or CRISIL has not picked up that project yet. Given the number of projects coming up in different cities, and the total time it takes to scrutinize a project (close to 4-5 weeks), it is really not possible to rate all the projects in one go.
Different Projects in Cities
If I look at the CRISIL website, I can see many cities listed and numerous projects listed under each city. All you need to do, is to click on a city name and you will see the list. Here are some snapshots, which will give you a clearer idea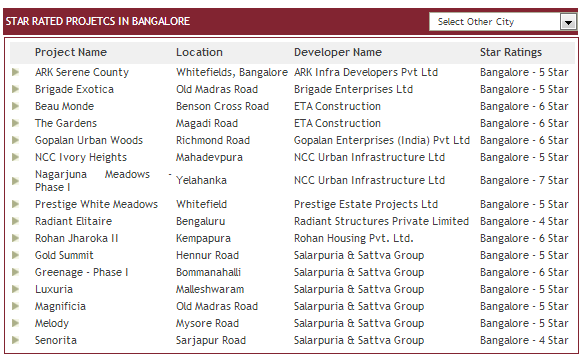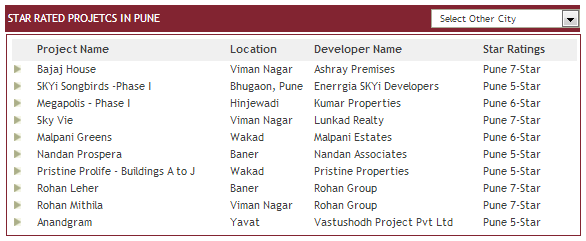 How to use CRISIL Rating?
If you are lucky, the real estate project you selected is already rated by CRISIL, in which case you can see how many stars it has got. "7 stars" is the highest. So if the rating is either 7 star, 6 star or 5 star, I would say it's a good rating overall. But you should re-look at projects with lower rating; especially a project rated as "2 Stars" or "3 Stars".
However, CRISIL might not have rated the project yet, in which case you will be have to check the project and evaluate it on different parameters on your own – we have already discussed some of the parameters on this article.
Let us know if you were aware about CRISIL real estate star ratings (CREST) or not ?