POSTED BY Jagoinvestor ON May 28, 2015
A few months back I got a call from an NGO based in Delhi. They were trying to help a small baby, which was a critical medical condition and needed immediate medical help and they were generating the money from all over India. Even there were social media campaigns around it. The girl talking to me told me its an urgent matter and how as a citizen, my help could mean a lot to the poor child.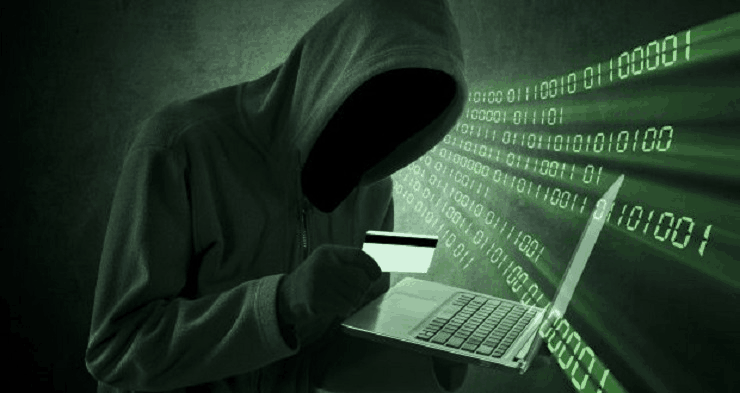 I told her, she can mail me the details, so that I can look at what I can do from my side. After 1 hour, when I typed the NGO name and it turned out to be a big fraud campaign, which was widespread and many people reported their complaint.
But this was just one example. There are so many areas where various kind of frauds are going on all over the country and many uneducated people who do not understand the online world fall for it and lose their money. This is worst than mis-selling at times because in mis-selling you get bad returns or your money is stuck, but in these kinds of frauds you lose all the money forever. So I want to share some tricks used by people to do online frauds and their modus operandi. Here they are –
Fraud #1 – Fake Job Offer
Millions of people are unemployed in India and that has given birth to this job offer scam. In this, you get an email offer from a reputed company which invites you for their interview. You see all kind of numbers, venue, last date etc, and then you see a line mentioning that you need to deposit a security deposit or some basic fees, which will be refunded later.
Given so much of unemployment, a lot of people fall for this trick. The emails look very genuine when you read it, as it contains the company logo, or it might be on the letterhead of the company, but when you dive deeper and check the email id from which it was sent or the website link, you can figure out that something is wrong. Below is one such mail.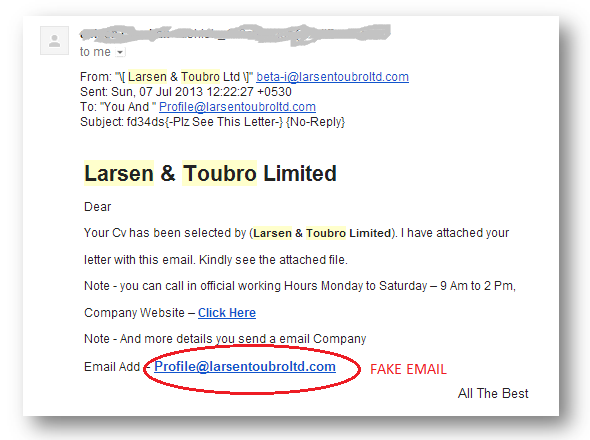 Remember that no company in its senses will ever ask you to deposit any kind of money with them for an interview. Below is an example of how people lose such a big amount in these kinds of fraud offers.
Cybercrime police in Bangalore, India have busted a fraudulent on-line job racket offering nurses jobs in the UK and arrested five persons including two Nigerians. The accused had cheated a nurse to the tune of Rs11 lakh by promising her a job at the Ealing Hospital there.

The nurse had responded to the email job offer at the Ealing hospital in UK by sending her CV and educational certificates. The accused subsequently got in touch with the victim on her telephone and asked her to remit money for anti-terrorism and drug trafficking safety certificates, WHO immunization insurance and skilled immigration permit certificates.

The victim remitted Rs 11,03,500 to different bank accounts as suggested provided by the accused before she realized she had been conned by the gang of fraudsters when she stopped getting responses from the accused.
Fraud #2 – Help a child in an Emergency situation
This is what I was talking about at the start of this article.
Just search for the term "relief India trust scam" and you will see how many people got a call from this so-called NGO claiming to raise money for medical treatment of some needy baby. I got a call myself 2-3 times, and every time I kept investigating the issue to understand how they work. When I enquired about their Registration number, they even gave me that, but then it's not a big deal. You can always start an NRO with bad intention.
They were extremely pushy and didn't have a lot of supportive information regarding their claim. There are many other scams going on in the name of helping someone. It can be on helping a poor girl education or for the treatment of a kid, who has no one in the family.
They even go to an extent of telling you that the baby is on the ventilator and the surgery is in the next 30 minutes. You often see this in train's also where a lady comes with a pamphlet asking for help. I am seeing that same thing from last 30 yrs in sleeper class. Even I see the same thing on some buses.
Coming back to the online version of fraud Here is two such experience from this website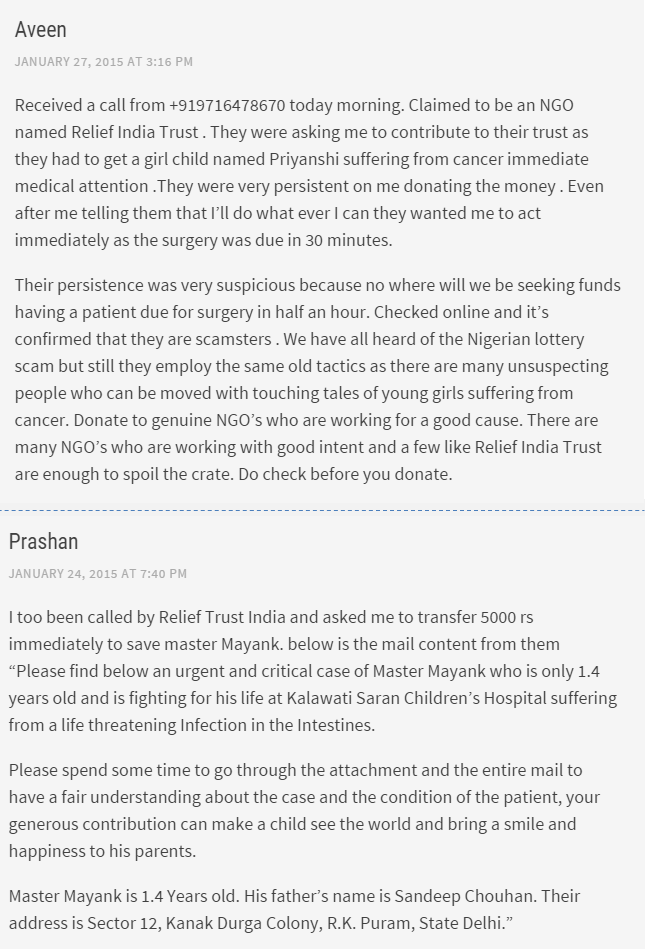 I don't want to paint all the NGO's with the same brush. There are many good NGO's also, they are doing good work, but many NGO's have sprouted up, only to take advantage of these kinds of situations and exploit emotions of people to make money.
Fraud #3 – I am calling from IRDA
This is a well-known scam these days. Almost every investor has some or the other kind of insurance policies, especially from LIC. So these fraudsters give a call to you and ask you about your policy and tell you that they are calling from IRDA and you are eligible for some bonus after many years and in order to get your bonus you will have to either send some money or buy some policy again.
A lot of times, they have some more details about you and your policy and they look genuine at times. And many investors fall for these scams. Here is an advertisement which cautions investor's about it
You can also listen to some sample audio calls which was recorded by some investors. You can listen to them and see the tricks used by them to cheat and fool investors.
Fraud #4 – Verification Call from Bank using OTP
This might be a new thing for many investors. In this fraud, the target is generally uneducated investors who are not that much educated or who are very new to internet banking. The fraudster poses them as a bank verification officer and gets all the information like debit card number, expiry date, CVV number, and even OTP number while doing the online transaction parallelly.
This recently happened with one of my friend's father who lives in Patna. His father was not that well versed with internet banking and used to do all his transactions in offline mode. So naturally, he was not aware of how the system works. One day he gets a call which goes like this
Fraudster : Hello , Mr PQR.  I am XYZ calling from SBI bank . Your name is on our records who recently got a debit card. We are seeing some suspicious activity in your account recently, so this is a verification call to make sure that the debit card is in the actual account holder name.

Friends Dad : Oh ok .. What needs to be done to secure my account ?

Fraudster : Please verify your debit card number and the expiry date . It would be written on the card.

Friends Dad : (shares the numbers)

Fraudster : If you check on the back of card, there is a 3 digit number, its called CVV number. Please share it with me. Is it printed there ?

Friends Dad : Yes, its there .. Its 645

Fraudster : Ok , I have initiated the verification, I am now sending a 6 digit code to your registered mobile number, share that with me and then delete the sms. Please dont share it with anyone else

Friends Dad : Yea, I got it just now .. its 745523

Fraudster : Ok great , you will get a sms in sometime informing you about the verification success .. I am now disconnecting the call. Thanks for your time

Friends Dad : Thanks ..

( After 30 seconds …. there comes an sms )

"Dear Customer , Your Ac XXXXXXXXX567 is debited with INR 24,500 on 27th Apr .. Your available balance is INR 34,000"
The real story?
What happened in the background, is that the fraudster tried to make an online transaction on some website, which required a debit card number, expiry, and CVV number. After that, an OTP is required, which comes to the registered mobile number. Note that the modus operandi might deviate a bit, but the point is the same.
The fraudster tries to show himself as a bank verification officer and asks for all the details. I know you and I might quickly judge that this is a fraud call, but millions of people who are from a rural background or from past generations cannot.
Because first, they don't understand the online world and the new way of banking which has come into the picture in the last 10 yrs and they are sometimes quite afraid of making a mistake. When they are told that their account is compromised and their money is at risk, they take wrong decisions in haste. Below is another real-life example of this kind of fraud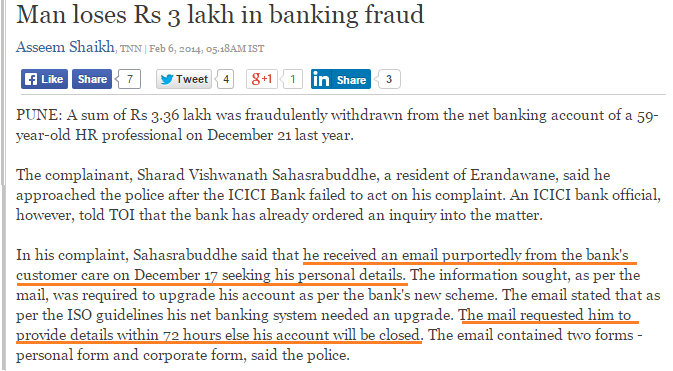 Hence, make sure you never share your card with anyone or share its details like CVV number of ATM pin. A lot of people do it in Restaurants and Petrol pumps. 99.9% of times, nothing happens, but we are talking about that 0.1% times when things can get nasty.
Fraud #5 – Please verify your bank details (Phishing)
It's a very common kind of fraud in the online world. It's called Phishing, which aims to steal your sensitive data like username, password or card details. You get an email asking you to verify your account or details, failing which your account will be closed.
When you click on the link, it takes you to the website which looks exactly similar to your bank or card company, you enter your details thinking that it's your bank website only. But in reality, it's a fraud website which captures your sensitive information, which later is used to do transactions and you lose the money. Below is a youtube video explaining how it works.
Here is an example of an email which I got on the name of SBI bank.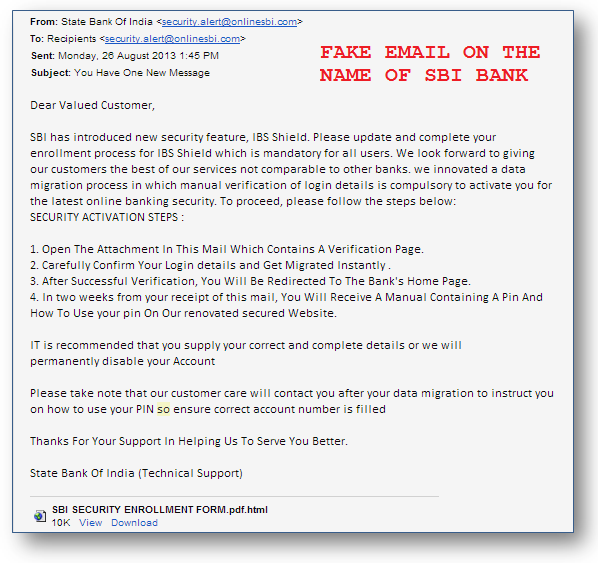 So make sure you do not fall for any kind of emails asking for your sensitive details like the password or PIN number. No bank asks for it ever.
Even I have received fraud call from a guy stating to be RBI Officer. He claimed that my bank account will be closed because it is not linked with my Aadhaar number. Fortunately, I recorded the call because I knew that he was trying to fool me so that he can know my card details. To win my trust he made his senior also talk to me.
How to prevent yourself from getting trapped in these situations? 
From the last 10 yrs, this kind of online frauds has increased because the whole world has moved to the web and all kind of transactions are now online. It's important to be attentive to your actions and with whom are you interacting.
You will never receive a phone from RBI or Other banks for reasons such an Aadhaar not linked etc.. Please be aware that if there is any recent activity such as if you have deposited some cheque then you might receive a call if bank officials want some information regarding the cheques. Otherwise, no calls from banks for any backdated activity.
Never share your card number, CVV number, OTP etc.. to anyone.
Download Truecaller in your phone. So if you receive a call from an unknown number who is asking your bank account details then you can check the number in Truecaller. Truecaller will tell you if this number is spam or not and if it shows to be spam then block the number.
Have you come across any other kind of online frauds other than listed above?