POSTED BY Jagoinvestor ON March 16, 2015
It's a dream of most of the homeowners to own a house without any loan on their head. It's a great moment in their life, when they pay the final EMI of their home loan or pre-pay the full outstanding balance and clear the home loan fully. It's a moment of pride and happiness. It's a great relief for someone who was paying the EMI from so many years continuously.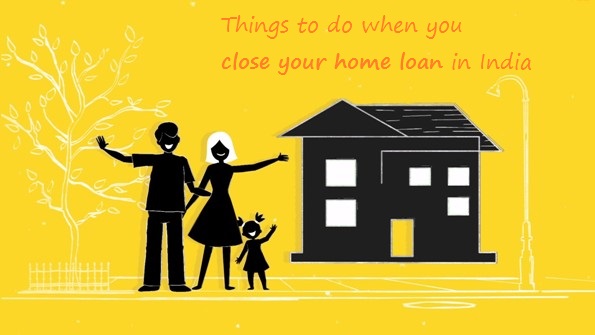 However in that excitement, a lot of people do not take all the required actions and later suffer because of small things they didn't complete after closing their home loans. In this article, I want to share few things every home owner should complete, when they are closing their loan.
While I am focusing totally on home loan closure in this article, but whatever I am going to share also applies when one closes a car loan, education loan, personal loan or any other kind of loan.
Point #1 – Take back your original Documents from Lender
This is a no-brainer.
Make sure that whenever you close a home loan, you take back all the important document you had submitted at the time of taking the loan. Original documents are really important to collect, because in future if you want to sell the house or want to take loan against property, that time you would require all the documents. Some of the documents we are talking aboout are …
Original Sale Deed
Original Conveyance deed
Power of Attorney
Possession Letter
Your Payment Receipts
Any Cancelled Cheque's given
Some lenders even give you a copy of letter, mentioning what all documents were submitted by you to the lender at the time of taking the loan. Below is a sample list of documents mentioned by HDFC LTD to one it's loan takers. It clearly mentions exactly which documents were taken by the bank at the time of giving the home loan. This really helps, because there is no confusion later and lender is also accountable towards the customer.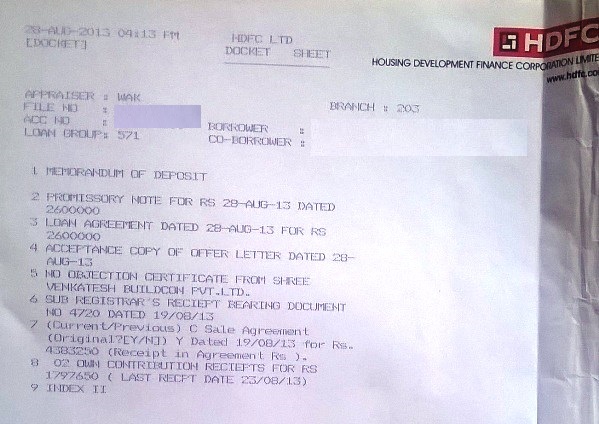 Make sure you personally go to the branch and collect all the documents yourself. Do not ask the lender to send the documents via courier or speed post. There are tons of cases where the documents were misplaced and investors had to run from pillar to post to get them back.
After getting the documents, you should also check if they are in good condition and no pages are missing from between. Also – If you can't collect the documents yourself for some reason (like when you are out of country) then you can give an authorization letter to someone trusted, who can collect the documents on your behalf or ask bank to wait till you come back yourself and then take the documents.
Point #2 – Take NOC from the lender
NOC or No Dues certificate is a legal document provided by the lender, which certifies that you have repaid the full loan and no outstanding balance exists. The document will have the lender stamp of the lender. It's extremely important document, which you should collect from the lender. Below you can check out the experience of one investor who had no proof of closing the loan and how he faced issue due to that.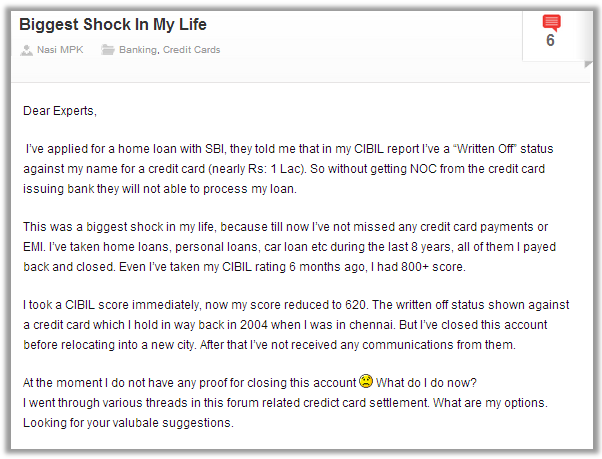 Usually, NOC/NDC is dispatched by the lender after the loan is fully paid. But if you do not get it by default, then you should talk to your lender. I have already written in details about the NOC and its importance
Point #3 – Remove Lien from Registrar Office, if any 
Let's first understand what is the meaning of "Lien"?
Lien means "a right to keep possession of property belonging to another person until a debt owed by that person is discharged."

What is means in simple language is that, the lender will keep the right to sell the property themselves, if the loan taker is not able to pay back the loan. These days banks do not put a lien on property, because they anyways check the background of the customer properly and keep the original documents in their custody. But at times, it can happen that due to customer background or on a slight suspicion, lender wants to put a lien on property, which is done in registrar office.
So you should surely check with your lender, if they have put lien on your property or not?
And, If they have – then you should ask them to help you to remove the lien and overall process. Some people will ask – "What happens if I do not remove the lien?"
If you do not remove the lien from your house, then you will face difficulty at the time of selling the house in future, and at that time you have to visit the lender again anyways. So please make sure you complete this part as soon as your home loan is closed.
Once you clear the lien from your property, you can verify it back by applying for a new encumbrance certificate, which should mention that there is no encumbrance with the property, means no one has any legal rights in the property. You should see that its mentioned in the certificate. I was able to find a sample certificate on the internet which you can see.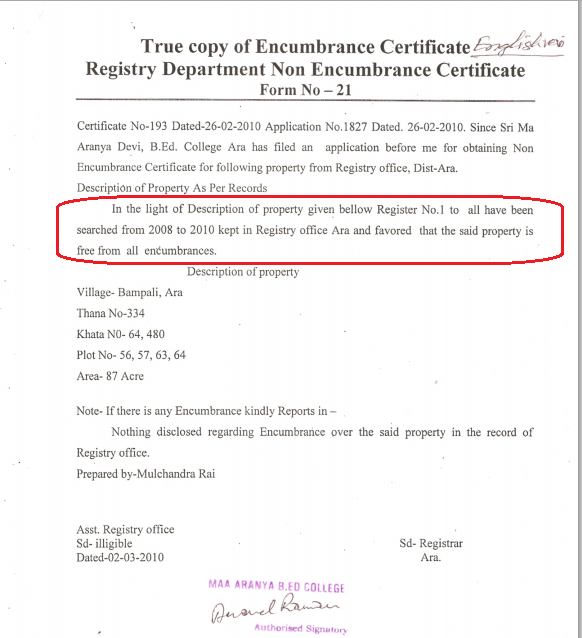 Even if you are planning to not sell your house in future, still make sure you don't skip this step, Its always a good idea to make sure 100% process is followed.
Point #4 – Make sure your CIBIL report is updated with CLOSED entry
CIBIL report is one document which records each of your loan entry and all your actions of payment. Each lender checks this CIBIL report before giving any kind of loan to you (even when they give you a credit card).
Once your home loan is closed, your bank should update CIBIL, that you have closed your home loan and an entry called "DATE CLOSED" should appear on your report with the date of closure.
But many a times, banks delay this small action or completely ignore it for months and years. Your CIBIL report might not have that updated entry. So you should double check with your bank at the time of closure of loan that they will update the CIBIL very soon.

So when should you check your CIBIL report again? A good practice is to check it after 60 days of closing the loan and verify if there is an entry of "DATE CLOSED" with a date on it.
Make your Home loan closure 100% full proof
I have tried to make sure that you take all the last mile steps after closing your homeloan. Even if you prepay your home loan early, still you need to take all these steps, otherwise your home loan closure will not be 100% full proof.
Let me know if you want to add some other point in this list and I would be happy to add it.