POSTED BY Jagoinvestor ON May 9, 2013
What do you do when you want to take a very high health insurance cover like 20 lacs? Is the only option a regular health insurance plan? In this case, you can use top up health insurance plans, which are one of the best ways to enhance your health cover after a certain threshold? In this article lets understand how top up and super top up health plans work and how they benefit you. So we will understand both "top up health insurance" and "Super top up health insurance" in this article, but let's understand first what the meaning of "Top up" is, in general.
What is the meaning of "Top Up" Cover ?
A top up cover actually covers you after a "threshold limit" is already exhausted or used. To give you an example lets say you have a top up health cover of Rs 10 lacs sum assured with the threshold limit of Rs 5 lacs, in which case the policy will only cover your expenses beyond Rs 5 lacs only. If your claim amount is Rs 8 lacs, then it will only pay you Rs 3 lacs (8 – 5), and NOT Rs 8 lacs total. That's the main difference between a regular health cover policy and a top up cover.
So now if you already have a health insurance cover of Rs 5 lacs sum assured, then you can take a top up cover up to Rs 10 lacs with threshold limit of Rs 5 lacs, that way you will be covered up to 10 lacs. The first policy will cover you up to Rs 5 lacs, and the top up cover will cover you for the 5-10 lacs range. You can understand that more clearly with following image.
Suppose you have following 2 policies.
Policy A –  Regular Health Insurance Plan with Rs 5 lacs sum assured.
Policy B –  Top up cover of Rs 10 lacs with threshold limit of Rs 5 lacs.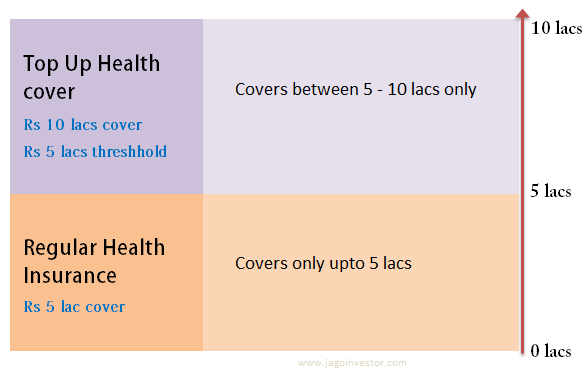 Now let's take this same example and try to understand how Policy A (Regular Health Insurance) and Policy B (Top up health insurance) will pay you in 3 different scenarios, just to make sure you fully understand how top up health insurance policies work.
Scenario 1 – Claim of Rs 3 lacs
In this case, the first policy will cover you for full Rs 3 lacs, as your policy itself is for up to Rs 5 lacs.
Scenario 2 – Claim of Rs 8 lacs
In this example, the first plan A, will cover you up to Rs 5 lacs, but if your hospitalization expenses go to say Rs 8 lacs, then the first policy will only pay Rs 5 lacs, but the second policy (B) will cover you for the rest of  the Rs 3 lacs, which is above the threshold of Rs 5 lacs.
Scenario 3 – Claim of Rs 12 lacs
In this case, first policy A will pay you Rs 5 lacs, and the second policy B, will pay you next 5 lacs only, because you have taken a top up cover of up to Rs 10 lacs only. So the Rs 2 lacs extra, you will have to pay from your own pocket.
What is Super Top up Cover ?
Just like a top-up cover, there is something called as Super Top-Up cover, with a very small difference. A top-up cover will pay you only if your claim amount (bill for a single hospitalization) is above the threshold. Like, in our example above, the top up cover will help you only when your bill is above Rs 5 lacs each time, only then it will come into picture, like in the case of the Rs 8 lacs bill, then the top up cover will pay you an additional Rs 3 lacs. But if you have two bills of Rs 4 lacs each, then the normal Top up cover will not help because no single bill amount is above the threshold limit of Rs 5 lacs.
That's where Super top up plans come into picture, which takes into consideration the TOTAL of the bills in a year and not just the single instance. So in case of two bills of Rs 4 lacs each, your total bill is Rs 8 lacs (above threshold limit of Rs 5 lacs), then Super top up cover will pay you, where a Top up cover will not.
Let me clear that with a more detailed example by using the chart below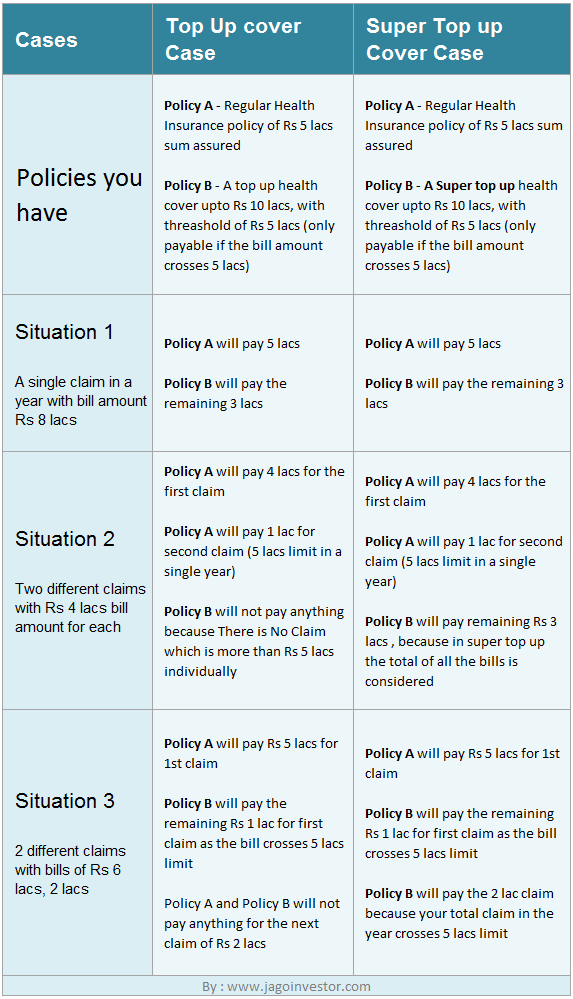 Companies Offering Top up and Super top up plans in India
Companies offering Top up
Apollo Munich OptimaPlus
Bajaj Allianz Extra Care
Bharti Axa High Deductible Health Insurance
ICICI Lombard Healthcare Plus
Star Health Super Surplus
United India Top up Health Insurance
Companies offering Super Top up 
United India
HDFC Ergo Health Suraksha (offering to bank and credit customers, currently)
Let me give you a comparison chart of the current Top up health insurance plans in India at the moment. Not many Super top up plans, so they are not in the chart while comparing.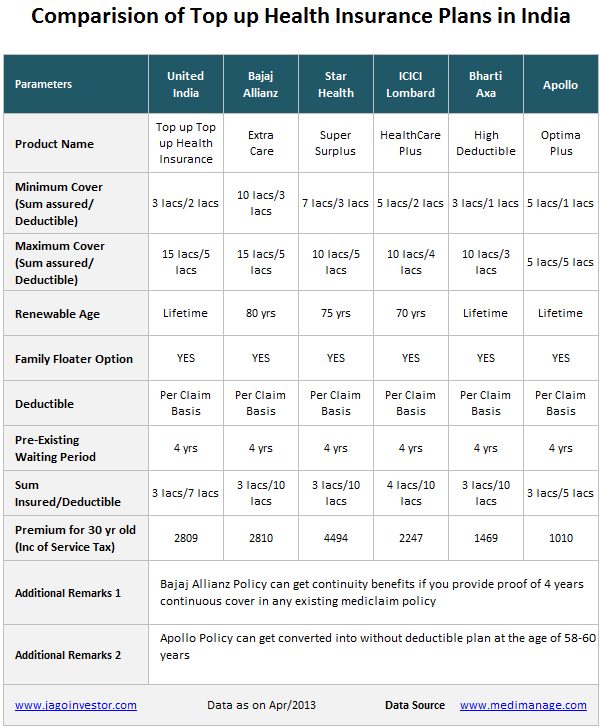 Super Top up Cover for Employees having group cover from Employer
A lot of salaried employees already have a group cover from their employer and they feel that they should not waste their money in a separate health insurance policy (which is not quite a right way of thinking, and you can read this article to know why I say that.) A top up cover is a very useful way for those employees to extend their cover beyond a point.
Lets say you already have a 5 lacs cover from your employer, but you feel that it's insufficient and you wanted to have a cover up to Rs 10 lacs. Now, one way of doing it is to take a separate cover of Rs 10 lacs, but you can take a top up cover of up to Rs 10 lacs with threshold of Rs 5 lacs (as you are already covered from your employer up to 5 lacs). This way you will be covered up to 10 lacs. But understand that in that case you will have to claim your expenses multiple times.
Additional Health Insurance cover or Top up cover – Comparison
Just give me pointers, I will write about it, or just send me an example where we are comparing a 10 lac cover with A 5 Lac cover + top of 5 lacs
When does a top cover policy makes sense – Hear from experts
So is topup or super top up cover the best option to upgrade your health insurance coverage ? No !. Here is what Mahavir Chopra, a health insurance expert suggests –
Most Insurance advisers recommend a top-up plan to upgrade your coverage. In terms of convenience of purchase and claims, we would recommend upgrade of the same health insurance policy, as the best option. This is of-course, provided you are happy with the policy terms and services.

The second best option would be to compare available options of Super Top-up with option of Additional Mediclaim Policy. If the premium is more or less the same, we would recommend additional policy more than a Super Top-up.

After all the above options, look for the option of a simple top-up to increase your cover. Be sure you are aware of the fact, that this option is more useful in the very long term (6-10 years), since it will trigger only when your one claim goes above the threshold/deductible mentioned in the policy.
Features of Top up Health Insurance Plans
Let me tell some more points and features about the top up plans so that you are more clear about it and if its useful for you or not
1. Cheaper than regular health insurance plans – You have already seen that they are cheaper than the regular health insurance plans because they cover you only beyond a threshold, the probability of which happening is very less.
2. You can buy it from anywhere – You can buy a top-up cover from any company, there is no compulsion that you need to have another cover from same company. In-fact there is no requirement that you should have another health cover at all. You can just take a top up cover even if you do not have any other health insurance product.
3. Available with the option of individual and Family Floater Cover – A top up cover is available as individual cover and also as a family floater. So you can extend the cover for your entire family. Just that some policies might consider parents into family floater and others might not.
4. Concept of Pre-existing illnesses and Exclusions – Just like a normal health cover policy, even a top up cover can impose the restrictions on the pre-existing illnesses and exclude the diseases which they feel they do not want to cover. Also some top up covers might not cover pre and post hospitalization expenses. Some policies like Bajaj Allianz Extra Care provides continuity for already existing main policies. For instance, if you have a policy for 10 years with say New India Assurance, and you are buying a Top up from Bajaj Allianz, you will get continuity for the 10 years on the top-up and hence the waiting periods will not apply to you.
5. Tax benefits under Section 80D – You can get the tax benefit under sec 80D for the top up cover policies
6. Cashless facility would be difficult – I am not sure on this one, please guide! You need to follow the same cashless procedure, when your hospital bill exceeds the sum insured of main policy. If you are aware in advance about the high hospital bill, ensure you intimate at the time of admission itself.
Are you looking for extending your health insurance cover using a top up or a super topup cover ?