POSTED BY Jagoinvestor ON January 1, 2015
Have you ever wondered what will happen if you accidently transfer money online to some strangers bank account ? If you are thinking thats its a rare event, you are wrong. There are thousands of real life cases where a person transferred the money to someone account and then realised that one digit in account number has changed by mistake .
Do you get the money back ?
What are the rules from the bank side and what are your rights as a customer? We will look at this topic today, so that you know what you need to be careful about !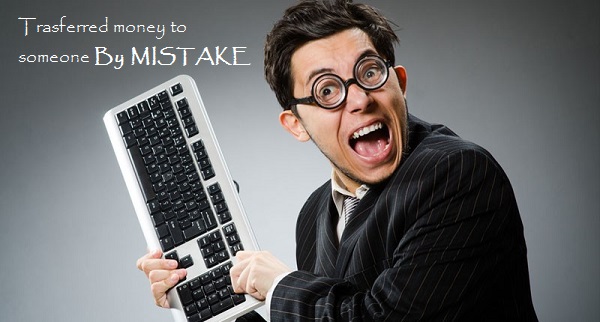 Before we go ahead, I would like to show you some real life examples and complains people have given
Real Life Example 1 – How Rajni transferred Rs 30,000 to strangers account
I did online transaction of transferring Rs 30,000 with ICICI Bank on September 30th,2008.By mistake I transferred money to wrong account number which I did not intend to .I wanted to transfer money to Adarsh Kumar A/C – 000501518633 but by mistake i transferred it to someone by name Virender Asati A/C 000501518366.I gave written letter to ICICI bank ,GT Road ,Jalandhar branch on Oct 4th which they are not able to trace and then I gave one more written letter to ICICI,Dwarka Branch ,Sector 5 ,New Delhi where I am holding the account in November and also sent several emails to them through net banking but ICICI back says that they can not transfer the money without Account holder's permission . (Source)
Real Life Example 2 – How Vipin by mistake sent Rs 1,00,000 to strangers bank account
I am writing to you for a payment of 1 lac rupees through NEFT transfer on 2nd April 2012 to my sister Meena A/C . But due to a very high level technical mistake by HDFC my payment didn't receive to my sister a/c whereas it had gone to other person account in some where. After few days when I enquired about that same we came to know that you have filled a starting digit incorrect that's why your payment had gone to other person accounts. Here my question is to hdfc if anybody fill any information inaccurate, account will not be added as i know but in my case my all entries was correct except one digit error as you are telling us. It's a universal awareness that there are so many mandatory requisite information criteria; when they not simultaneously completed transaction becomes failed like unmatched IFSC Code , unmatched city and even error of gender.

From that date I called so many times to customer care and visited the respective branch but I am not getting any proper answer from them and not knowing that what action is taken from your side. This is very sad to me that your are not taking any action and not giving me any assurance of my money. (Source)
Only "Account number" matters for online transfer
Let me give you shock of your life now.
Do you also think that if you transfer money to someone by adding their name, accounts number and IFSC code and if one of those does not match the transaction should fail and you should get back your money in your account. Right ?
But its far from reality ! . As per RBI guidelines, at the end of the day only bank account number should matter and name of the account holder and IFSC code are additional information which should be ideally checked by bank on their end, but there is no rule like that.
If you mess up with the account number, the transaction can go through you the money will be transferred. Its totally a bank choice and a "suggestion" from RBI to banks that they should ideally match Name and IFSC code before the transaction, but its not mandatory.
Below is the RBI notification for you to read, which clearly states this. I suggest you read it fully to understand how the banking world thinks and works.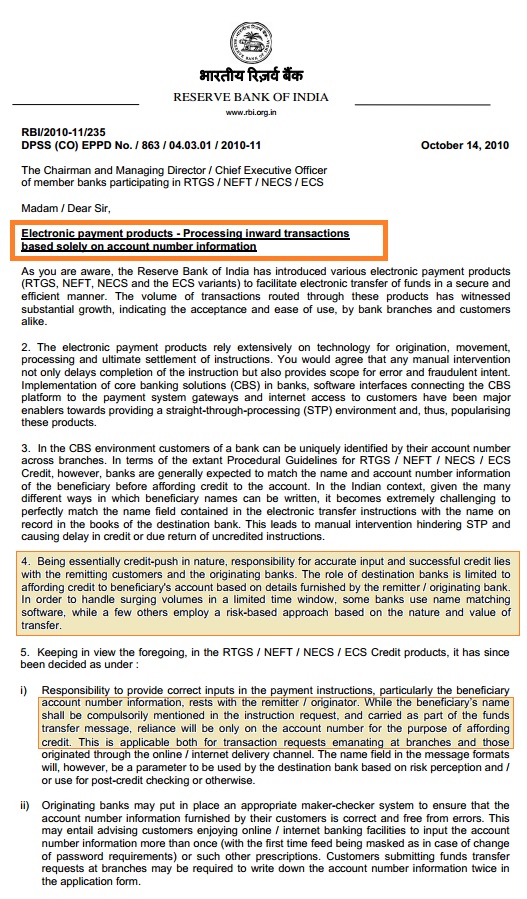 Responsibility lies with the remitter and not beneficiary
As per RBI directions, the final and sole responsibility of cross checking the account number, Name of the account holder, amount and every other detail lies with the remitter (the person who is sending money) and not the beneficiary (who is getting the money) . You can check numerous times before clicking the final button and after that no one else is responsible for your loss or transaction.
You as customer can not blame the bank to not check details at their end. There are thousands of cases where while typing the account number, one last digit got interchanged with another digit and the person did not realise this and their money is then at stake and in most of the cases , they never got it back. (You can learn more about NEFT and RTGS here)
If the account number does not exist, then surely the money will come back to you, because there is no valid destination to send the money. But if the account number exists and its active, then there are high chances that the transaction will go through .
What you should do if you have accidentally transferred money to wrong bank account ?
If you have made a mistake of transferring the money to a strangers account, then you should follow these steps mentioned below
The first step is to make sure you inform your bank the moment you realise that unintended money transfer has taken from from your end. The bank will then contact the beneficiary account holder and try to explain the situation to them. They will ask the account holder to give them permission to reverse back the transaction. In most of the cases, I have read on internet that the recipient of the money have agreed for the reversal (We have good people in this world, despite widespread belief that world is evil) . Below is a real life incident where the person sent back the money.

In some cases, where the other party is greedy (when amounts are quite big) , the other person might not revert back at all or just delay the whole thing and withdraw the money or just don't take any action . In which case you really are in a fix and it becomes almost impossible to get back your money.
You should then meet the branch manager of your bank, who can go one step further and talk to the destination bank and if they can help in this or in communication with the beneficiary.
One important point to note here is that bank cannot reverse the transaction from their side without the customer approval, because its a breach of agreement and is not the right thing. You never know what exactly is the whole story and who is saying truth (I can pay you and then just say, it happened by mistake)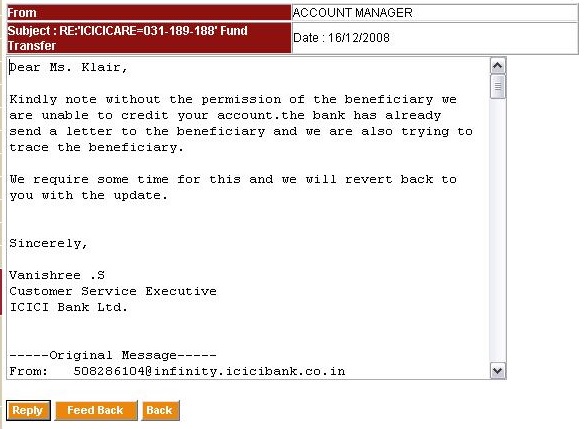 3 Precautions you should always take while transferring money Online ?
Precaution is better than cure, I personally believe that we are ourself responsible for any money transfer done online. Nothing stops us from taking extra precautions while transferring money online.
Lets see few things you can do ..
Trick #1 – Use CTRL-F to verify your account number
Most of the times, we are typing an account number which we have got in our emails, we look at the number (few digits at times) and then type it in other window when we are adding the beneficiary. What I personally do is once I have typed the account number (you cant copy paste the account numbers in all the bank website, as its disabled) . In that case you can just copy your account number from email, and type CTRL-F and paste the number there and you can visually see if it matches with what you just typed. Below is a screenshot I created for you to understand what I am talking about..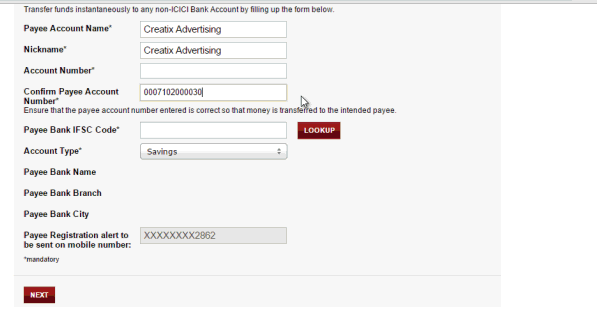 Trick #2 – Transfer Rs 1 first and test the transaction incase of big amounts
If you are transferring a big amount to someone, you can go one step ahead and first transfer Rs 1 and then confirm with the beneficiary if they have got it, and then on confirmation, you can trasfer the full amount. But I suggest to use it only in extreme situations when you really want to make sure if the account is genuine or not. At times, you might come across someone who gives you their account number and you are aware that they are careless by nature, and might have made some mistake while sharing account number, In that case you can take this extreme precautionary step ! .
Trick #3 – Verify the account number from right to left
Generally we are programmed to read left to right and we also match the account number that way, truly speaking, it might happen that we sometimes get fooled by our own confidence (4 zero , might look like 5 zero) .. So its better to also cross check the account number digit by digit from right to left. I personally cross check an account number digit by digit 2-3 times because I transfer any money online. I have never faced any issue of wrongly sending money to strangers account or sending excess money by mistake (One excess Zero in 10,000 and it becomes 1 lac) ..
Spend 1 extra minute to save your self big trouble
I hope you are clear by now that its your mistake if you transfer money to someone else account and you cant held someone else responsible for your mistake. Hence its always better to add the beneficiary account with precaution. Always cross check the account number 2-3 times.
I would be happy to know if you benefitted by this article and if there are any real life incidents around this area. Also please share anything related to this topic in comments section.