POSTED BY Jagoinvestor ON January 22, 2015
So you want to apply for credit card? That's great, but are you well versed with the world of credit card? Do you know how does bank evaluate its potential credit card customers? Are you clear about your requirements and why are you so eager to get a credit card?
Most of the people do not spend much time to check which credit card is best for their requirement, but just grab the one that is offered to them for the first time. So today, I want to make sure I give you a sneak 360 view of the world of credit card and what all things one should be looking at before they apply for a credit card in India.
1. Your Income is important parameter for Credit Card Eligibility
When you fill in the application form while applying for a credit card, the lender asks you for various information like your age, city, take home income per month and type of your employment, which all is required to decide if you qualify for getting a credit card or not.
But out of those, your income is a very important parameter because that's the main thing which determines your repayment capacity of your dues each month.
Someone earning Rs 50,000 per month is generally more eligible than someone who earns Rs 25,000 per month, because higher income is an indication that you will be able to pay your bills on time and on a consistent basis.
You income is also an important information for bank to set your credit limit at the time of issuing the credit card to you. You can see below a snapshot of HSBC credit card page and they have mentioned that the minimum annual income of a person has to be Rs 5,00,000 to apply for these credit cards.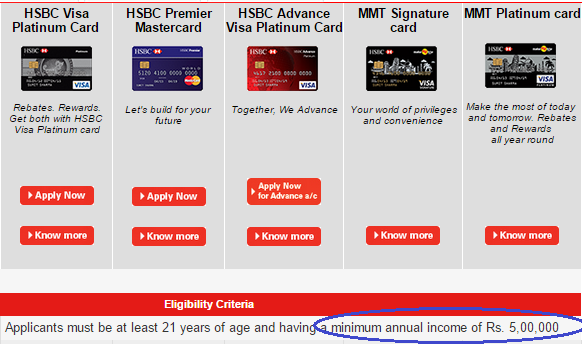 So if you are earning good enough money, only then banks will be interested to give you a credit card. Make sure you do not apply for credit card just for the sake of it without a minimum threshold income. Also, note that you would need to submit your latest ITR copy for income proof.
2. Existing relationship with bank fastens the process
If you already have a salary account or saving account with some bank, it is relatively easier to get a credit card, especially when you have handled your accounts properly, I mean not have too many overdrafts, maintaining your minimum balance over the years and having a consistent flow of money in your account.
This is because the bank can easily verify your income details and see your activity and how responsible you have been over the years.
So for example, if you want a HDFC credit card, but you have salary account in ICICI bank, it would be recommended that you apply for ICICI credit card first (assuming it does not matter much to you). You can easily apply for the card online on bank website, and even bank will ask if you are an existing account holder in the bank or not. To which you can choose YES

If you do not want to apply online for your card, then you can also visit the branch and meet the representative face-to-face. Bankbazaar is a good portal to compare and apply for credit cards or any other kind of loans.
3. Your past credit history matters
It also matters how was your past credit history, if you are looking for credit card. If you have taken some personal loan, education loan or home loan and now applying for credit card (generally a second credit card), your CIBIL report will be checked by the company to find out how was your credit history.
Did you make your payments on time? Did you close all your loans and outstanding without any balance or not?
You can see a snapshot by cibil.com below which shows you what all documents are required by the lender before issuing various kinds of loans and it shows that the latest credit score and CIR is mandatory.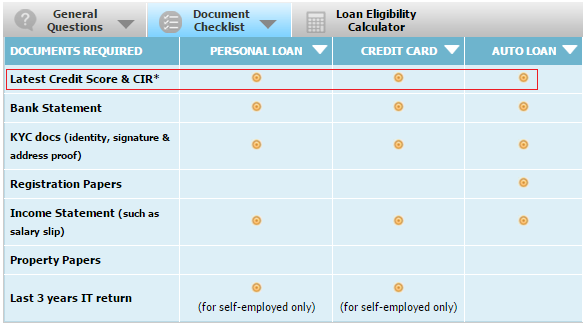 In fact the CIBIL report is now mandatory check for any kind of loan. Make sure you surely check your credit report once before you apply for your card.
4. Be clear about the purpose of credit card
There are various kinds of credit cards available with bank. You need to understand very clearly what is the main reason you want the credit card?
If you want to use the credit card primarily for dining and shopping, then you can choose the card which gives more benefit for that. If your main spending is on fuel, then there are cards which cater to that requirement. There are tons of ways you can get rewards and cash back on credit cards. It's important to do a bit of research on this.
Below you can see some HDFC cards examples .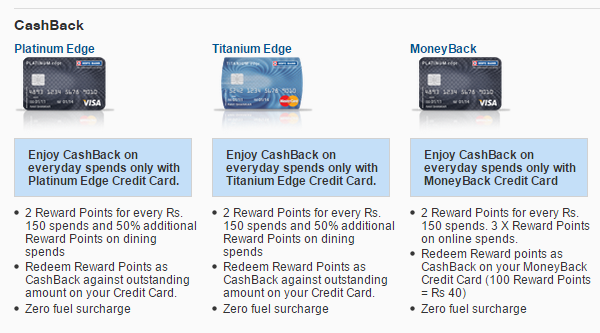 Most of the credit card companies offer cards under categories like Silver, Gold, Platinum, and Titanium and then as per categories like Diners card, Fuel Card, Cashback cards. If you look at HDFC credit card page, you can see categories and various kinds of features as below
5. FREE vs. Annual Fee credit card
There are credit cards which are totally FREE for lifetime and then there are cards which come with annual fees ranging from Rs 99 to few thousands per year. Most of the people want a lifetime free credit card, which is totally fine if your credit card usage is basic in nature.
But if you have very heavy card usage and 40-50% of your spending happens on credit card itself, then it makes sense to go for premium credit cards, which have some annual fees, because those cards offer you awesome benefits and various ways to save money.
You get higher reward points and cash back in those cards. Also, they have special tie ups with airlines, hotels, shopping stores, fuel companies etc and you get maximum benefits by being a premium member.
For example: Those who travel a lot by airlines can look at Signature Credit Card from HSBC which has special tie up with Makemytrip and comes with annual fees of Rs.3,500, but gives lots of discounts and vouchers which can be used by the cardholder. You will not get these offers if you have a normal credit card.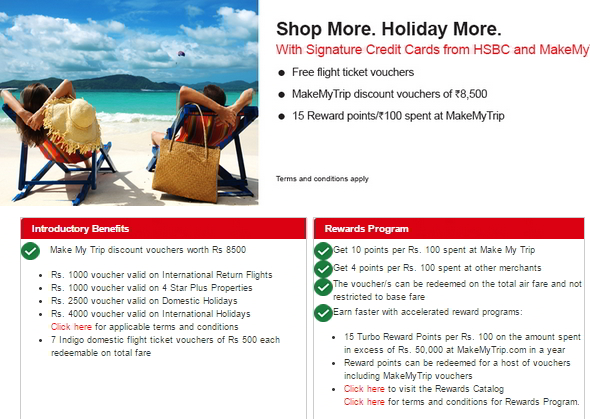 If you want to learn how can you use your credit card in more efficient way, a good resource is this article written by Shabbir.
6. You can also get credit card against a fixed Deposit
Do you know that you can also get credit card against fixed deposit open with a bank ? Yes – That's possible . There are many banks, which will offer you a credit card, if you open a fixed deposit and want a card against it as security (These are also called Instant Credit Card).
This is very much beneficial for those people who are not able to get credit card due to low credit score and banks are rejecting their credit card application. So you can apply for a credit card if you are ready to open a fixed deposit and its also one of the good ways to start improving your credit score, if its messed up.
Below is a snapshot of ICICI Bank credit card page about instant credit card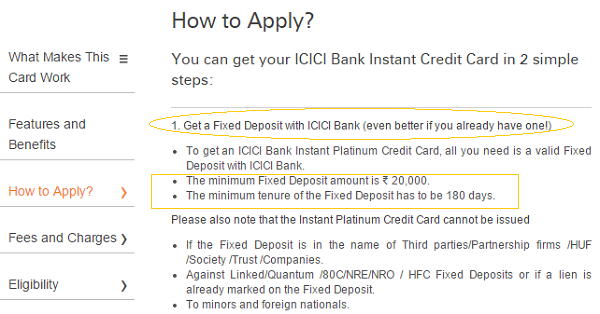 Most of the banks have a minimum threshold of Rs 20,000 fixed deposit to be opened with them and your credit limit is always below that FD amount.
So if you open a Rs 40,000 FD with bank and take a credit card against that FD, then your card limit might be 20-25k per month and if you default of payments for a long time, bank will break the FD and take their dues from it, so there is no risk for bank.
This is the reason that it's much faster to get a credit card against a fixed deposit and there is no income proof required to get credit card against a FD .
Get set Ready
I hope you are now clear on various things before you apply for credit card from any bank. It's very important to be very clear on your expectations from the card and for what purpose why you need it.
I would be happy to know your views on this and if you can give some tips to a beginner who is looking for cards for the first time