POSTED BY Jagoinvestor ON February 6, 2014
When health insurance claims are rejected, it disappoints the customer more than anything else. Its a disappointing moment for the policy holder, when his trust is lost in company and he starts feeling that he was a fool to buy the health insurance policy at the first place and waste his premium, because companies are just fraud, who wants to loot the customers, by giving silly reasons for not settling the claim.
They feel companies are coming up with unreasonable reasons to reject their claims. This situation is a big blow to customer financially, because now they have to bear all the expenses from their own pocket. This is exactly what happens with many customers who have no idea of what their health insurance policy covers and does not cover.
What does a Health Insurance Policy does not Cover ?
In almost all the cases where claims are rejected and customers are disappointed, its seen that it happens because companies reject claims based on the policy document rules and what is covered or not covered into the policy, however the customer disappointment is always there, because there was a lack of understanding of what is covered and what is not covered. There various clauses like waiting period concept or exlusion of pre-existing illness, which customers do not try to understand fully and see health insurance policy as something which will just pay their bills in any medical case. However thats not true.
In this article I want to make you aware about the 4 major clauses in almost all the health insurance policies which will help you understand how exclusions work in case of health insurance policies and when you will not be paid. This will help you and companies both to make sure you are on the same page.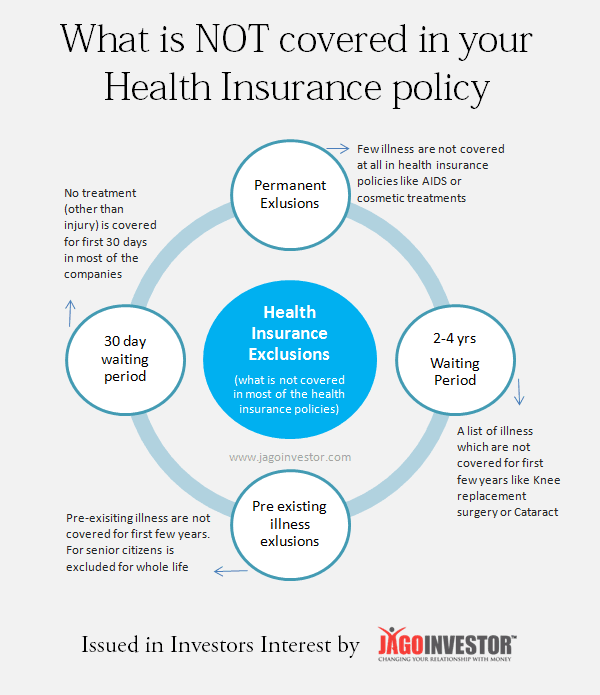 Exclusion #1 – Permanent Exclusions
Permanent exclusions are listed category of treatments, which are never covered in health insurance policy for whole life. They are excluded permanently from the ambit of the health insurance scope. These permanent exclusions are clearly mentioned in the policy document of the health insurance product under section "Permanent Exclusions".
Even before buying the policy, you can look at the PDF document of the policy which must be there on the health insurance company website. Almost all the companies have the same list of illnesses listed under this section, however you should anyways look at it.
Here is a sample list of some of the permanent exclusion taken from Religare Care Health Insurance policy(not the full list)
Any condition directly or indirectly caused or associated with any sexually transmitted disease
AIDS
Any Treatment arising from or traceable to pregnancy, miscarriage, maternity, abortion or complications of any of these.
Any Dental treatment or surgery unless necessitated due to an injury
Charges incurred in connection with cost of spectacles or contact lenses, routine eye and ear examinations
Any treatment related to sleep disorder etc
Treatment of mental illness, stress , psychiatric or psychological disorders
Any Treatment/surgery for change of sex or gender reassignments including any complication arising out of these treatments
All preventive care, vaccination, including inoculation and immunizations
Non Allopathic treatments
Any Out Patient Treatment
Treatment received outside India (unless its part of the policy)
Act of self destruction or self inflicted injury , attempted suicide
Any Hospitalization primarily for investigation or diagnosis purpose
Cosmetic and aesthetic treatments
plus, there are many others – which you should read in policy document
Here is an exact snapshot from Bharti Axa Health Insurance page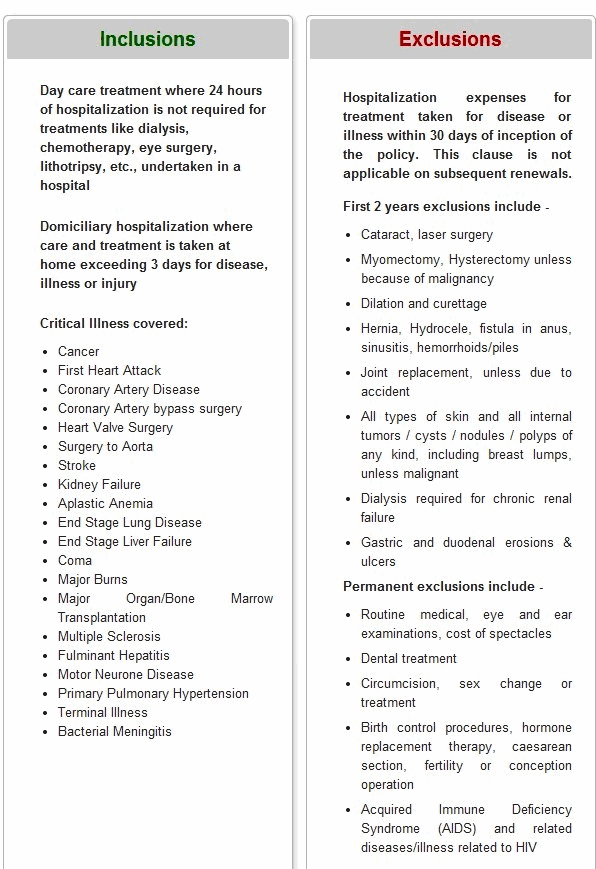 Exclusion #2 – Waiting Period Concept for selected illness
Each Health insurance policy has the concept of "Waiting Period" for a selected list of illnesses, which means that for first few years(which can be anywhere between 2-3 years) will not be covered under health insurance and only after that period they will be covered. So if waiting period is 2 years in some policy, and you take the policy in year 2014, the illness covered under waiting list will be covered only after 2 yrs are over.
This is one thing which customers do not pay attention to while taking the policy and if they get hospitalized due to some illness which is not covered under waiting period, their claim is rejected and then they feel cheated and complain about the company. Here is a real life case on our forum
Here is the list of some of the illness and diseases which are part of waiting period in most of the policies
Arthritis , Osteoarthritis , Osteoporosis , Spinal Disorders, Joint replacement surgery
ENT Disorders & surgeries, Deviation, Sinusitis and related disorders
Cataract
Dilation and Curettage
Piles, Gastric Ulcers
All types of Hernia , Hydrocele
Internal tumors, Skin Tumors , cysts
Kidney Stone , Gall Blader Stone
Some policies might have the specific waiting period for senior citizens, like in case of Family First policy by Max Bupa, there are few illness which are under 2 years waiting period for senior citizens, but not for young customers.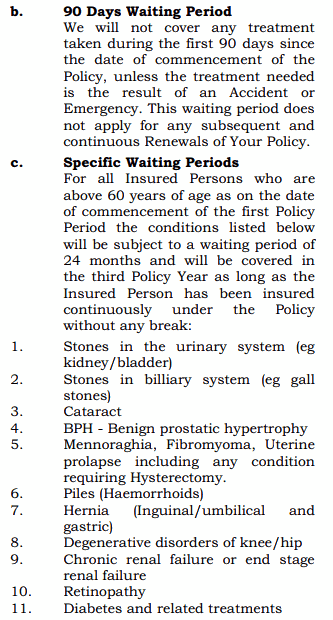 Exclusion #3 – Pre-Exisitng Illness
Another exclusion is "Pre-existing illness" in all the policy documents of all the health insurance policies. Pre-existing illness are those illnesses which are already detected for the patient. Most of the companies do not cover these pre-existing illness for starting 2-4 yrs (exact time varies from one company to another). So if someone is suffering from some respiratory illness already, then any treatments or hospitalizations which occurs due to respiratory problems will not be covered for first few yrs (the exact tenure depends on company). This is to prevent situations where a person is detected for some disease and he takes the health insurance so that he is covered for the hospitalization, this is simply not allowed and does not make any business logic. So thats the reason its said that one should take health insurance as soon as possible so that those initial few years are passed and then you are covered for wide range of illness.
Pre-existing illness in case of Senior Citizens
In case of senior citizens, pre-existing illness are excluded for rest of the life in most of the policies, because anyways there is higher probability of senior citizens getting hospitalized due to their existing illness. So if someone has undergone bypass surgery and they are senior citizen, any heart related treatments will not be covered for all life. It will be permanently excluded from the policy. Thats one big reason why I keep on saying that you should take your parents health insurance before they turn 60 yrs. There are some companies like Oriental Insurance, which does not even require medical tests for persons upto age of 60 yrs, just the declarations given in the health insurance form is enough.
Exclusion #4 – First 30-90 days waiting period
Almost all the health insurance companies do not give cover for any medical treatment for the first 30-90 days of taking the policy, except the medical expenses which result from injury (like accident). For example Religare Care have a initial 30 days waiting period, however Max Bupa Family First policy has a 90 day waiting period
Conclusion
Health Insurance is a preventive financial product, not a reactive financial product. You take health insurance to make sure that you are covered from future problems, not to deal with current medical issues. So when you are healthy, you should go for medical policy, so that you are covered for any long term medical issues. Most of the people start the procedure of buying health insurance when some illness is detected, and that's when health insurance policy will not help you much. Instead of having wrong expectations by assuming things, better analyse and research the health insurance policy properly and deeply by reading the policy document.
Let me know if you have any experiences on this or want to share something ?