POSTED BY Jagoinvestor ON January 16, 2014
A few years back, India was introduced to the world of "Credit Bureaus" and "Credit Scores". Credit Bureaus track an individual's credit history and create a report from that data. So all your financial history including credit cards, loans, the timeliness and regularity of your repayments and the number of times you have sought credit, is captured in this single report, and based on all this information a score is generated. This data is shared with lenders on request and subsequently used by them to make a lending decision.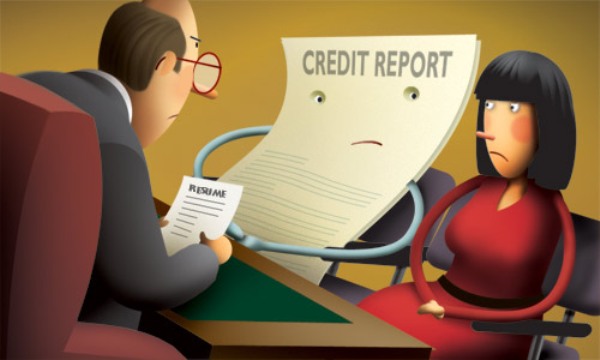 On paper, this idea looks great because the system ensures that there is extensive record keeping for all individuals and the data can help lenders and banks make effective lending decisions. So far, the intention was good and admittedly with our huge population and fragile systems, there were bound to be a few hiccups along the way.
But it would seem that the amount of confusion created by the Credit Bureaus has reached unreasonable proportions.
Wrong Credit reports and how they are messing up financial lives of many
From the last 3-4 years, I have been hearing horror stories about how various financial lives have been destroyed as a result of wrong credit reports and mismatches in data. Banks are now mostly reliant on CIBIL reports for processing loan requests – they look at the CIBIL report and take the decision. But how does one guarantee that each and every bit of data recorded in the credit report is a 100% CORRECT?
There have been tons of instances where the report was wrong or had incorrect information and ultimately the consumer had to suffer a lot because of it.
Imagine a student who is looking for education loan and his father has applied for education loan, but bank is not ready to give loan because there is no Credit history ?
Imagine a family has made the down payment for their dream home and have applied for home loan , but it gets rejected because their CIBIL report has an entry for a credit card due which they have closed 8 yrs back and now neither they are getting loan , nor the builder is co-operating with them
Imagine a guy who is in need of personal loan, and if fully eligible for it, but could not get it just because his report has data of some one else whose name is close enough and the system has made the error ?
Imagine a guy following up with banks to update his data with CIBIL, then going back to CIBIL to know the status, asking 100 times about it, still not getting any clue on what is the status and finally he feels helpless and sorry for the whole system
Wrong Data in Reports
One of the biggest issues with present credit reports is the inaccuracy of data. Mostly this happens because the report is pulling data from multiple sources that might have incorrect data themselves or because of name mismatches. Even though this is a system fault but the end result is that the investor suffers.
I want to share Prabhat's story on how his life was impacted due to wrong data in his CIBIL report.
Hi Manish,

Am a real victim of this "CIBIL". Two years back i requested for a report. The report was full or errors- be it my name, identity, address, accounts etc. I raised a dispute form then. Since then, in that report, my name has changed thrice, my addresses have changed, my contact nos have changed. They apologised and said that corrections have been made. Recently i applied for a loan and again got rejected. When inquired and got the CIR, my data was merging with some other "Prabhat". To confirm my doubts, i even called that person and highlighted all this in my next mail to cibil. But to no avail. You would always get a prototype reply- "We cant change data on your own and pls contact credit institution for modification".

Ridiculous, is'nt it? First of all you sweat to get your issues registered (if only you get a great guy who happens to read your mail/ talk to you over phone by luck). Then follow the same to make them understand what is apparent to even a layman. in my case the other "Prabhat's" pan no is different, dob is different, address and other things are also different but even then the data got merged and when i raised this, they are passing the buck onto credit institutions.

This is clearly not any fault of credit ins but of this cibil only. To be more precise- in their system of extracting data which they are not accepting. Sometimes, after negotiating so many mails and conversation with their executives, i really feel that this is being run by a bunch of nerds who would not listen or not understand your concerns. I have not taken a single penny as a loan in my whole life and now not getting loan just because of this cibil.

I want to knock the doors of law, to claim a heavy compensation- can you suggest me how and where can i lodge my complaint. I have all the evidences in black n white.

Prabhat
Here is another case of spelling mismatch
I got my CIBIL report recently. My Name is CHANDRA SEKHAR SHARMA but the name that I have found on the report is CHANDRA SEKHAR S V. It is not a spelling mistake as CHANDRA SEKHAR S V is a different person at all. But all my credit cards are listed against this name and one loan which is taken by MR CHANDRA SEKHAR S V is also showing here. So it is overall one report mixed up with two person's information. In other word CIBIL is selling one report to 2 person.

I am going to report this dispute to CIBIL. But it is raising lot of question on CIBIL.
This CREDIT score concept hold good and easy to maintain in country like USA. They are having SSN concept where they are uniquely identifying each individual. But in our country we still to have such concept until UIN /adhar effective completely. Till then we have to face such situation .
Gap in Communication from Banks
The other problem is gap in communication with banks . The whole system is not efficient enough for speedy updates. Given huge banking system and widespread network, its bound to have communication gap. Here is one instance where Subhajit was marked as Defaulter by CIBIL , just because SBI didnt update some data from their side on a loan closed years back
I took a loan from SBI in 2004 and closed it in dec 2012. Now at present when i applied for another loan to some other bank, CIBIL marked me as a defaulter as they did not get any updates from SBI on the closure details. I contacted Chief Manager of the SBI branch from where I took the loan and asked her to send out an email to CIBIL (support@cibil.com), mentioning all my details and report that the loan account is closed now. Even after this was done, CIBIL is still saying that they might take 30 days untill the credit institution reverts back with their response. I dont understand whether CIBIL has a huge miscommunication between their call center folks and the email department. what do i do now?? i wanted to escalate this to the highest authority in CIBIL but i dont have any contact information for the same.

Regards,
Subhajit
Here is another case of Vijay
Hi Manish

In my report, the SBI card which I used to have was mentioned as "WRITTEN-OFF" and the Days Past Due section also had a number 120 put for the last several months ending in Sep-2006. This was definitely wrong info since I had checked with SBI in 2006 and they had informed me that there was no due from me at the time of closing the card. So I contacted SBI and they informed me that it was a mistake from their end and that they have corrected it in the latest update to CIBIL.

Then I informed CIBIL about the mail from SBI and asked them to confirm if the erroneous entries have been removed. CIBIL gives me a very vague answer stating the SBI card account is closed as per instruction. But I want to know if the word "WRITTEN OFF" has been removed from my report and if the Days Past Due section have been set to 0. I have sent them at least 3 mails asking for precise info on the above two queries. But they continue to give me very generic and vague answer.
Please let me know if there is any escalation mechanism when CIBIL gives vague responses.

Also in the score section, there is a line which states "*One or More Trades with Suit Filed Status in the Past 24 Months*". I asked them for an explanation on what the above line meant. But they have not given any explanation. It sounds like some company has filed a suit against me in the last 2 years. I am not aware of any such suit. I am not able to get CIBIL to explain the line or tell me which company has filed the suit. I am at my wits end to get a proper response from CIBIL. Any help is appreciated.

Regards

Vijay
Using CIBIL report as a weapon
Some banks have also started using CIBIL report and its impact as a weapon against investors. They have started talking in the language of – "Do this, else your credit history will … " (here is the proof).
Here is a what happened with Ravi
I was using a credit card from ICICI bank and I used it for about 6 months, in between I forgot to pay the due amount for one month and in the next month statement I found additional 6000+ Rs to be paid as late fees + interest + taxes that I refused to pay and deposited the amount that I was expected to pay. And after this I traveled abroad for 1.3 years and on my return from there I was called up by bank and asked to deposit 31 000 Rs against that, here again I refused to pay initially and asked them since I have not used this amount why should I pay this much. But later one gentle man from the same bank called me and said that if I will not deposit the same amount it will affect my credit history and I will not be able to get any loan in future. Hence I deposited all the stated outstanding amount at once.

But now when I applied for car loan , my loan request got rejected by the AXIS bank due to that credit card credit-history. I also approached ICICI bank for same and they immediately issued me the NOC with 0 Rs outstanding for me.and also requested them to get my name cleared from CIBIL, for this they told me that your name is already updated in CIBIL for 0 balance. I forwarded the same email to AXIS bank but still they are not ready to issue me the loan saying that I have paid the money lately after 1 year. Hence I am very anxious about it now that without doing any fault from my side I am becoming a victim here.
Your rights incase you are suffering because of Credit Beureu mistakes ?
A lot of investors who are affected by this CIBIL menace and mistakes from the banks side just feel angry, but they let things go and do not force a resolution. But you need to know that no one has any right to play with your financial life and if someone has, then they need to pay for it. If you have been facing an issue because of CIBIL or the bank and it has impacted you financially or mentally, you should always reach out to the consumer court or banking ombudsman. There have been many cases where customers have got some compensation. The only catch is that you need to be committed to pursue the case and have patience.
Here is one instance where a person was awarded compensation because was mistekenly marked as "defaulter" by the bank and suffered due to this
City residents continue to be hassled by the 'CIBIL defaulter' tag over minor disputes with banks. Now, a Sector-39 resident received justice from the UT Consumer Disputes Redressal Forum after a private sector bank had labelled him a defaulter and sent his name to Credit Information Bureau India Limited (CIBIL), an all-India data bank which carries credit history of all commercial and consumer borrowers.

The Chandigarh Consumer Disputes Redressal Forum has directed the bank to pay Rs 10,000 to the harried complainant, and Rs 5,000 as cost of litigation.

The order was issued by the Forum following a complaint filed by Bhajan Palm who told the forum that in 2003, he took a personal loan of Rs 66,000 from the bank, and repaid it in equal monthly installments.
Here is another instance where HSBC was fined for adding the name of a person to defaulter list without strong reason
Hongkong and Shanghai Banking Corporation (HSBC) has been ordered by a consumer forum here to pay Rs 20,000 as compensation to one of its credit card holders for adding his name in CIBIL's defaulters list even though he had paid all his dues.

While awarding the amount to the HSBC credit card holder, the New Delhi District Consumer Disputes Redressal Forum said the Bank should have "gracefully" accepted its fault instead of adopting an "obstructionist attitude" by seeking rejection of his complaint.
You can read some more cases here or here .
Below is a 2 part video series from MoneyLife Foundation on "How to file effective complaints and win your battles in Consumer Courts"
Can you share any experience of yours on CIBIL mistakes or any struggle you faced ?
Also let me remind you of the 'Oh my God' offer coming on 7th Jan 2014, which you will not like to miss at any cost. Its one of its kind of offer coming soon !