POSTED BY Jagoinvestor ON January 9, 2012
Did you come across many errors in cibil report of your ? Was there any kind of mistake in cibil report ? Are you wondering how to clear yourself out of CIBIL defaulter list? Is your name in cibil defaulters ? In this article you will see what can be done to Correct the errors in CIBIL Report and remove your name from cibil ? Firstly let's understand the type of errors that can be on your CIBIL report. Before that, the first thing you need to do , apply for your CIBIL Credit Report Online
1. Errors in CIBIL Report
Banks keep on updating CIBIL about your credit behaviour on monthly basis. So, at the time of entering some data, it might happen that some human error happens. Even though these are human mistakes, still they are responsible and correctly blamed for a lot of complaints. Let me give you an example – Suppose your outstanding credit was Rs 2,000, but accidentally it was entered as Rs 20,000. Similarly, there can be various things which can get wrong:-
Account/ Loan Type
Account Status
Ownership Type
Date of Last Payment
Date Opened
Date Closed
Sanctioned Amount/ High Credit
Current Balance
Amount Overdue
DPD/ Asset Classification
Remember that each of these little things are very important and different banks can have different criteria and weightage on a particular thing. So getting each thing right is very important for your future loans. Make sure you have them corrected.
2. Mistakes in your Basic details like Name , Address , Date of Birth
There can be at times mistakes in basic details like Name, address, Date of Birth etc… For Example, in my CIBIL report, my name "Manish Chauhan", can be misspelt as "Manish Chavan" (like all the people in Pune do when they write my name). So if name is misspelt as "Manish Chavan" and tomorrow some real "Manish Chavan" runs away after taking Rs 50, 00,000 home loans, with help of human error, there are chances that this impacts me. Don't take it lightly incase your name or any other detail is incorrect. The full list of details is as follows
Name
Date of Birth
Gender
Income Tax ID
Passport Number
Voter's ID
Telephone Numbers
Address
State
PIN
3. Something Does not Belong to you or Has Duplicate Entry
At times you will see things which do not belong to you, it comes into the category of "human error" or actually it might be on your name, just that you are not aware of it, this might happen if your documents are misused by some other person. This happens and has happened with lot of people. So take this seriously. Note that you might not see a recent update in your CIBIL report if you have applied for a CIBIL report within 45 days of a transaction. It takes time to update it in CIBIL report.
How to Correct your CIBIL report
Cibil has an online redressal mechanism for handling the mistakes in CIBIL Credit Report or to correct errors in cibil report, which is called "Dispute Resolution" .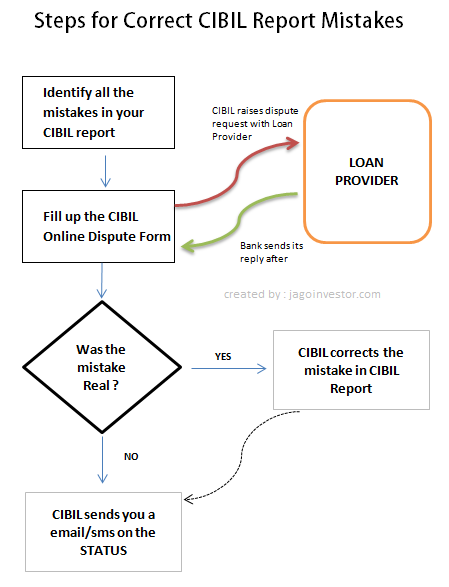 Step 1 : Fill up a Dispute Resolution form
The first step is to fill up this CIBIL Online Dispute Resolution Form. Make sure you put all the information correctly. There is something called as CONTROL NUMBER which you will find in your CIR report, you have put fill this control number in this dispute form along with other details. You will also have to give them the exact mistake and the correct information. The Control Number is a unique 9-digit number found on the top right hand side of your CIBIL Credit Information Report and is generated every time a credit report is generated.   Once you submit the form, you will be given a Dispute ID which you can use for future references. This Dispute id will also be emailed to you. The dispute resolution form looks like this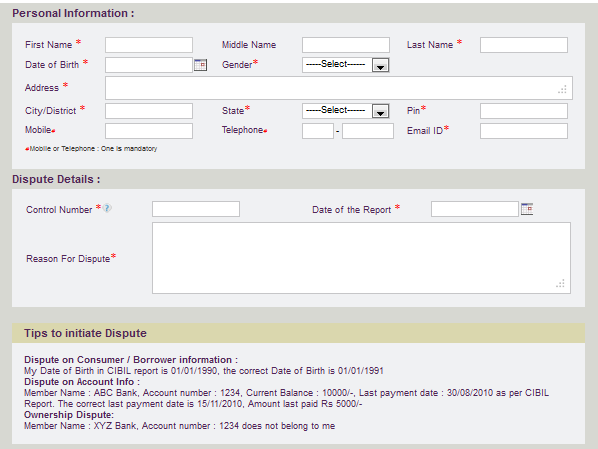 Step 2 : CIBIL communicated to Loan Provider to confirm Detail
Once you raise a Dispute request, CIBIL first tries to see if it can verify and rectify the details on its own but incase its unable to do so (which will be the case most of the times) it will then forward your dispute request to the loan provider (the bank which issued you credit card, home loan, car loan etc).  Once the loan provider confirms that there is an error it will provide CIBIL with corrected data. CIBIL then updates the data and informs you as appropriate. Always remember, it is the duty of CIBIL to help you resolve your request.
Please remember that CIBIL does not make changes to any information on its own. It is only a custodian of information received from credit institutions. CIBIL is permitted to make changes to your credit information only when it is confirmed by the relevant loan provider(s). You will receive an email notification informing of the results for the dispute requested. It takes approximately 30 days to resolve a dispute request. Once the dispute is resolved, you can see the status of your CIBIL report by applying to it all over again. A lot of people wish if they could have a CIBIL Login and Password where they can view their report whenever they want. But that won't happen soon
I hope you have got a clear idea on what to do when there are mistakes in your CIBIL report and you want to correct them. Just follow the steps suggested and you should be able to correct the errors in cibil report of yours and get out of CIBIL defaulter list !