POSTED BY Jagoinvestor ON June 3, 2013
I don't want to shock you, but there are tons of cases where employer happily deducts your EPF amount from your salary, but they do not deposit it with EPFO. This goes on for years and one day you come to know that you are stuck ! , because there is no EPF money for you. Your employer has severe cash crunch or is about to shut down and now you have to run pillar to post to claim your money. The whole situation gets ugly and you feel cheated, because your company never deposited the Employee Provident Fund amount. Now you go to Police and file a case against employer. But this all can be avoided if you are careful a bit, from starting itself.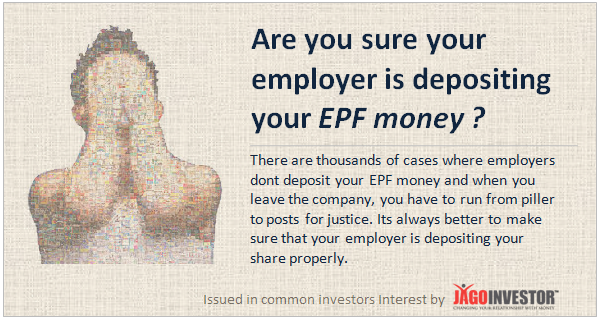 How about making sure your employer is depositing your provided fund  money into your EPF account ? Before I tell you, how you can do that, let me first share with you some REAL LIFE cases where employer failed to deposit EPF money and employees are suffering ! . These are some of the examples shared by readers of this same blog over comments section in various of EPF related articles.
Case 1 – How Abha's company didnt deposit EPF money for 2 yrs
Dear Manish,

Thanks for such an informative post. At last i do see some hope. Here is my situation:

Worked for this company A for almost 4 years and left them in Nov 2011 as they were downsizing…yes it's been more than a year and half of torture they have given me thus far. Company is kind of closed now as I don't get any proper response from them, CEO is just not bothered. Company first asked us to wait for 2 months to file the claim as it is a rule, did that patiently. Later came the story of change of PF office from one (under which it was originally registered) to another and that went on for several months

They kept saying PF offices are not coordinating among themselves, the real reason was even shocking and more disappointing, PF guys were not updating because this company didn't not deposit our PF amount for long time (2 yrs appx), they however kept deducting the same from our salaries (was surprised how come there was no annual audit by PF office and how this company could continue doing so for this long), anyways they cleared things in January this year and said we have applied again. When filed a grievance online, PF person says we haven't received any claim whereas this X employer says they have already applied. Don't know what the real truth is but on the basis on experiences I have… most certainly it is the X employer at fault.

Another strange thing is, when I checked by balance online in January this year it looked fine (updated up to 2012… I do have SMS proof) but from last 2 times it saying updated up to 2010, I am worried if this employer has dome some mischief here too, is it possible for a company to take back money from an employee's PF account or it is the issue with PF website?

I don't want to apply for my claim via options you suggested above unless I see the balance updated. Thank you so much for reading thru my query/concern. Appreciate your feedback.

Regards,
Abha
Case 2 – Balaji Company asked him to Wait till they deposit the Employee Provident Fund money
Hi Manish,

I switched jobs in August this year. Before I quit the job, I had submitted form with my previous employer for withdrawing the amount in my PF account. I had not received the amount due till December. When I called my previous employer, they told that they have not yet deposited the money and I will have to wait till March 2013.

My question is, is what my employer did legal? How frequently should the employer deposit the PF money with the EPFO? I have been working with the organisation for little more than a year now.

Thanks for clarifying.
Case 3 – Sarabjeet Kaur company not replying her because they did not deposit EPF amount
I worked in an organisation for 2 years. They have not deposited the PF amount which they used to deduct it from our account. Its been 1 year I am asking them to refund the PF. They have stopped replying to the emails and have stopped answering everybody's call. Is there any ways I can withdraw the amount? The firm is based out in Mumbai and I used to work in Delhi Branch.
Employer can be Jailed if they do not deposit EPF money
An employer has no right to deduct the employee share from salary and not deposit it with EPF. There can be any excuse or justification for this, because its employee hard earned money. Once the employer deducts the Employee Provident Fund money from the employee salary, its their duty to deposit it with EPFO , and if they fail to do so for any reason, its a crime.
Whatever is the case, you can always complain about it with the EPFO department and the concerned officer has all the rights to proceed the legal complaint against the Employer and in the worst case, employer can also go to jail, because what they did is a criminal offence under section 405/406 of IPC .
Here is a real life case Shrikant Bangur And Ors. vs Shree Synthetics Shramik Union – where employer did not deposit the EPF money and there was legal battle going on . Here are the 3 things which you can do against your employer.
1. Complain to CVO officer – You can also email your situation and case to the CVO (chief vigilence officer) at EPFO, who is appointed by Ministry of labour for EPFO to look after these kind of irregularities. You can email them at cvo@epfindia.gov.in . More at this link
2. File a Police Complaint – You can also file a criminal case, against the employer in police station which comes under the jurisdiction of your working office (not the registered one) . All you need to show them is the salary slip, which shows the EPF deducted, note that its always better to mail CVO about it anyways, so that the chances of local authorities influencing the matter will reduce.
3. Complain to  Regional Provident Fund Commissioner (RPFC) – You should also complain about the matter to the RPFC officer if under the EPFO office, which will be investigated by him/her.
How Employers Deposit your EPF contribution to EPF account ?
How exactly your EPF money gets deposited in your EPF account ? Here is what I found on this website
Employees' PF a/cs are maintained under these two different methods are –

1) All accounts are with O/o the RPFC

Every registered employer remits the Employee Provident Fund contribution by challans to the RPFC's Bank a/cs. which in turn gets accounted in the respective A/c No.of every such employee. And the employer submits monthly returns to the RPFC showing the details, employee wise of contribution thus remitted.

Every such money is maintained by the RPFC who in turn disburses, thro' the employer towards refundable loans, F & F settlements together with accrued interest to the respective employees. Once in a year a ledger sheet showing the transactions of any employee for one full year is issued to the concerned. Similarly from the PF contribution pension contribution is divided and remitted to the Pension a/c. of the employees thro' a separate A/c. code. This method is the largest.

2) The other method is called "Exempted Establishments (PF Trust)"

An employer/company who employs more 100 employees on roll is eligible to apply to the RPFC for "exemption" from maintaining the EPF under the above said (1) method. RPFC grants the "exemption orders" under certain conditions after examining various aspects. After which the Employer sets up a EPF Trust to be run by Employer (employer's nominees & Employees' representative (Union nominees) which manages all the contributions of employees & employer (excepting Pension Fund which is never maintained by the Trust). A set of Bye laws, in the lines of EPF Act & Rules is prepared & duly approved by the RPFC for running the Trust.

This PF Trust money is invested in the Govt.approved securities for earning the assured interest from which accrued interest to the employees' PF a/cs is credited. The Trust once in a year prints the Employees' PF ledger a/cs and distribute to the concerned. The Trust accounts are audited by the CA and submitted to the RPFC. RPFC also periodically inspects the Trust a/cs and oversee. Monthly, annual returns in the Forms have to be submitted. The convenience under the Trust is quick disbursement of loans, withdrawals and F & F settlements to the employees. Surplus, if any never distributed but any shortfall is made good by the employer.

(Source)
How to find out if your employer is depositing your EPF contribution or not ?
Let me share with you some steps you should follow, to find out if your company is depositing your EPF contribution properly or not.
1. First thing is the do not rely on hearsay's here and there. It might happen that you come to know from some one that your company is not depositing your EPF money, but it might not always be true . Delays happens at times .
2. Every month on 25th , your employer is suppose to send few documents to EPFO department to intimate them on
Form – 2 (for new member during the month)
Form – 5 (detail of new joinees during the month)
Form – 10 (detail of left employees during the month)
Form – 12 – (Details of money deducted from employees salary)
3. The best thing is to first contact your employer and ask them for a copy of these forms for last 2-3 months, do double check if they deposited the money or not.
4. As per my opinion, the best way for a common man and most convenient option is to file a RTI against EPFO and ask them all these questions . Mention your EPF account number, your employer Code and simply ask if your employer has been depositing your contribution or not.
Conclusion
Mostly the big size employers might be depositing the Employee Provident Fund money properly on time, but some of the companies which are small sized or whose owners and management teams are unethical might be into these illegal activities of not depositing employees hard earned money. Its always a good idea to spend some time to be assured, in-case you feel your company is one of those who are not depositing EPF amount with EPFO 🙂
Do you know of any case like this ? Also Please share this article with more and more people