POSTED BY Jagoinvestor ON March 5, 2012
Are you frustrated because of the delay in your EPF withdrawal or EPF transfer? Are you waiting from many months or years at times to get any kind of clarity on your EPF status?
Are you frustrated with your EPF withdrawal or transfer?
I have seen countless number of people on this blog and other forums really getting frustrated with waiting and waiting for years at times for their EPF withdrawal/transfer and they don't get any information or update on the status. It is only when you personally visit the EPFO offices, you get some clarity, but even that does not help. So now if you are fed up with the EPFO office and it's slow speed of work, what's the final step you can take? In this article I will show you how you can use file an RTI application and successfully get lot of information and at times get your work done at a speed which you never imagined. Filing RTI application for EPF information has worked wonders for many people and they claim that it works brilliantly (if you do it right way). I know your eyes are shining, but let's understand some background before you rush to find out how it works!
Some success stories of RTI solving the EPF issues
Case 1

I would like to share the success with RTI. I opted for EPF withdrawal about 4 months back, and did not receive my PF amount until I decided to file an RTI Application. And it was realy shocking to see the amount getting credited to my bank account within 3 days of receipt of application by K.R.PURAM, Bangalore EPFO. – Rohit

Case 2 

My EPF withdrawal issue was resolved with RTI. After submitting the forms, after around 3 months, the EPFO claimed that they transferred my withdrawal money to my bank account. However I didn't receive the money in my bank account. I raised online grievances for 3 times. Each time I got the same answer saying that the money has been transferred and has not been returned back to EPFO, so it must have been deposited to my bank account and I should check my bank account. Around 6 months went in this process with no results. As a last option, I filed an RTI application and to my surprise, the money got deposited in my bank account in 5 days (with additional interest for 6 months) and also received a reply for my RTI application.If EPF grievance system does not work for you, go for RTI. – Manish

Case 3

Yep RTI does the trick most of the time , I got all my PF issues sorted out with RTI application and have all the written proofs with cheque numbers etc for all my previous transfers. They even informed my about my balances for current year and told that they are yet to prepare the PF a/c's for my company for the current year , but here are your balances with us. It really helps. – Hitesh
What is RTI and how it applies to EPFO office?
RTI as we all know is a common man's tool to get a speedy and clear information from any govt office. Supreme Court has clearly mentioned under article 19(1) that Right to Information is a part of Right to Speech & Expression. Now, as EPFO comes under the RTI purview, you can file an RTI application and ask anything you want about your EPF. Govt is bound to respond within 30 days to your letter with all the information you had asked. So if you are unclear about what your EPF status is or if your EPF transfer work has even started? Why did your EPF money still not credited in your bank account etc etc… You can ask all these questions and you should be getting the 100% right and clear answers within 30 days. The only point here is that you should be doing it the RIGHT way. So lets see what all you need!
Note : Before filing the RTI , a good idea would be to file a EPF grievance redressal form online
File RTI in 3 easy steps
Step 1: Buying a Postal Order of Rs 10 from Post Office
The first step is to go to Post Office and buy a Postal Order for Rs 10.  It should be in favor of Accounts Officer of the Concerned EPFO Office. Like if you are sending your EPF letter to Bangalore, the Rs. 10 postal order should be in favor of Accounts Officer, EPFO, Bangalore. The fees can also be paid by demand draft, but that would be expensive, better go for Postal order as it is commonly used for RTI.
Step 2: Drafting your RTI letter
The first step is to draft RTI letter for your EPF related queries. All you need to do is write a letter on a normal paper (better take a very high quality A4 size paper). Though there is no specific format for RTI application letter, still there are some rules of drafting it.
The letter subject should start as "Application Form for Seeking Information under RTI Act 2005"
The letter should be addressed to Central Public Information Officer, Employees' Provident Fund Organisation, (Provide Concerned PF office address). Refer to this EPFO directory for exact address of PF office for your jurisdiction.
Make sure you mention your Name, Address, Contact telephone number and your Email id along with EPF account number.
Now, put all your queries which you want to ask regarding your EPF (putting them as bullet points is recommended)
As a next thing, you should have a declaration – "I do hereby declare that I am a citizen of India. I request you to ensure that the information is provided before the expiry of the 30 day period after you have received the application"
Finally at the end of the letter, mention the proof of payment of fees as – Proof of payment of application fee: Attached Indian Postal Order for Rs. 10 /- dated  dd/mm/yyyy  favoring "Accounts Officer of EPFO" as application fee.
And complete the letter by putting your Signature, Place and Date.
Sign the letter and Put your Postal address
Mention the payment details like Postal order number, issuing post office, date, cash receipt details, etc., towards the end of your application
Following is a sample RTI letter.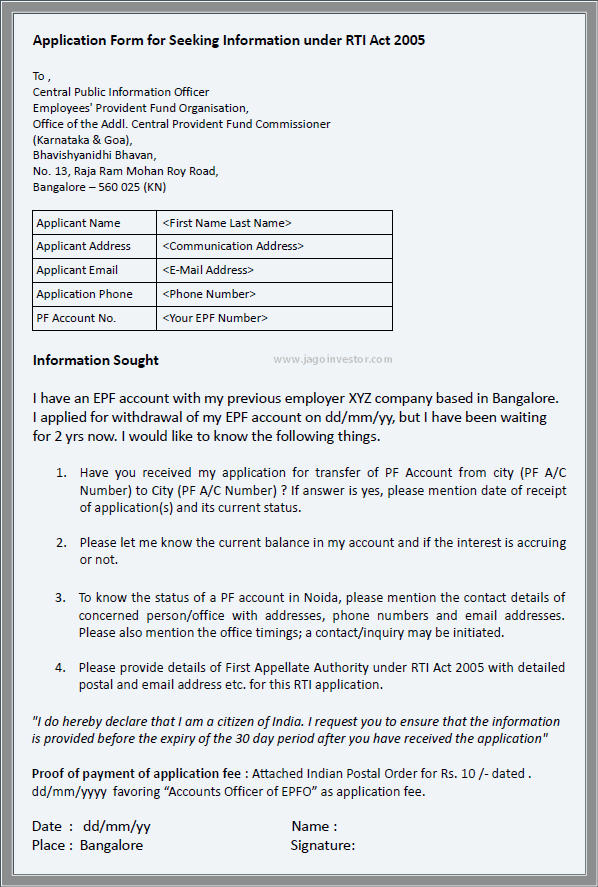 Step 3 : Send the RTI letter by Registered Post or Speed Post
The final step is to send this RTI letter by Registered post only, as no courier is accepted. Please make sure you keep the acknowledgement receipt carefully for all the future communication (if any). It might be required by you.  Once you complete the 3rd step, the RTI letter should reach the concerned authority in few days and then within 30 days you should be getting the reply within 30 days (as per RTI act).
Two RTI's application needed in case of transfer of EPF
Note that in case of EPF withdrawal case , all you need to do is file an RTI query for the concerned EPF office. But in case of Transfer of EPF, there are two EPF offices involved, they are Source and Target. For example if you got transferred from Bangalore to Delhi and applied for EPF transfer, then your source EPFO office is "Bangalore" and your Target office is "Delhi".
You will first have to file an RTI for the Source EPFO office to find out if the transfer has happened from their side or not. It might be the case that they rejected your application and you don't even know about it. Once you file an RTI to them, you will atleast know what is the exact status. If you get a reply that the Transfer has still not happened, then they will let you know by when it will happen or give some pointers on the situation, but in case they say that they have transferred it from their side, then it means that the issue is on Target EPF office and they might not have processed your transfer yet. In that case the next step is to file second RTI to the target EPFO office.
File an RTI application for the Target EPFO and this time, along with all the details also mention about the first RTI and the response you have got from the Source, so that you show them all the proof of what you have done. Now you should get a reply from them again within next 30 days on what is their action and what is the exact status of your EPF transfer.
Online RTI Filing (For NRI's or lazy Resident Indians)
For those who are too busy to visit Post office and do RTI filing offline. You can use the services of www.rtination.com for filing the RTI. They will help you create the RTI letter and then you need to download it, sign it, scan it and send it back to them by courier or ordinary post. They would speed post it to the concerned officer and also enclose the fee. At the moment the fees is Rs 150.
Important Points while Filing RTI application
When you file an RTI application, there are some very important points you should remember, because incase you don't take care of some very critical points, it would mean rejection of your application and unnecessary work again. Here are some important points:
Do not address your RTI application to the PIO by his name, just in case he gets transferred or a new PIO is designated in his place, it will be an issue. However addressing the Officer by name has its own advantage like when it reaches his desk, by seeing his name, he might see more interest in opening it and that might mean speedy work. However in my opinion, better not put the exact name of the person.
Before filing the RTI, see if checking the status online helps here
The matter can be hand written, or typed. There is no compulsion of typing the content.
Be very specific while asking the questions, don't ask unimportant or unnecessary questions, because some states like Karanataka have limits on the number of words in the RTI application (150 incase of Karnataka)
Check the exact fees for RTI application for the state where you are sending it. Because it can be different from states to states. Like incase of Haryana, it's Rs 50, not Rs 10.
You can read about RTI in detail here
Can you share your experience about EPF withdrawal or EPF transfer and in case you have used RTI for resolving the issue? Are you going to use RTI to get your EPF problem solved? Please update your results once you are successful.