POSTED BY Jagoinvestor ON July 9, 2012
How do you transfer the PPF account from Post Office to SBI Bank? This has been a big question mark for all the PPF account holders who opened their PPF account in Post Office and now want to transfer PPF account to SBI Bank or other banks so that they can take benefits of online money transfer to their PPF accounts. Also, it becomes easy for them to do another kind of activities if the PPF account is in some bank.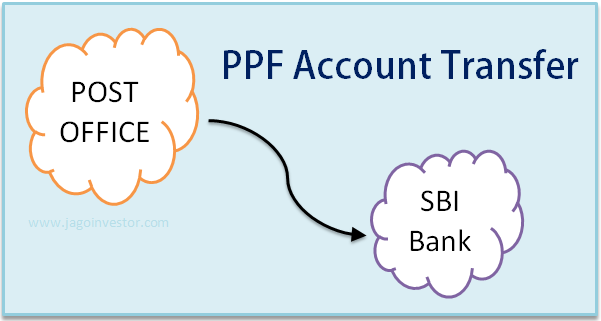 So, in this article we will see the steps required to transfer PPF account from Post office to any Bank. In this example, we will use SBI as an example. But you can use the same procedure for any SBI Bank or its subsidiaries or even ICICI Bank which has recently started providing PPF accounts.
Steps required to Transfer PPF account from Post Office to SBI Bank
Step 1
The first step is to make sure your PPF Passbook is updated with all the interest credited to date. You need to go to the Post Office and get it updated.
Step 2
Fill up following documents

PPF Transfer Form SB-10(b). Download Form to transfer PPF Account here
An application on plain paper requesting PPF Account transfer from Post Office to SBI Bank
Incase you already have an SBI Account, then SBI passbook (Will fasten the process)
PAN/Address Proof (Can be confirmed at Post Office)

Step 3
Submit the form to Post Office Head PostMaster, He will verify your signature with the records at Post Office and verification will be completed.
Step 4
The balance in your PPF account in Post Office will be taken out and your PPF account will be closed by Head Post Master and he will note the remark of Transfer of PPF Account to SBI Bank on all the relevant documents.
Step 5
The balance amount in your PPF account will then be remitted back to State Bank of India through Cheque or Demand Draft along with other relevant documents.
Step 6
Your PPF account will then be opened (transferred) at SBI Branch and you will be notified on this. It would be better to not wait for it and you yourself keep track of the progress.
Go to SBI bank after all these steps are done and collect your new PPF Passbook. Note that all the previous entries of your Interest payments etc will not be present in the new PPF Passbook. It will only have the new and current entries now. So in-case you needed the previous information for claiming tax deductions, better take the printout of the previous PPF Passbook and keep photocopies of all the documents you filled and submitted for PPF Account Transfer. Read  – How to open a PPF account at SBI Bank
What about the interest part when you Transfer the PPF account from Post Office?
Do you know How PPF interest is calculated? Its only a monthly basis , but credited yearly. Now as per PPF Rules, the bank or the post office transferring the account will add interest up-to-the preceding 31st March in the account before it is transferred. The interest from 1st April onwards will be added by the transferee office after the close of the year. As per rule 8 of the scheme the interest in the account has to be added at the end of the year and not in the middle of the year in any case. So make sure to ask and confirm from Post Office Postmaster if he will do this step or not. And once the PPF Account is transferred, at the end of the year, make sure you get the total interest in your account. Just verify it at the end of the year.
What Problems you are can you face while Transfer of PPF Account?
Problem 1: The biggest problem you will face is the ignorance SBI & Post office employees have about this whole process. I think the Post Office Employee has more information (and less ego) than SBI Employees. They might reject the whole idea and say "It's not possible to transfer".
In that case, take the print out of Rule 153 of this document which is at the Post Office website and clearly defines the rules to Transfer PPF Account from Post Office to SBI Bank. Another thing you can do is very humanly and in a soft voice, tell them you will file an RTI to know the process of PPF Transfer from Post Office to SBI Bank and would come back with that RTI query (Post Office and SBI comes under RTI incase you didn't know). I am sure this will be enough to speed up the whole process.
Problem 2: Another problem you may face is documentation, I am not very sure if PAN card/Address proof is required or not and what other documents, but in that case again take the help of your Post Office Head Post Master, he will surely help you. If you are stuck at any point, use sentences like "I will file an RTI and …". That might help you 🙂
Share your experiences, and problems you faced when you wanted to Transfer PPF Account from Post Office to SBI Bank or vice versa, were you waiting for this from many years?