POSTED BY Jagoinvestor ON December 19, 2011
Do you want to invest in your Public Provident Fund (PPF) account online without going to the bank physically? If YES, then there is a good news for you. You can transfer money to your Public Provident Fund Online netbanking. Whatever we are going to talk in this article is applicable to Public Provident fund in State bank of India. If you have a PPF account in post office of other banks , then first you will have to transfer your PPF account to SBI and then you can add your PPF account to your bank account as beneficiary and then transfer the money to PPF account anytime with a click ! .
Please note that this online transfer is possible only if the PPF account is at SBI , if it is opened at Post Office , then it would not be possible, because only SBI is authorised to get online payments for PPF.  Many people have their PPF , spouse PPF and children PPF account, they can add any number of PPF accounts for online payment.
Steps for Online Transfer in PPF account
Step 1 : Add Public Provident Fund account as Beneficiary Account
The first step is to add your PPF account to your Bank account as third-party so that you can do a money transfer to them. I am using ICICI account screenshots, but all the steps must be same for other banks also.

Step 2 : Choose the SBI branch Address
Next step is to choose the exact location of the BANK where the account was open . Note that if you opened a PPF account at a SBI branch where netbanking is not available , it will not be listed.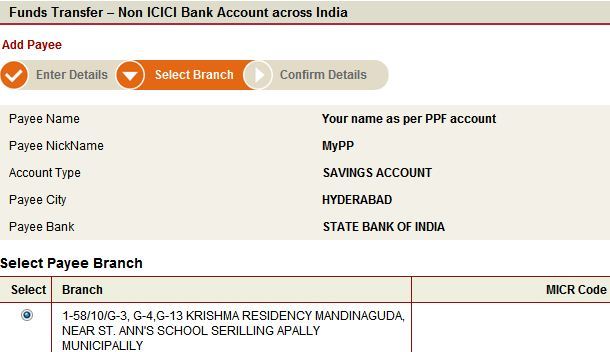 The best thing about have the bank account and PPF account linked is that you can also view the PPF details and balance at a single place .
Step 3 : Add your PPF account as the Payee Account number
The last step is to add your PPF account as the Payee Account number and then click on the confirmation link . In ICICI you will first get an activation code which you will have to put to activate the account for first time .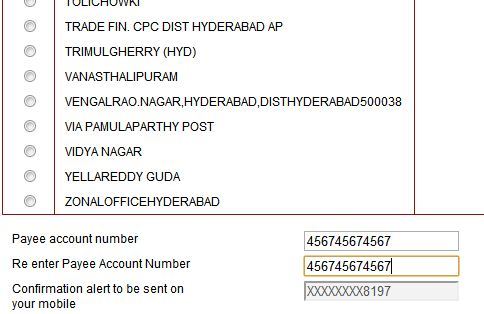 Once you have completed these 3 steps you can see your PPF account as the 3rd party account where you can transfer the money just like you send it to any account.
Steps for State Bank of India (SBI)
Option 1 : If your PPF account and Bank account is at same branch
Incase you have your PPF account and SBI bank at the same branch, then you can see your PPF account already linked with your Bank account and you can transfer the money. Prasoon shares his personal experience
I already had an account in SBI, New Delhi. I went to SBI, Hyderabad for opening a PPF account. They asked for existing SBI account number, which I provided. Also, I submitted PAN card and Bank statement copy as proof documents. It took some 15-20 minutes to get a PPF passbook.

Now a pleasant surprise –

When I came back home and logged with my saving account user ID, I was able to see my PPF account under account section. I was able to see transaction I have done till then.

Also, there is no need to add PPF account as Third Party in this case. As the PPF account appears as separate account, I can transfer amount using fund transfer (not third-party transfer). Good thing is that, this transaction is real-time and the PPF account gets updated at the same time. Also, I am able to download statements, just like with normal account.
If you are not able to see the PPF account as "linked account" , then call customer care and ask them to activate it, if that does not work , then try to add your PPF account as the beneficiary account like I explained above . If even that does not work then try to go to your branch and then ask them to link the account to your bank account.
Option 2 : If your PPF account and Bank account are NOT at same branch
If your SBI Bank account and PPF account are not in same branch/city , then as the first step you can try to add your PPF account to your Bank account as third-party to do a money transfer. If that does not work then you can go to your Branch and ask them to link your PPF account to your bank account . Mostly this should work.
Netbanking works with all the Banks
As of now we know that this online transfer is working with ICICI , SBI , IDBI , Bank Of Baroda , IDBI bak, Union Bank of India . So with this information we can conclude that any bank which supports NEFT transaction can be used to transfer the money to SBI PPF account, by adding it as third party beneficiary. Let us know if this works for you.
But your Public Provident Fund account is not in SBI ?
Incase your PPF account is with Post Office or a non-SBI bank ,then may be its a great time to transfer your PPF account to SBI account ,all you need to do is submit a form for transfer of your PPF account. It will be one time task , so do it .
How to claim tax benefits
If you transfer the money to your PPF account online then you can do two things . First is to get your PPF passbook updated at your branch about the money transfer , you will get the PPF passbook updated and show it as your proof for claiming tax benefits. The other thing you can do is take the print out of your bank statement which will show the credit of the money to your PPF account. I am not sure but may be this is possible with SBI bank only . You can use this statement as proof to claim tax benefit.
NRI's should make use of this online transfer facility
I think the best use of this facility can be made by NRI's , who are already have a Public Provident Fund account , but could not go to bank branch to invest in PPF and waiting for information like this.
Just try this option with Rs 500
If you are wondering if this whole netbanking will work or not , I can tell you that there are countless number of investors already doing this and I am sure you will hear from other fellow readers that they are already doing this. It would be a great idea to test this by adding your PPF account and then test a transfer of Rs 500 and confirm once that it really got transferred .
Where you looking for information like this ? Will you test this with your Public provident Fund account and do a test transfer ! , please update your comments about it in comments section .
Thanks to Jayaprakash for sending me these screenshots and also confirming that he was able to transfer money from his ICICI bank to his PPF account.