POSTED BY Jagoinvestor ON August 10, 2011
Which Portfolio Management Softwares do you use ? Some of the Portfolio Management Softwares in India are MProfit, Perfios, Intuit and Investplus and we will see a detailed review of these portfolio trackers in detail. Portfolio Management & monitoring is an important part of managing a good financial life and if your financial life has different components like Real Estate, Loans, Life Insurance Policies, Mutual funds, stocks and ULIP's. You can also track your portfolio using Excel and there are lot of templates also, but it can be a tedious task to monitor which part of your financial life is doing well and how much worth do you have at each level using an excel template for Portfolio management. Hence, you can use portfolio management software which suits your needs. There are tons of Free portfolio management softwares which you can start with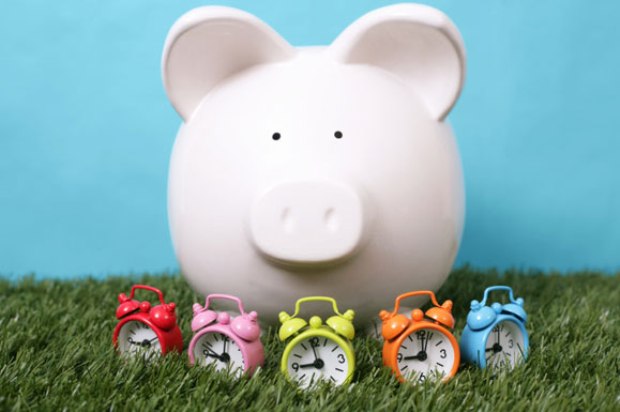 There are many paid as well as free portfolio trackers available in the market which you can use to track and manage your financial data. I really recommend using one of these so that you have all the data at one place and you don't need to struggle every time to find out your own information. Once we put all the information at one place, we get a clearer and a complete picture, which we don't get otherwise… We are amazed to see our clients find out that they are worth so much or worth so less once we start discussing with them their financial life data.
Some important features of Portfolio management softwares
Now we will discuss some of the most important aspects of portfolio management softwares in India . These points are top level concerns of customers.
Data Security of Portfolio Management Softwares

A very big concern which most of the people have is where will their financial data be (example) ? Will it be on their local computer or will it is at third-party server and this becomes a big blocking point for them to go for those products which stores their data at their end itself. Here I am not talking about the login & password, but the actual numbers of their financial details. A lot of people don't want their info to reside on other servers. I personally don't buy that argument, but that's a big concern for a lot of people. In a survey done by JagoInvestor last month, the number one concern which people had was data security, ahead of pricing and features.
Regarding the security of login credentials, with the advancement in technology and strong security advancements, it has become virtually 99.999% secure if not 100%. A lot of solutions also give an option for users to link their bank accounts, credit card and other online accounts by providing the passwords. A lot of people do not know how it works internally…
An online money manager will work well only if you provide online access to banking accounts for a one-time setup. This raises security concerns, but here is how it works. The login username and password for individual online banking accounts is used to retrieve read-only data. The 'transaction password' for online banking should be different from the 'login password' for greater security. You don't have to reveal your 'transaction password'. Customers do not have to give any personally identifiable information, making the process safer. Moreover, the account is completely anonymous and requires only a username and password. All the banking accounts are linked to provide consolidated data. In the consolidation process, vendors will have access to your financial records on a read-only basis, but privacy policies of these entities should prevent abuse of information. – source : moneylife
Features provided

I was surprised to see that in our survey, most of the people voted for high features and less on simple features. I personally thought that most of the people will love to have something which provides them less, but rich data. But actually people look for lot of features giving them number of reports and graphs. It's very important for someone using the software getting more analysis and suggestions on what one should do in their financial life rather than just getting some plain info which they would have done on their own. Most of the software providers give good analysis along with different type of reports and charts which you can download in excel formats.
Easy to use
It's extremely important that the softwares are easy to use because no one would put a lot of time to feed the data at the start and on ongoing basis. A lot of players provide statement upload facility where you can just upload your Bank Statement, Credit card statement or other demat statements and the software will put out the information and feed it automatically, thus reducing your work. Some softwares like Perfios allow you to link your accounts with them so that they can pull your information and feed it themselves (read only).
Below is a comparison of 4 major Portfolio management software's in India market and used by thousands of people (you can read their reviews on their website). They are Perfios, mProfit, Investplus and Intuit MoneyManager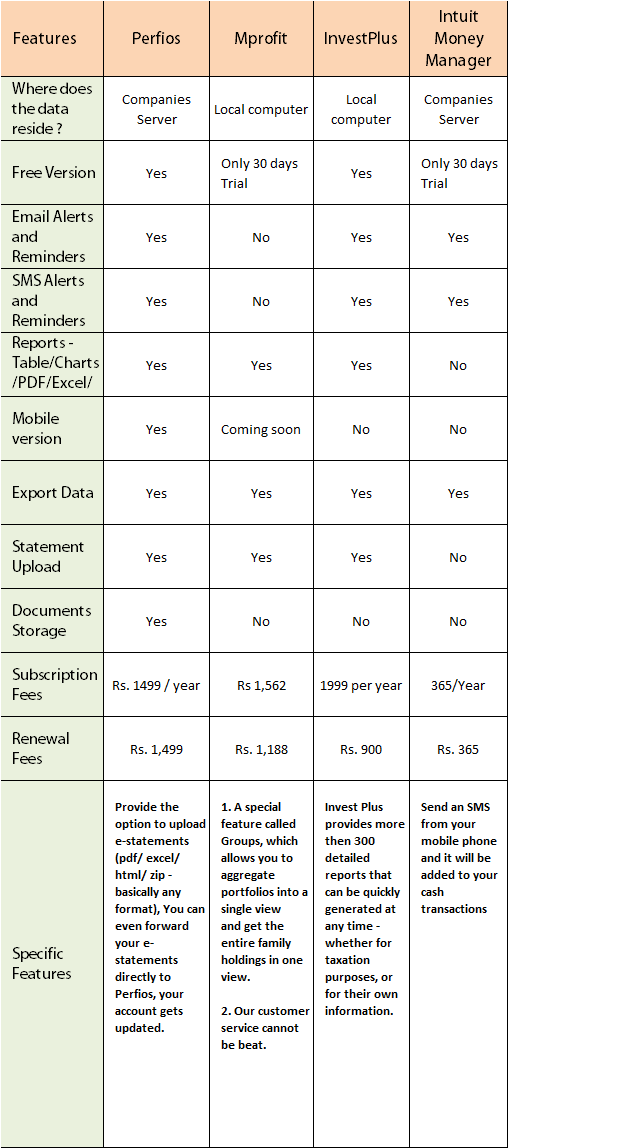 Look at the above video done by me and Manish Jain from Mprofit .
Free and Trial versions
I would say you should take advantage of Free and Trial versions of softwares, Like Mprofit gives away a full functional 30 days trial, where as Perfios and Investplus have free versions which are good enough. If you don't want to use any software, you can manage your finances at very basic level in an excel sheet, but you will have keep updating the values etc from time to time as the situation changes, which is not the case with softwares, as they auto-update the values.
Free tools for Portfolio management
A lot of people don't go for advanced tools and use free tools available in market which does a good enough job. Tools like money-control tracker and Valueresearchonline tracker are used by lacs of people to track their mutual funds and stock holdings. But they do not give you all the functionalities which fully fledged software's give to you. Below is the chart explaining Arthamoney, Moneycontrol , Valueresearch and Moneysights portfolio trackers. I hope liked this review of Portfolio management softwares !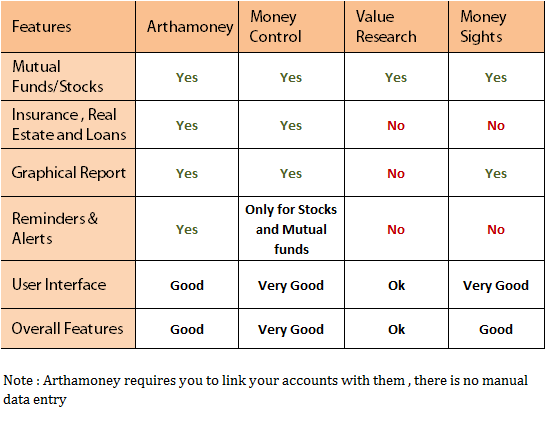 I would say you should definitely try out some softwares which provide a free version and also explore the free options, there is lot they provide free of cost and all you need is to put your data there. Some other tools which you can use are rediff money (only for stocks and mutual funds, but I like the UI), myirisplus, yodlee and rupeex.com. Please share what more do you look from these softwares and what do you think about the value you get out of these management softwares?
6 Free Portfolio Management Software Licence from Perfios
Update 12 Aug : The 6 winners are selected and this giveaway is not valid now
Perfios is willing to give away 6 free Platinum licences to Jagoinvestor readers for the first year (worth 1499). The first 10 commentators who share this article on their Facebook profile will get those licences (just cc manish at jagoinvestor dot com) (to share it on Facebook, just "like" this article below and put your comment in the box which opens).