POSTED BY Jagoinvestor ON July 11, 2010
There is a very good debate going on in the previous article I wrote about EMI and how it can change your decisions regarding Home loan and other Loans. A lot of readers have put their thoughts about the Home loan and whether they prefer Buying or Renting, we got a lot of readers who supported Buying and some said renting is better, the conversation went so in the flow that It was worth mentioning here and getting everyone's point of view.
So please go through these views on Buying Vs Renting and put your comments and views on why you support Buying or Renting. The main points discussed where the opportunity cost, Emotional satisfaction and what are the prospects in return over the long term in real estate.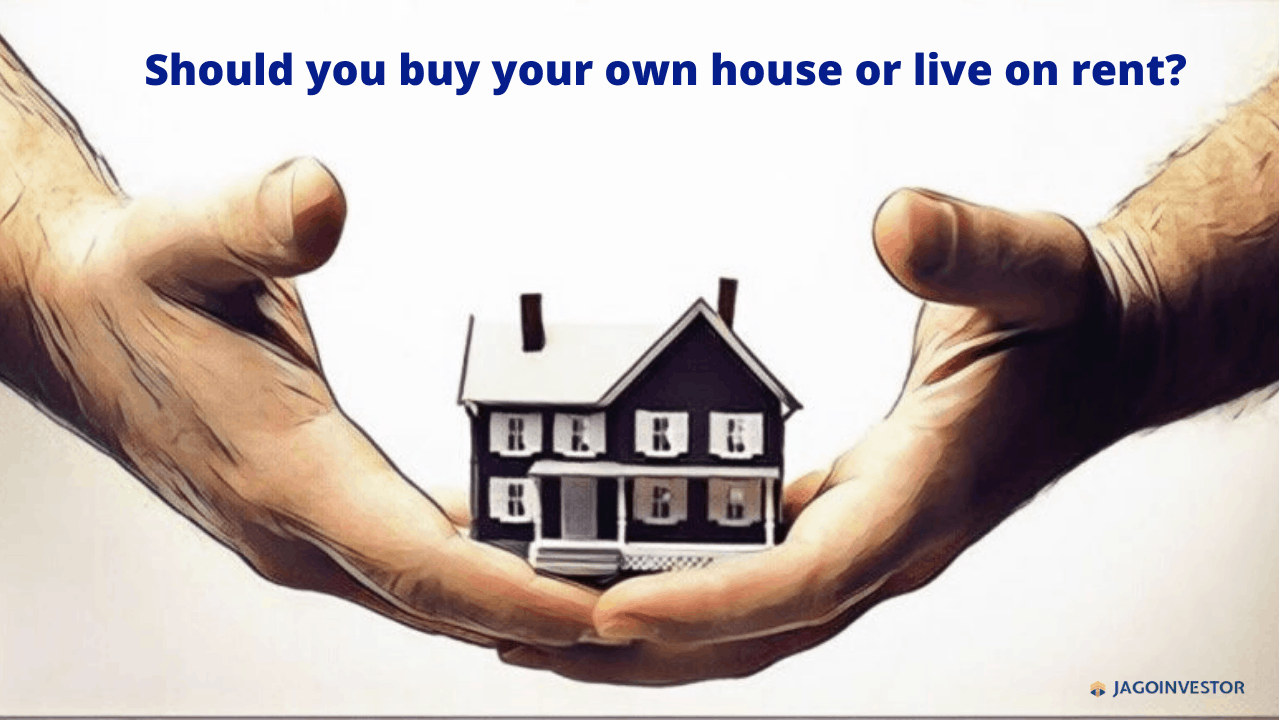 #Conversation 1
Meena Says's
I liked this article immensely and echoes my sentiments exactly. I agree with you regarding the way people go overboard on car loans and personal loans to satisfy their craze to keep up with their friends and neighbors. But I would differ on the home loans. For most people, buying a first home is an emotional decision especially if they want to occupy it for personal use. Even if the value of a self-occupied house appreciates substantially, it is only notional as you don't want to sell it.
I want to relate my personal experience on the home purchase. We are a joint family and about 14 years back, we (my husband and I, both working and earning) purchased a 2 BHK flat in a Delhi suburb for 11 lakhs. We wanted 3 BHK flat badly but could not afford the EMIs although it cost only 2-3 lakhs more. But a few years down the line, both our incomes increased and in hindsight, we repented the decision of not going for the 3 BHK flat.
Now the cost of the same 3 BHK flat is close to 80 lacs which is quite unaffordable. So my point is, while deciding on the home purchase, look for present affordability as well as future earning potential. Also buying a house is any day better than renting it out if you have no plans of relocating to any other place.
My Reply
I agree that the decision would depend on the current affordability and future earning potential. However in your case as you said that you were not able to afford the 3 BHK that time, does it mean that you were not able to pay any EMI if you took 3 BHK or for the next several years. I think the mistake happened in not able to factor out your earning potential of the future? Correct?
I would like to hear your views on why you said that "Buying a Home is anytime better than renting out if you are going to stay at the same place? ". Under what assumptions do you say that? Will it be true for any case, do you also consider the other alternative of investing your money somewhere else? Are you biased towards emotional attachment related to this overall buying home issue?
Meena's Reply
Hi Manish,
We anticipated that after paying EMIs for 3 BHK flat would have resulted in a liquidity crunch for some time. So we did not take the risk at that time. But what we did not factor in, was that the liquidity crunch would have lasted only for a very little time as the incomes also increased.
When I said that buying is better than renting, is not an emotional decision but a pragmatic one. 1. For one, investing in a house is good for your asset allocation – you are spreading out your investments in Equity, debt, real estate, etc. 2. I do not buy the argument that the money spent on EMIs are better deployed in other investments like MFs or stocks.
At least in metros like NCR, the real estate gives decent returns over the years (a CAGR of 12-15% in 10 years as in my case). 3. Also renting a house has many hassles: Rents increase @ 10% p.a. and you are at the landlord's mercy as he may ask you to vacate anytime. 4. You get very good tax breaks when you own a property. All these are good arguments for many people to invest in at least one property.
My Reply
Meena
I will agree with some of your points.
1. Asset Allocation: Yes, you achieve asset allocation by investing in Real Estate, but in the early phase if your debt and equity is not high, then even asset allocation is stretched on real estate side much, for example, if one has just 2-3 lacs in Debt and 4-5 lacs in Equity and buy a real estate of 50 lacs, that 85% Real estate, 5% Debt and 10% Equity, though there is some asset allocation, but still most of the portfolio is in Real estate, However, what you say about allocation makes sense when there is good balance between all the 3.
2. This can depend on what kind of investor you are and your concept about "owning home". For an investor profile like yours, it will actually not makes sense because your priorities are much different, you feel more satisfaction in "owning home" and that your priority, however, there are many readers I have interacted with and know them who are more comfortable with the option of renting out and that makes them more comfortable, It might make sense for them to deploy the EMI – rent money in other investments, at the end if you know what you are doing makes sense.
Also regarding the returns from real estate, there are 25% returns, 15% returns and even 5-6% returns also in the last 10 yrs depending on the location and timings. In the last 10 yrs, the situation has been very different and the next 10 yrs will be different than those, What you get in returns as % terms at the time of selling the property will actually matter and not for the time when you actually Hold. So it's my rough guess that if you live in the same flat for the next 20-30 yrs and then sell the flat, you will find out that the returns over the period of times will be in single digits, maybe 10% max.
Historically real estate has never given more than 9-10% over the very long term (very long term again) in the last many decades (even centuries), so I dont see why it should be different now. Real estate runs in cycles and they are long, a 10 yr return in real estate can be very different than very long term returns figures, while I say this, I will also say that real estate in India is promising and next 1-2 decades can be exceptional and give returns on the higher side of average till date.
3. Renting has hassles, but has advantages too, just like owning our own house has hassles and advantages of its own, so what you call as hassles might not look like hassles to someone else. It's different for different people, and everyone is right for themselves.
4. That's very temporary and introduces some years back only, in the DTC earlier there was a proposal to take the tax breaks out, but with the updated draft, I think it's still there. no one knows if that will remain or go away in another few years. So tax breaks is not a criteria to decide if one wants to go for real estate or not. You should read subramoney.com real estate articles, you will get a clear picture of what I am saying
Conversation 2#
Pramod Says
Manish,  This is absolutely right. There is a big industry flourishing on "how to get you into debt trap" mantra. The best remedy against this trap is self-discipline. The temptations are high which tends to divert your attention. My wife is asking me to buy own house but I have only one answer that is expensive.
She asks, Property has been expensive for the last 100 years, it will never become cheap. Right, but for me inexpensive means within my reach. The house I want to buy should not come bundled with Headache, High BP and insomnia. What I tell her is that we will buy a house when –
The total cost of the house is not more than my 4 years' income.
have enough savings to pay a down payment of at least 30-40% of the price.
EMI must not be more than 10 years long.
So now for me to buy a house either prices have to come down or my income has to go up. BTW I am betting on the prices to be stagnant and my income to be growing for at least the next 3 years looking at the supply that is coming up in NCR. In Greater Noida alone where I live, more than 70000 units will be available within 15 km in the next 3 years.
For a car, I prefer a second-hand car from Maruti, It is always good. Most of the depreciation takes place in first two years so let someone else pay for that and you enjoy the ride.
My Reply

Haha, Wife is a very scary word when it comes to the decision of buying Home, I have already talked to several people here who's wives are bugging them like anything for owning house. You are correct on the "industry working on getting everyone in Debt trap" . over the pricing of real estate, the bubble is strong and I can't say when it will burst, but whenever it does, it will be very bad day to see.
However, even if it does not burst, Still living on rent is so affordable in today's times that we can do it for next several years .. after all, if everyone will buy and buy only, who will live on rent?
Pramod Says
Yes, Today I am residing in a flat with a rent of 7000. If I were to buy that it costs 30Lacs. At 80% loan which is 24lacs the interest @ 5% (flat equivalent to 10.5% reducing) comes out to be 10000 a month. Remember I am only talking about interest here so that comparison should be only in the costs. Add society maintenance, maintenance (paint, pest control, seepage repair), property tax, etc to the cost & surprisingly you will find that rent is cheap.
Also if I add the opportunity costs i.e. investing the EMI and front cost minus rent in an MF with only 10% return it will become 1.32 Cr in 15 years so if the flat in which I live today is available for 1.32 crore after 15 years, it's OK, nothing to worry.
Secondly, detach emotions from house & treat it like a commodity. I often ask people when you dont have a car do you whine about using public transport or do you feel embarrassed about hiring a taxi. If no then why the hell you shy living on rent. Just pay that cheque & save all the bothers of becoming a landlord. One more benefit of the rented house " You can always change it easily when your astrologer tells you that it is not VASTU Compliant, Will you ever get such wonderful chance to enhance your luck so easily in your own house
My Reply
Pramod, you are one of the rare found die-hard fans of renting. While your views are more biased about renting, which I fully agree. You have taken out some of the things which drive people to own home and that can be pure emotional reasons and its fine.
Some people will feel suffocated enough to live in a rented house and the idea of not having their own home will kill them each day, this idea of renting if better than owning and blah blah will not work on them no matter what one does
While I am with you on renting, the point I want to make is renting vs buying has its own positives and negatives and nothing wrong about it, just that a person should understand which boat he wants to sail in. What do you say Pramod? Read Meena's comments above, you will get what I am saying
Pramod Says
Manish, I am a fan of renting as long as the rent remains within the 3-4% range of the property value. As I shared with the group I am also planning to buy a house but only when it is affordable. I do not want to spend the next 20 years of my life in stress & sacrifices.
As far as Meena's points are concerned, I am 120% in agreement with her on-point no. 3 and that is the single most reason that provokes many to buy a house.
But in these days of apartments you can negotiate well as owners know that an empty flat is going to cost him the maintenance and it always depend on your relations as well as the demand-supply situation.
Coming to the other 3 Point –
1- House as an investment, An investment by def. is something which you are going to encash upon value appreciation. So your first house is never going to fit into this axiom. Are you going to sell it after 20 years? 99.9% of people won't, so what kind of investment?
2. The investment in MF vs Real estate depends upon your kitty. Till the time I have 5-6 lacs accumulated can't even dream of buying a property even on loan so it always depends on your net worth and no arguments on this point as it is very personal.
3. On this point I agree but again it is emotional and depends on the market. In Gr Noida where I live 50% city is empty so no dearth of flats on rent and I can negotiate.
4. This is one thing that comes as the ultimate logic for buying a house. Let's see. The principle amount is incl in 80C so after PF, Children fees & insurance what the hell is left. For interest, you can claim tax 1.5 Lacs. Anyone who can buy a house worth 30Lacs must be earning 50K & in this salary, the HRA usually is 10000 approx. so if you take benefits of 1.5l interest payment you have to forego 1.2 lacs benefits of HRA which brings it down to 30k.
Is it worth to buy a house to save a maximum of Rs.9000? Better not watch some crapy movies and save 200 rs on popcorn which is available for 10 Rs outside the cinema hall.
Finally indeed renting and owning has its own pros and cons but here we are discussing these things from personal finance angle not emotional otherwise nothing can replace the joy that I can see on the faces of my family if I take them to Switzerland but can I afford it And also we have seen many old people who spent their life savings owning a house and are still struggling to meet life's basics in the last stage of the life. Is the house really an investment?
So remember 1st house is always a commodity that you are going to use and 2nd, 3rd …nth property is investment only so do not buy the argument of returns however use these "returns" to check the affordability factor for you say X years down the line if you will still be able to buy that flat.
My Reply
You have made some excellent points . However on one point, I would like to comment. You said
"Are you going to sell it after 20 years? 99.9% of people won't, so what kind of investment?"
Yes, you are correct that most of the people would not like to sell and will not sell. However if the price of the house is a lot and one has got some good returns like 15-16% CAGR in the last 20 yrs, one will be sitting on a very expensive house and it can act as an emergency fund to them.
If a person house is costing say 2 crores and they can buy the same kind of flat on the other place at 1 crore, maybe in another city, in the times of job crises and loss of income, one has an option of selling the first home and moving to the same quality/size house at other place and cash on the rest in some instrument which will act as a monthly income to them.
So overall I would say, even if a person does not sell a house, he/she has some good unused advantages.
Meena Says
I totally agree with Manish's views that even if you have no plans of selling your house, you are sitting on a wealth which would give great peace of mind when you have repaid all the EMIs and the house is all yours. My father bought a house in a prime locality in Delhi 40 years back for Rs 30,000.
I calculated the CAGR of the property keeping the current market value in mind. It is a cool 18% return that we see here. If my father had thought like Pramod and other fans of renting, he would have a tougher life as a retired person living in a rented accommodation in some outskirts where rents are cheaper.
I also agree with Pramod that the first house is more a commodity than an investment. But if you are not going to buy the first house, where is the question of buying a second property as an investment. The tax benefits of the second home (if you can afford) is even better. You can get the deduction of the entire interest amt from the taxable income.
So by totally ignoring this avenue of wealth creation, you are missing out a vital component of your asset building. Mind you, I am not discounting the importance of PPFs, MFs, etc here. I am still a great fan of owning the house in spite of very persuasive arguments put forth by Pramod, Manish, and others in favor of renting
Raja Says
Wow!! that's really an interesting conversation going on here. I just would like to add my 2 cents here.
1. Rental price as we discussed, is a function of demand and supply. Essentially meaning that the renter is not so much in control of how much he might have to pay for the same accommodation on a future date. Just calculating it as 3-4% of the current property price and ruling out the future rental price appreciation doesn't sound too prudent to me.
When a person buys a house on loan he basically locks in his outgo in form of EMI to a certain extent. Of course, drastic interest rate changes on the upside can alter his calculations.
But I think in the mid to distant future India has a better chance of seeing interest rates softening like so many developed nations than it moving drastically up from the current 10% range. Whereas when someone is depending on the rental mode of accommodation he is exposing himself to drastic future variations in rent.
Take for example the case of a tier-2 city like Bhubaneswar. Not so long ago (around 5 years back) the rent for a decent 2 Bhk used to be in the range of 2-3.5 k. In just 5 years' time it has skyrocketed to the range of 6-8k for the same accommodation.
The rise is mainly attributed to a rerating of the city as a small IT hub and the factor's like a growing number of IT professionals employed with Infy, Wipro, Satyam, etc…Now someone who had the affordability to buy a house 5 yrs back but didn't do it is surely ruing the decision. Of course, property prices too have risen in similar fashion so buying now is even more difficult.
2. I am not aware of the statistics but I guess most of the new houses are bought by people when they are of marriage age. So, probably the age profile will be in the range 26-34. This means the main cash outgo in form of EMI will be over by the time they in the age range of 41-49 (Assuming an average 15 yr loan).
There are a good 16-24 yrs of life left after that (Assuming a life expectancy of 65 years). What are trying to say is with buying a house one will be done with most of the hard work in his prime working years. Whereas rent is a never-ending story, one has to keep on paying the rents for his lifetime.
3. Reverse mortgage – Even if one were to see some bad time during old age reverse mortgage can come to rescue.
4. If the roof over the head is assured it's easier to live off one's savings for a few months/years if one were to see bad times in the form of loss of income. isn't it ?? I mean it's not impossible to live with just food-transport-communication expenses in the bad times. Add the rental expenses to this list of expenses and suddenly it would seem a little difficult to manage. Of course, the assumption here is the bad times are after one has paid off the EMI's
Conversation 3#
Rahul Says
Dont quite agree, Manish this time.
Let's take the example of the couple with the 3-BHK flat. Recently married, they will need a 2-BHK (AT LEAST) in the next 3-4 years, as they will start a family. If they have frequent guests, like parents, (of both husband and the wife), relatives, friends etc., they will need at least 1 bedroom extra, making it a 3-BHK, which is the minimum requirement nowadays.
There can be several other cases requiring such a flat. If either parents' stay with them, or they plan to have 2 children or they have relatives/guests/friends staying over, a 3-BHK becomes a minimum requirement. Also. once they buy a bigger flat, they will pay it off in say 15 or maximum of 20 years, if not earlier. It takes off a big headache, once you have your roof over your head. No tension till you retire! With property prices rising, it is a good investment too.
On the other hand, if they buy a small flat, in addition to daily problems of staying in a small place, they will have the constant headache of looking for a better, bigger property. And with increasing process, it may not be in their reach too. So, better buy it now and finish it off.
What do you think? Do you have better ideas?
My Reply
Rahul
You have not taken the article in the right sense. I am talking about people who buy beyond their capacity just because EMI is available. I have clearly stated in the article that people who have a requirement and can't do without buying something have to buy it.
What about the family (only 2 people, married) who can not afford a 3 BHK and can only afford 1 BHK. Dont they get guest or dont start a Family? They do. They make adjustments and how many times do guests come, it also depends on that. I am little crude on this, but I personally would not like to buy a 3 BHK because my guests come for 4-5 days in a year. I rather sleep on the floor and offer them the room. That's a better choice, at least for the initial years till I am capable of affording a bigger house.
Another point you made was that if the couple is starting a Family soon? Wh y is it necessary to assign a separate room to kids till they are 7-8. You can manage things somehow. We are talking about cases where a person can not afford a bigger house. Dont you think so?
Rahul's Reply
Manish,
I think if you buy a smaller house and then go for a bigger one after 6-7 years, it may get out of your budget by then, especially the way India is progressing and infrastructure is developing. Practically all Indian cities are bound to expand as more and more people move to the cities and our country becomes an urban country from a rural one.
In such a scenario, it makes sense to accumulate as much land(flats etc.) as possible. It is almost certain that land, flats' prices will keep rising for the next 20-25 years. Besides, practically speaking, paying off steep EMIs just beyond your reach inculcates a habit of savings too. One has to pay the high EMIs to come what may, so expenditure is automatically checked.
I have seen this in numerous real-life examples I have also seen that having 4-5 residences gives one a feeling of financial security and achievement too! Keeping all this in mind, I'm all in the favor of paying steep EMIs, just within your reach (leaving just enough for daily expenditure and a 5% room for emergency exp.) to accumulate as much land/flat as possible.
and Manish you said about sleeping on the floor when a guest arrives. Really, that is taking it too far! I mean, the house you have should have some spare capacity. Homes in which we live is the best indicator of our financial status. What point is served to be a crorepati, if one has to sleep on the floor if a guest comes in !! And what if by chance there are 2 guests staying overnight?? really embarrassing!
What do you think?
My Reply
Rahul
You took it too literally. Sleeping on the floor means sleeping on the mattress, not "on the floor". Dont we do it? There will be instances when you have it no matter how big your house is, even if you have 3 BHK, It can happen that you have many guests which can be accommodated on beds and in different rooms, That is the time you always shift on the mattress on the floors, That's what I meant.
And it depends from person to person what is embarrassing for them or not, I personally would rather be embarrassed squeezing my financial life and being in debt up to neck rather than sleeping literally "on the floor". Its a personal choice, nothing wrong . What do you say about this?