POSTED BY Jagoinvestor ON November 23, 2009
"When you grow up, What do you want to become ?" , and the general answer is Doctor, Engineer or Pilot . That's the story of 99% people . I just wonder if some kid today says "I want to become a Financial Planner" , how will his/her Parent React ?
They will either think he is an alien or they will find fault in their DNA .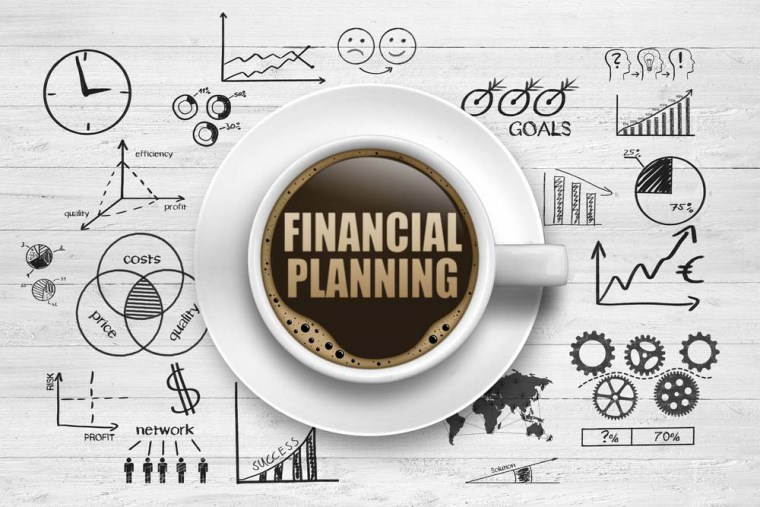 So here is the main question. Where are we in our Life, in our Career? I bring this important question because one of my client 2 days back told me that He is not happy with what he does and he is looking forward to do something which really satisfies him and therefore he cant make long term commitment.s of doing SIP , Paying Regular Premium Payments etc etc, because he is not sure if he can take it anymore.
He is a well earning Software professional , but he actually never enjoys his work and actually wants to be into something like Education or Music which he loved always but had to give up because His parents wanted him to not waste his Life .. LOL . Now I am not a Magician who can fix all the problems like these .
Relation between different aspects
We are today going to talk on how your Career affects your Financial Planning . Lets see how things are related and dependent on each other .Our Goals in Life are important to us, We need money to fulfill them , at least most of them .Money comes from our Jobs and Jobs come to us from our Education (most of the times) .
And Our decision of what we get in Education , from where do that come ?
Here is the root cause . Ask any MBA aspirant why he is preparing for MBA ? What kind of answers do you get ?
My friend is also doing it
What else can i do ?
Good money in MBA
Same problem with Engineering and others Jobs . How many people do you know who say "I love what I do" .. "My day is amazing everyday at work and I am so happy to be at work" . Lets see a typical situation of an average Indian which is happening from Decades and needs to be changed .
"Borrowed dreams don't make for happy realities"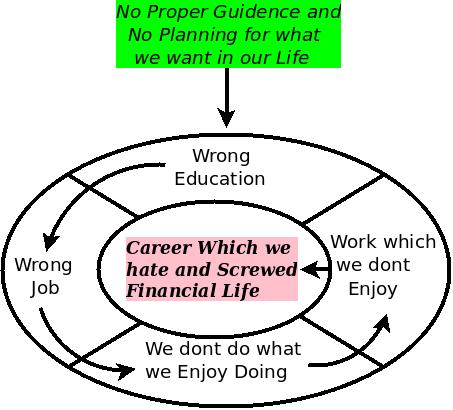 "Dont let your Schooling come between your Education"
How Career affects our Financial Planning
Finally I come to the point . So for acheiving our goals and satisfying our needs of daily life , we need consistent flow of money from our Jobs , Consistent money can come in two ways
1#. You don't truly love what you do in your Job , but keep doing it no matter what , and get your Salary every month
I don't need to explain much here , but you smart to understand and picturize the situation , these people do not like what they do , but are dragging
from years in the same company or same profession.
These are people who make decent money from their jobs , but they are internally never satisfied from their career and somewhere unconsciously are afraid of the fact that If they loose the job or leave it themselves ,from where will cash flow in to meet the expenses .
Life is long, if you are just 25 or 30 in this situation, this situation may not look very bad to you , but wait for some more years , once you have other responsibilities like a Family and Children ,Regular Bills and Education costs , you will so stuck .
One of my friend in Pune says that "It comes to his life daily morning when he has to leave for office, He just dont like the work he does" , This is critical situation .Our lives today is full of stress , Problem at work , Issues with Marriage (Amazing Book I am reading these days) , Unhealthy life style and many more like these and combined all , It has deadly effects.
In coming years you will have to plan for your expenses and money will come from this job which you hate , and then it will be tough situation . These people unconsciously worry a lot for their Financial Goals like Child Education , Marriage , Retirement etc because they somewhere know that there are greater chances of not excelling at what they do because they just cant perform better and what is expected out of them .
These are the people who make Investing mistakes in hope for big returns because they want to fulfill their Financial goals as soon as they can .  Most of the people in this category do things like one mentioned in this article
I know people who earn 90,000  per month but they are the most negative people I have seen when it comes to their future , and yes they tell me how idiotic job they do .
2#. You Love what you do in your Job and get your Salary every month
Now this is a very different Situation , here you love to do the job , Your satisfaction part is already fullfilled . If you not paid for what you do , you can still do the job sometimes and wont feel about it . I charge clients for the Financial planning , but I do not charge my close friends when I do it  .
I am not paid there .. but Its fun to me , Its something I enjoy . Every new article is a challange for me,  Its never a job for me .  Every new comment is an appreciation and a message from you that I am being read and I write wonderful 🙂
As per a famous Chinese proverb "Find a job which you truely Enjoy and you will never have to work after that" . People who love their jobs already solve one of the big issues in daily life . When they are at Home , they are more cheerful , more energetic and tend to make a better environment  around them .
These poeple Financial life is also better because they dont have a mental pressure of "making themselves fullfilled" at work . These people know that they are going to get much better in what they are doing and someday will reach heights , where they will have much better salary and hence it will help them that time if they are unable to save and invest today .
I am not saying that they dont save or invest, but they are not worried for their future .  Read an interesting article on "Can you live with 90% of your Salary ?"
I know a person who is 23 and recently left his Software Job to make a career in full time blogging , He earns more than 1 lac per month now .
What is the Solution ?
Oops .. Its a tough problem to solve . The best thing I can think of is
1. Identify first if you are happy to do what you are doing , make sure you understand that you are going to do it for 20-30 yrs . I am referring to people in Software especially , because most of them just know it sucks .
2. Identify what you like to do and how can you make a career out of it . Career 360 is a good place to look for some career related stuff
3. Gradually start upgrading your skills and get some education in the field and in the meanwhile create a buffer of money which will support you for some 1-2 yrs if things fail and you can get back to what you were doing.
4. Gradually shift to other field once you are ready to make a move .
One thing is sure .. If you do what you love , you worry least about salary hikes , office politics , worry for slowdown and most important "getting Fired", you have that amazing confidence that you are the powerful person in your job because you will always excel at what you love to do .
What should be the Ideal Situation
We have to plan for different things in life , some are small things and others are very important in life . Below is the list of things I personally feel are extremely critical for a successful Life .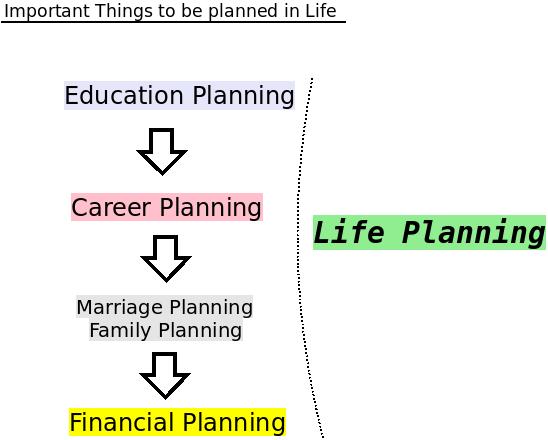 Each of them is dependents on the things coming next in life . Your Education decides what Job will you get in , Your Job decides how much you are happy and how much you make in money terms .

This combined with how well you choose you Life partner and how great you plan your Family decides your Life ahead, and at the end what we discuss on this blog comes "Financial Planning" . It depends on various small things we generally ignore 🙂 .
So you need to ask following Questions
1. Do I love my job ?
2. Even Though I feel I love this Job , Is there something I can do better and Make a much better career ?
3. If I had to do my current work for next 30 yrs , Am I mentally Ready for that or Will I just Die out screaming !! .
4. What is it that I like to do and what are the career opportunities in that field ?
Answer it yourself 🙂
Conclusion
This is a very Important aspect you need to think about , Financial Planning is totally dependent on how comfortably and happily manage to get the cash flow in your accounts . If its a burden on you rather than a enjoyful event, you are bound to get screwed some time in coming years .
Forget how to choose the best Mutual fund and what is the cheapest Term Plan or What is the best way you can invest your 2 lacs kind of silly questions .. They are idiotic questions which we try to find answers for , answer these real questions in life first .
Comments
I am sure my writing this article at 3:30 am in morning will not go waste and you will provide your valuable comment on this .
Why don't you let me know about what you feel about this and to what extent you agree on this, Can you suggest some ways out for this problem?