POSTED BY Jagoinvestor ON October 4, 2009
How do we get a consistent income and good growth both at the same time from our investments? In this article, I have talked about, what is dividend Investing and what are the important things we have to consider for investing with the purpose to build consistent income from such investments.
We will see the concept of Dividend Investing and the risks involved and some examples of stock which are considered to be good Dividend Stocks.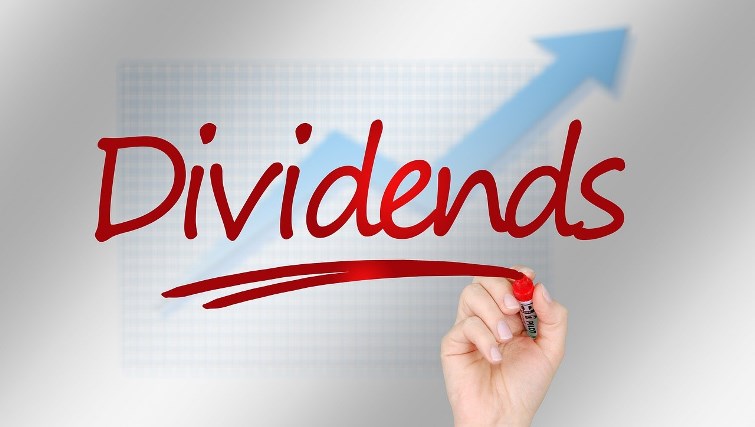 What is Dividend and Dividend Yield?
When a company earns the profit, it has two choices:
Either invest that profit in back in the company advancements
Payback profits to its shareholders so that they get some return from the investments they made
So, generally, companies declare some part of the total profit as Dividends to its shareholders. Suppose a Company earns the profit of Rs.200 crores and it wants to give 100 crores as Dividends back to shareholders and there are a total of 10 crore shares in the market.
It will come out to be a dividend of Rs 10 per share. Now, if the face value of each share is Rs.100 (10/100), then it will be called as 10% dividend declared by the company, but if the Market price of that same share is Rs.200, then the dividend yield would be just 5% (10/200).
So what matters is the Dividend Yield and not the percentage of Dividend that is declared.
Suppose, you have 200 shares of Infosys and its current market price is Rs.1000, whereas the fave value of Infosys was Rs 10 and Dividend per share is declared at Rs.50, then the dividend percentage will be 500% (50/10), but the yield would be just 5% (50/1000) and your Dividend income will come out to be just Rs 10,000, which is 5% of your shares current market value of Rs 2,00,000.
See the Video Below to understand a little more.
How to create a regular and consistent Income from Dividend Investing?
So, the basic idea here is to invest in those stocks which have an excellent history of paying Dividend. The important point is to note the dividend yield earned from these stocks. You might be interested in Stock Market Analysis using Nifty PE
The advantage of Dividend Investing:
Your Investment Growth: The stock price will have good growth over the long-term and the share prices will grow.
Consistent Income from Dividends: You can also get a good income from the dividends you receive from Stocks
Tax-Free Income: As per current income tax rules, the dividend received from Stocks are 100% tax-free, unlike Mutual funds dividend where there is Dividend Distribution Tax.
Note: So Even if your Stock grows at 7% per year over long term and has a Dividend payout of around 5% every year… your actual return from the stock would be 12% approx which is a very good return.
Example of Some good Dividend Paying Stocks
Reliance Industries
Novartis
KEC International
Asian Paints
Hero Honda
Corporation Bank
Bajaj Holdings
Castrol India
GSK Consumer Healthcare
Garware-Wall Ropes
Tata Chemicals
J&K Bank
Also, see this chart with Top 20 Dividend Paying Stocks list by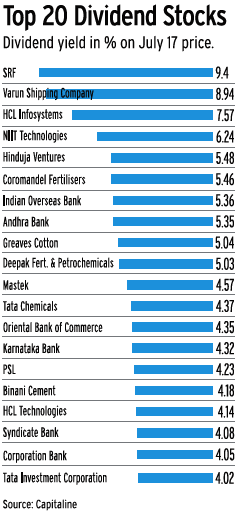 Where to find out the Dividend Information for a Stock in BSE and NSE?
https://www.moneycontrol.com/stocks/marketstats/nsetopdiv/index.html
See this NTPC Analysis by TIP GUY, You can refer to his blog for all your Dividend Investing related queries, He is an expert on this Topic
See other articles on Dividend Investment Here
Conclusion
People who have a good amount of money to invest in the stock market and also want consistent returns per year can look for investing in good (researched) Dividend Stocks. This will give them good investment growth and regular income.