POSTED BY Jagoinvestor ON March 20, 2009
Post Updated , Read it again if you read it before .
This is a follow up post on Akruti City saga .
While I write this post on Friday Evening 20th Mar 09 , Prices of Akruti City has crashed by 28% with better than average volumes on NSE , and may even fall more . This is happened because SEBI banned it from F&O from next month . In my previous post I mentioned that retail investors must stay away from these kind of companies .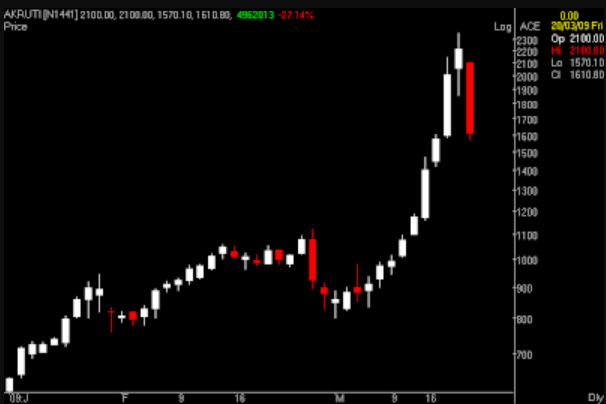 The scrip has gained more than 250% from Jan 09 , and has doubled in just 5 sessions . this kind of behaviour is unjustified and hence it had become a dangerous scrip to trade in .
There was a Evening Star Pattern seen today , which is a bearish Signal . This tell that its something to be cautious of .Though its a signal to sell , but dont just go and sell , wait for the first sign of confirmation again . Overall markets upmove can again take it high again .
So wait for next downmove to consider selling incase you have made your mind to do so . The better thing would be to stay away .
In my earlier post I had mentioned about this , Read it here
Though the reasons are not directly related to company inside news or anything . the point is simple , Whenever it comes down , it will be a heavy move and it has happened . Any one who had invested 1 lac a day before has now worth of Rs 75k. It may go further down or again go up . that's is not the point .
The Point is Was it a Good investment ? Think 🙂
Read detailed new about Akruti City's Drop in Prices here
Read Is Direct Equity for you ?
To read some of the best articles of this blog , read this