POSTED BY Jagoinvestor ON February 27, 2018
Are you looking for selling your old used car? Are you wondering how to get the best deal for your 2nd hand car?
Today I will share with you 4 different ways you can sell your second-hand car and also share the pros and cons of each option.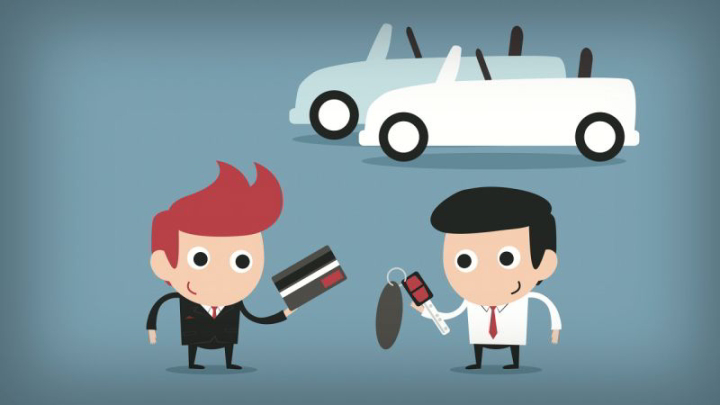 But before we move ahead, it's important to point out that when you sell an old car, there are few things which matter and should be taken into consideration. It's not always the money you get by selling the old car which is to be maximized. It's not the top priority of all the people.
Yes, price matters. But then a few more things matter.
Sale Price
Convenience
Documentation and RC transfer
Safety and Security
How fast you can get money in your account
Speed of Transaction
So these are 6 things which you look at when you sell your old car. Sometimes you need money fast, sometimes your preference is the convenience it takes to sell the car.
Sometimes you are not in hurry and can run around and you want to maximize your sale price and for some people, it matters that the whole transaction should be safe and they should not get into any trouble.
There is no "best way to sell your old car"
One important point to note is that there is no single best way to sell your car. In some situations, you can get a great deal when you sell your car directly to the end-user. But in situation, it can be the dealer who can offer you the best price. Sometimes, it can be online and some times it can be in the exchange offer.
If you want to watch a video on this topic, below is a detailed step by step process I have created.
Let's start our discussion.
Option # 1: Selling a car in Exchange Offer
When you buy a new car, you can sell your old car in an exchange offer. They buy your old car for a price and deduct that amount from your new car price. You have to just pay the balance.
However, this is not so simple. Let's dive deeper into this
There is something called "Exchange Bonus" which most of the showrooms give you which makes the whole thing very interesting.
So apart from the old car price, you also get an exchange bonus which increases your net price of the old car. However, the exchange is not always available and depends on the new car which you are buying.
So to sum it up,
Total discount you get = Old Car Valuation + Exchange Bonus
Here is how it works
When you want to buy a new car, the car showroom will do your old car valuation first. They will screen it various parameters and then tell you how much they can offer you for your used car.
On top of this, they may have an exchange bonus also in offer. It's mostly available for cars which are already established as brands or towards the year-end when its time to clear the old stock (the old year model) or when some new version of the existing car is going to be launched (like New Swift)
But there is a problem, the thing is that the valuation you get in exchange is generally the lowest you can get. You can get much better pricing generally if you try to sell an old car in the open market. But let's talk about it later.
Also, know that a discount is usually available most of the time, so even if you do not sell your old car, some discount you can get just by negotiating, hence the "Exchange bonus" is not something extra you get. It's more of a marketing gimmick or a trick to give you a special feeling.
Here is a snapshot of a car seller confirming this point on Team-BHP thread (one of the best places to discuss and learn about cars)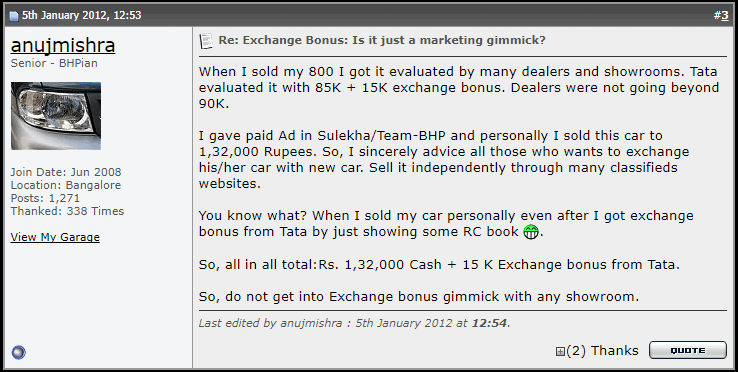 When you sell your car in n exchange, you get high convenience and it saves you a lot of time, and that's the reason you get lower valuation almost all the time. But if there is a good exchange bonus available, then the final deal might be ok (if not the best)
However when an exchange bonus is not available, its almost the worst pricing you get in exchange.
For example, suppose you want to buy a new car which is worth Rs 7 lacs and you want to exchange your old car. The showroom person tells you that your used car will fetch Rs 2 lacs and there is also a Rs 20,000 exchange bonus. So your total discount is Rs 2.2 lacs and you need to pay just Rs 4.8 lacs (7 – 2.2)
Pros of selling car in Exchange offer
It's an extremely convenient way to get rid of your used car. All the formalities are taken care of by the showroom
You need less money to buy a new car. The amount you get in exchange is automatically deducted from your final price
It's a safe way to sell your car, no worries of getting it misused or RC transfer
You get discard old car as soon as you get the delivery of your new car
It's a good choice if your car is very old and not very famous
If good exchange bonus is available, then it can give you a very good deal overall
Cons of selling car in Exchange Offer
You get the lowest price for your second-hand car when you sell it in the exchange offer, especially when there is no exchange bonus
Not a great option if your car is not very old and is quite popular (swift, i10, Alto)
You can get manipulated in buying a bad option (some car which is going to get discontinued soon) by offering you a good exchange bonus which might look great.
Things to Remember
If your car is not very old (below 5 yrs) and it's a popular brand, then do not sell it in the exchange offer, because you will not get a very good deal
You will not get any exchange bonus for newly launched cars or some car which has heavy waiting list. Do not try much
Do visit more than one showrooms of the same car brand to check what is the price they are offering for your old car along with the exchange bonus.
Do also visit a few other brands showroom just to check what valuation they are providing for your car.
While using this option, always make sure you are clear about the new car which you want to buy. Do not get influenced by the salesman talks about other cars and awesome deals you can get on them
Option # 2: Selling used car to local Dealers
The next option is to sell your old car to local dealers in your city. Dealer is someone who buys your old car, makes all the minor repairs, cleans it properly and sells it to another potential buyer who is looking to buy a second-hand car.
So instead of selling your car to the end person, you sell it to an intermediary who makes some money out of the whole process. Its a business and the intention is to maximize the cut from the deal.
There are two kinds of dealerships. First is the organized dealers which are quite big brands like Maruti True value and Mahindra First Choice and second is the unorganized dealers which are small local setups.
Just watch carefully and you will be able to see tons of cars lined up in a ground with a board which might say .. XYZ car dealer.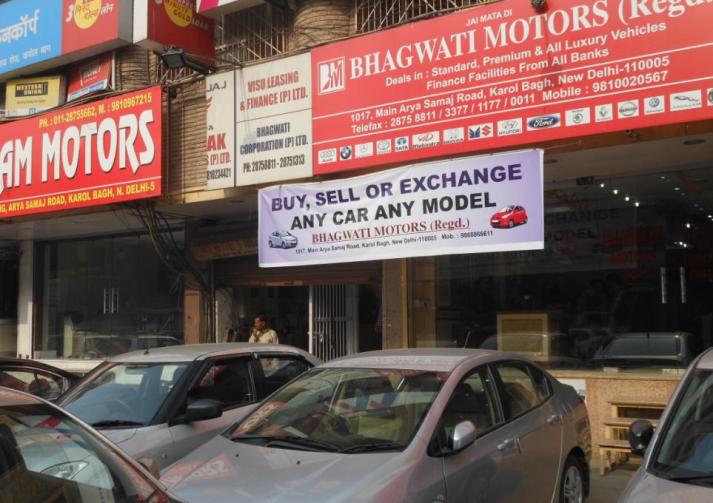 You can sell your car to any dealer, the price you get from a dealer is generally much better compared to the exchange offer, but you do not get any exchange bonus here. However, still, you can get a decent price.
My personal example
I recently sold my old car (I was the second owner) for Rs 91,000 to a local dealer. I had tried selling it to showroom in the exchange offer, but I was getting the valuation of only Rs 65,000 along with the exchange bonus of Rs 10,000. So in total they were offering Rs 75,000 only (this was TATA showroom)
It looks me close to 1 hour in selling the car and the local dealer went with me to his bank and did the NEFT transaction and I got the money in my account in the next 15 min only. So overall I sold my car in 90 min and got the money in my account. I got the proof of sale, and the RC transfer to a new owner is in the process now (looks like they have sold the car to someone)
I also went to Cars24 but got the pricing of Rs 85,000 only, which I declined as I had the offer of 91,000 already with a local dealer.
When to sell your car to the dealer?
So coming back to the discussion, you can some times get a very good deal with the dealer itself. Yes, its a business for them and they will not give you the real worth of the car, but your time is also important and if you are looking for a speedy fast transaction, dealers can be a good option.
This also turns out to be a great option, especially if your old car is technically working great, but from outside it seems too bad. Like if there are too many dents, scratches, etc. If your car is making too much sound etc. In this case, dealers can paint it, service it well and make it look like a new car and then sell it off at a good price and make money.
Pros of selling the old car to Dealer
Better pricing than exchange offer (without considering exchange bonus)
Very Convenient – Just take your car to them, they will inspect it and give you the quote. If everything is fine, you can sell your cars to them within hours
Its a great option if your car is quite popular because it's very easy for dealers to sell them to new buyers
Some big dealers give you option of both cash payment or direct bank transfer.
Some room for negotiation (make sure you quote your expected price 50% higher than what you really need)
Cons of selling used car to dealers
If the dealer is not professional, it can turn out to be a bad experience
Often the small dealers will offer you only cash and there is no proof of sale
Important points to note 
Do not rush when dealing with the dealer. Take your time and enquire at 2-3 dealers.
Do mention to them that you are looking at other dealers
Always take the sale invoice and enquire with them about the RC transfer and when you will be informed about it.
Note that you can not fool the dealers. They are the masters of the game and they do this day in and out. It's their full-time job. Don't try to be smart with them. You can negotiate with them (you should), but don't try to give them wrong information about cars and how great your car is. They can't figure out things just by looking at the car.
Option # 3: Sell your car to CARS24 or SPINNY
In the last few years, some startups (now full-grown business model) are bringing innovation in the used car buying and selling markets. The biggest player in this market is CARS24 and a new entrant is Spinny. I have strictly chosen these two options because these websites directly buy your car from you and give you the money, without you waiting for a third buyer.
Spinny is a website where you can choose to get your car evaluated. They will come to your doorstep, inspect your car and offer you a price. If you accept it, the payment will be made instantly and they can take away the car. They sell the car to the end buyers (people who are going to use it for their own purpose)
However Cars24 is a little different. with Cars24, you need to take your car to them. They will inspect your car (takes around 1 hour) and then they will make a report which will have all the details of the car, its issues, its good points etc and they will upload that report online.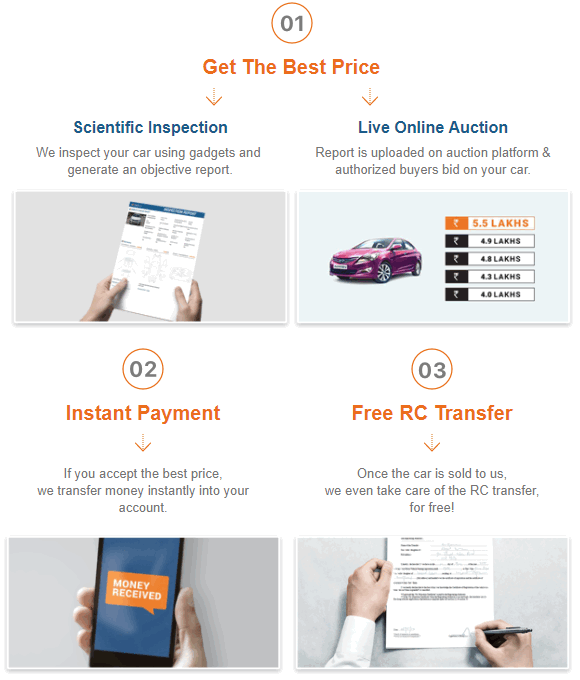 They have a network of dealers who are registered with them. These dealers can bid for the price and the highest bidder gets the car. Then cars24 delivers the car to that dealer and after that dealer can sell the car to the end party. Many businesses are also registered with cars24 who use the car for taxi purposes for as cabs.
Best part about CARS24
The best part about CARS24 is that its a fast and safe way to sell your car. The payment is instant (within few minutes but Rs 1,000 less) or 2 days (NEFT , but full payment)
The prices you get from Cars24 can be a good price (but not always). As I said, I got a quote of Rs 85,000 from Cars24, but I sold it to a dealer for Rs 91,000 one the same day
However, I suggest you can go with Cars24 if you are looking for a speedy and hassle-free transaction with a "not so bad" price. There are lots of people who are ready to settle for 10% less money if it comes without any issues and risk. You need to decide for yourself.
Real-life experience with CARS24
Here is one real-life experience by Mr. Atul who sold his car in Pune branch. He had some RC transfer issue which you should know about before you want to go to CARS24
I recently sold my car via cars24 Pune Kharadi branch. Let me share my experience.

I booked the appointment, got the reminder message before the appointment. I reached cars24 office on time for inspection. They did the inspection & offered me 2.05 lack. He said is the final max price.I simply said NO to that price because I know my should be around 2.15L to 2.30L.

Then the negotiation started. He came to 2.10 then followed by 2.15 then finally 2.17 L. I still said NO & came back to home. Next day I got the call from the same person he offered me 2.25L. I said yes handed over the keys on the same day. I got amount next day.

Lesson learnt – Although Cars24 executive says its the final highest price but there is certainly scope for negotiation, In fact I would recommend all cars24 customer to negotiate. You can expect 5-10% more after negotiation. They pretend that it's the final price but it's not true.

I sold the car in Nov 17. It's been more than 3 months now. I have been told that RC transfer would take max 90 days. but it's not yet transferred. Everytime I call customer care they say car is with the inventory partner only it means car is not yet sold to the end user. This is simple pathetic. I keep on calling those guys(1800112233) & send mail to care@cars24.com but no concrete response. Everytime I get following generic response.

"Thank you for writing to Cars24
We would like to express our deepest regret for the inconvenience caused due to delay in response. We would require some more time in order to resolve your case.
We have also sent your concern/query to the concerned department. We hope this experience will not dilute our relationship and that you will allow us to rebuild your confidence in us.
Please contact us via phone at 1800 11 22 33 or write back to us for any further assistance.
Happy to help,
Team Cars24"

I already got the money, the only concern is RC transfer. Who would be liable till RC is not yet transferred? When I asked the same question to them they say cars24 would be liable but on paper & in govt records car is on my name. Please suggest how to solve this problem.

Overall I would not recommend cars24 to anybody because of RC transfer issue. There is no timeline when car would be actually sold to the user & RC transfer would be done. customer care is really bad. No SLA or escalation matrix defined which can help customer to resolve the issue.
Pros of selling your car to Cars24
Very professional attitude
Speedy transaction (expect 2X time, which is fair)
Instant Payment
FREE and Assured RC transfer .. it's safe
A good way to inspect your car even if you just want to get a valuation
Cons of selling your car to Cars24
Not the best price (they need to make money too …), but still better than exchange offer
No time to time and wait (if you agree on price, you need to sell instantly .. or at best within 24 hours)
Important points to consider when selling your car to Cars24
Always go to cars24 with 1-2 more offers in hand, so that you know if you want to accept their offer or not
Its suggest to fix small issues in car before you go to them
Always carry various documents which can increase your car worth like extended warranty, servicing invoices for past few months, insurance documents, warranty cards, etc.
It's better to have 2-3 hours in hand when you go to Cars24. Do not go expecting that process will compete in 1 hour (especially if you are going on weekends)
Always negotiate. They offered me a little higher pricing (only a little).
Option #4 – Directly to end buyer by listing on various website
Another option to sell your car is directly to the end-user – someone who is going to buy the car for their own use.
If you can get an end buyer directly through your network of friends and family circle, its a great option. You can trust the person and the transaction is smooth most of the time. But most of the times it does not work that way.
So the next best option is to list your second-hand car on various online portals. You will have to get your car details, pictures etc and then the prospective buyers will contact you and then you can negotiate with them and take the conversation forward.
While there are tons of portals for selling a used cars these days, and I will list all of them here. But I will mainly talk about OLX in this section, because I have used it personally.
The best part about this way of selling your car is you can get really good price if you come across a genuine and reasonable buyer. There is no intermediary and there is no cut for anyone. It's good for you and its good for the buyer also. You get better pricing compared to what the dealer gives you and the buyer also gets better pricing than what he would have bought it for from the dealer.
The biggest disadvantage of selling directly to the buyer
The biggest issue with this approach is that you will get a lot of junk inquiries and broken promises and conversations which will frustrate you. Lots of people will contact you and offer you lower prices. Then lots of people will start conversation and look genuine, but they will never come back.
Then there will be people who will come and look at the car, but not move ahead. So the point is that selling directly to buyer is easy, but only when you come across a nice and genuine buyer. But if you through OLX/QUIKR route, be ready to get a lot of non-serious enquires
I got 50 enquires on OLX
I had listed my car on OLX and within 24 hours, I got around 50 enquires. People were offering prices which was 50% of what I quoted (1.4 lacs). Some people called to get more information. Some people offered to bring cash (50%) and take away my car instantly. Some of them were from nearby towns (as far as 200 km). One guy came to have a look (it was a genuine buyer), but we could not agree on the price.
I am just sharing my experience here and not declaring that you always get junk leads. I have sold some other things from OLX and overall the experience was great. But some category of items like automobiles is different because there is a big market for it and risks are involved.
Apart from OLX / QUICKR, there are many other famous options and let me give you the list of these portals along with their links
How to find the right price for your car?
When you are selling to the end buyer, the biggest problem is the PRICE. Your price should be realistic and fair. It should be a price which makes you (seller) and buyer both happy.
Note that when you sell your car to dealer, he is going to make some profits (around 10-15%) on that and sell it to the end buyer. So you are also not getting the best price and the buyer is also not getting the best price.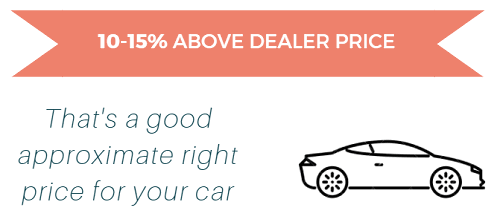 If you quote your car at a price that is somewhere between what you are getting to the dealer and what the buyer is paying to dealer, then its a win-win situation and you both benefit.
So the best way to find the realistic price of your old car is as follows
Go to meet 2 dealers with your car and check the valuation of your car
Negotiate with them the best price they are ready to offer and take an average of that
Inflate the amount by 15%. This is roughly the price at which the dealer is going to sell your car to someone else
So if you get an average price of 4 lacs from the dealer, you can assume that he sell this car to another prospective buyer at 4.6 lacs (15% margin). He will quote the car at 4.8 lacs, and then sell it at 4.6 lacs finally
So now you know that the reasonable price at which you should sell the car is anywhere from 4.3 lacs – 4.5 lacs.
This way, you also get higher price and the buyer also gets it at cheaper price compared to a dealer.
You can also visit few dealers (without your car) and show interest to buy the car (your model, KM driven), you will get a rough idea of what is the selling price going on for a car similar to yours.
Bonus Tip : Always quote your expected car price 20% higher than your expected price (the price at which you will be ready to sell). On OLX, people always bargain, no matter what. So if you quote it your expected price, you will get mad looking at how people bargain.
Make sure you complete the documentation
One headache when you deal with the direct buyer is that you need to make sure that the car is transferred to the new owner. The RTO related works are to be completed. Never sell the car without making sure that the documentation is complete. Else in case of any accidents or criminal cases where a car is involved, you will be considered as the owner because the RC book has your name on it.
I think if you are getting a good price (not the highest) and you come across a genuine nice buyer, it's better to close the deal rather than trying to maximize the deal and lose the good buyer in process.
It also makes sense to tell the buyer that you will help in RTO work. It helps in selling the car faster and also you can be convinced that the documentation work will happen properly.
Pros of selling your car directly to end buyer
Possibility of fetching the best value for your car
If your car is great and popular, you will close the deal faster
Minor issues with a car may go unnoticed as buyers don't have full knowledge sometimes
Cons of selling your car directly to end buyer
Can take too much time as lots of junk inquiries come
Too many followups may be required
Takes too much time and effort
Important points to remember while selling the car to direct buyer
Always ask the buyer to carry their ID proofs like Adhaar card or PAN card with them.
Do not hand over your car (or 2 wheeler) for a test drive without taking their ID Proofs. Always accompany them when they do the test drive
It's better to enquire on phone with the candidate if they are end buyer or a dealer. There are too many dealers on olx and quikr now a days
Do not handover the car unless the full payment is done and you see the amount credited by logging into your bank account (not by looking at the SMS .. there are frauds going on where you receive fake SMS of amount credited)
It's better to take a small token from the potential buyer to lock the deal (even a small amount like Rs 500 is ok to test his genuineness)
Which is the best way to sell the used car?
By now, you must have understood that it depends from case to case and there is no single way that every car owner can follow. To summarize things, here is a table which will guide you on which option you should follow and how these options are different one various parameters
| | | | | |
| --- | --- | --- | --- | --- |
| Criteria | Exchange Offer | To Dealer | Direct to Buyer | Cars24/Spinny |
| Sale Price | | | | |
| Convenience | | | | |
| Ease of RC transfer | | | | |
| Safety and Security | | | | |
| How quick you get money | | | | |
| Speed of Transaction | | | | |
Documents checklist for selling your car
Make sure you take extra care of the documentation part when selling your car to someone. While it's not an exhaustive list, here are some most important documents required to sell the car
Mandatory Documents
RC (registration certificate)
PUC
Insurance Invoice
3 copies Form 28 (with 3 imprints of chassis)
2 copies of Form 29
2 copies of Form 30
Pan Card and Address Proof
2 Photographs
There may be many more documents required if its the case of interstate sale, and insurance transfer and things like that.
7 steps to follow when you want to sell your old car
We have discussed different ways to sell your car and what are the important points to consider. But now let's look at some of the steps you can take and process you should follow to sell your car the best price and without any hassles
Do all the minor fixes – If your car has some minor issues like some dents, scratches, paints coming off, make sound, or things like these. It makes sense to get them fixed first. You can choose to get things fixed at a local service station if you do not want to spend a lot
Clean the car before selling – It strongly suggested that you clean the car properly and make it look very good. These things matter a lot. The first impression which the potential buyer gets by looking at the car changes the way they feel about the other aspects of the car. Always remember, a clean car makes less sound, and drives move smoothly. It's totally worth to go for a professional clean up if your car is a little expensive one. However, if your car is too old and in bad shape, no amount of fixes and cleanup will help in increasing the price.
Post good photos online if you are listing it – If you are listing your car at some portal, make sure you click good pictures from all angles and give all the required information along with details
Have 3-4 offers in hand – Make sure you find out the valuation of your car in exchange offer (if you are planning to buy a new car), with dealers (one branded dealer like true value and 1-2 local dealer). It's suggested that you take a day off for this. Start from the morning.. Go to a showroom and then dealers .. and finally go to Cars24 to find out their pricing
Give higher expected price – If you are ready to sell your car for 2 lacs, then start from 3 lacs expected price. Don't worry about embarrassment. Its a game of maximizing the price, everyone plays it. Quote 3 lacs, show surprise if the other party offer 2.1 lacs, negotiate it for 2.4 lacs at least and then finally accept what you get (if it's fair)
Carry your documents – Carry a copy of your PAN, Adhaar card or another address proof and photos (just in case)
Make sure the documentation is complete – Whatever channel you sell your car, always make sure that the documentation is complete in next 30-40 days. Prefer the payment to be done online so that the payment can be tracked back if required and always take SALE proof. If you are selling it to direct buyer, its worth to get it done on a Rs 100 stamp paper.
Some Real-Life Experience (and Tips)
This section is empty right now. When you add your experience in the comments section below, I will add your experience here in this section.
Do please contribute here in the comments section to enrich this article for others benefit