POSTED BY Jagoinvestor ON June 5, 2017
This article is a guest post by one of our readers Vikram Agarwal, who wanted to share his experience on the concept of "Early Retirement". Vikram was generous enough to share his story and some of the real-life things which will make you think hard about this concept. Like Vikram, if you feel you can write on jagoinvestor, please click here
Over to Vikram.
—
Most of my friends in my friend circle in late 30's ask me one question – "How much money I should have now, so that I don't have to work anymore while maintaining a decent standard throughout of my life, with all the future expenses taken in to account?"
They want to 'Retire Early'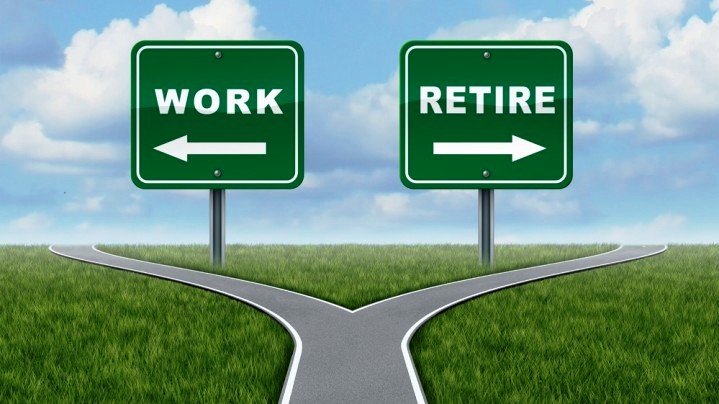 In fact, I also used to be an ardent follower of the concept of 'Early Retirement' but now have realized that the concept is more like a mirage, which does not exist in reality and once you reach there, it vanishes.
Moreover – in my view, it is quite dangerous for an individual to run after this concept. In my opinion, you achieve retirement either 'NOW' or 'NEVER' irrespective of your current level of income or financial state.
Early Retirement is a state of mind
It is a state of mind, rather than a stage achieved. The moment you achieve early retirement as per the physical criteria set by you five years ago taking inflation, life expectancy and all major and minor expenses in your monthly calculations, by the time you achieve retirement as per your old financial definition, all those things become sub-normal or default.
Your mind will have another definition that looks normal for you in today's context for example for future kids' education, your house quality, the type of car you own, facilities you desire and all other such expenses.
My personal example
For example, five years before, owing a 2 BHK house in the newly developed area with Marti Dzire hatchback car and with the kids going in a decent school used to be a life I wished for and I had done calculation for the amount required to maintain the same standard throughout rest of my life without working.
And that was 'Early Retirement' according to me and as per standard definition.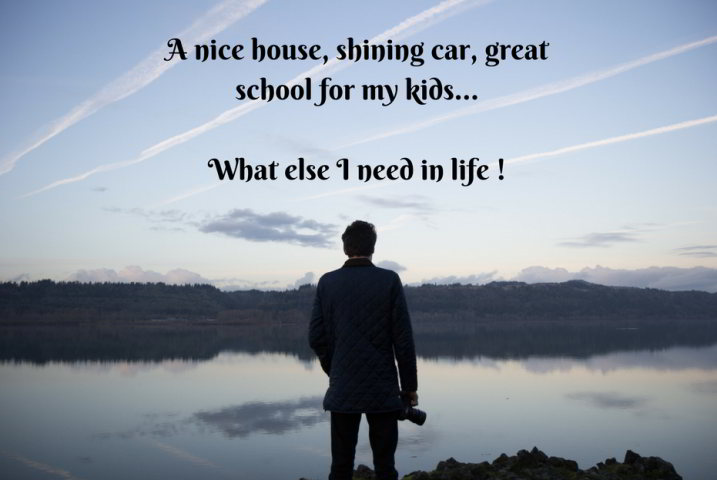 But, now it seems owing a 3BHK house (one extra room for parents or for guests) in a good location of a metro city, a nice Honda sedan and a 'good' school for kids throughout their education duration is 'Normal' for me. Now it's the standard, I would like to maintain before retirement and after retirement.
My next target!
My new "target" might be owing to a villa or bungalow, and a nice SUV and kids in the 'best' school of the area. And once I achieve it, I think it will become a new normal with time.
The next level
And who knows, a car for wife will be a standard I will look for in the future, as I will not be able to manage all the household activities on my own and an extra car becomes a necessity. (I did all my retirement planning calculations with taking decent return on investment as 10% which is quite modest in the long term, so as not to fall in the trap of exuberant returns which might be temporary and actual return might spoil all your calculation.)
Even with a slight increase in any of the above 'wish' list (like the possibility of sending you kids abroad for his or her graduation) will push you back in time and you will not be able to achieve you 'wished' retirement any time and this carrot and stick game continues.
When your desires convert to your "needs"
You would not know when your 'desires' got converted into your 'needs'. And now it looks like there is a meaning in the sayings of wise old man that "There is enough in this world for one's needs and not for one's desires". I can sense the truthfulness in these lines with some financial literacy and practical experiences.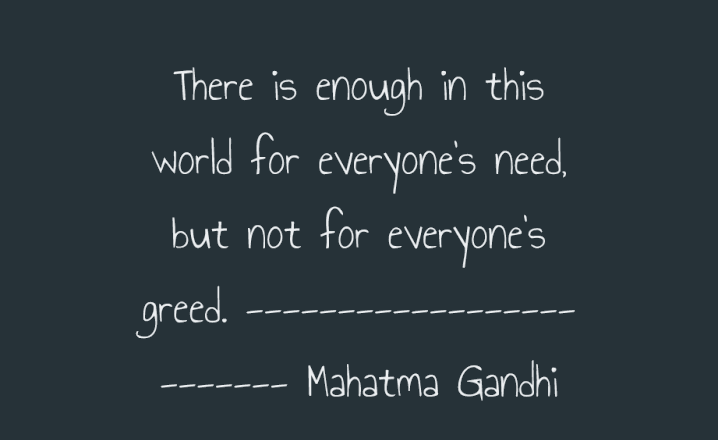 If at all early retirement could mean anything for a 'disciplined' guy is thru' a windfall gain from lottery or legacy, otherwise if one tries to achieve early retirement from normal gradual process where mind and hard work is involved, his thinking mind will quickly adapt to current situation and will turn the old desired standards in to 'Normal' or 'Below Standard' life in today's' terms.
The word 'discipline' need stress here because there is an old saying that irrespective of the size of the pot, if kept isolated all the water will drain out eventually if not refilled on time and only a disciplined life can control this drainage process and can prolong it (Read, why we are overspending these days by Manish)
Or you can become a hermit in deep forest, secluded from this physical world and concepts of 'Future Expenses', 'Inflation' become meaningless for you, one can think of early retirement stage.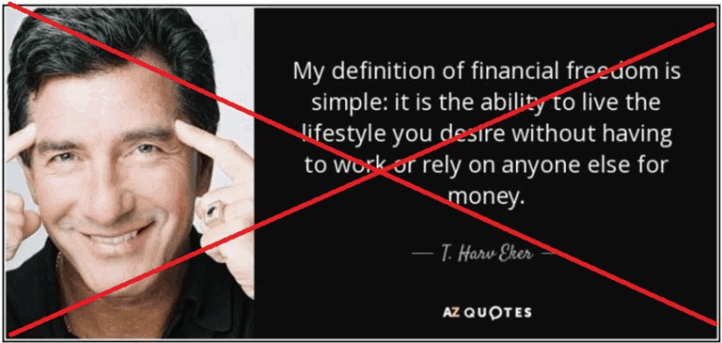 But, I guess this is practically impossible and this article is not intended for those who might be thinking of this stage as one of their future possibilities.
Story of my seniors – Real-life case
I personally know two of my seniors who after working at very senior positions in the company left their jobs as they thought they had enough money to sustain the rest of their lives and tried to follow new pastures in future life.
But, eventually, they had to join back in their respective jobs in order to meet their monthly bills and continue with their other passions in life.
It is human psychology to get adapted to the current situation and at present it looks like achievable calculations on paper and unreal confidence of being satisfied in case you achieve current target, but in reality it does not happen and by your own nature and human being's reason of existence, you will always be pushed to work.
Basic foundation of human existence is WORKING
This wish of ' Not working' one day will take you away from 'Karma Yoga' which is the basic foundation of human being's existence. Even in GITA, it is mentioned that all of us have to work one way or other and this is the law of life.
I remember a recent discussion with a prominent businessman in my home town. He told me that he used to 'struggle' a lot to book rooms in his locality for any private family functions for his guests they had to 'adjust' sometimes as per hotel terms and conditions.
Now, he has built his own guest house and no need to be 'dependent' on the hotels any more for bookings, etc. and I was thinking that if this rich man thinks booking rooms in 5 star hotels as per their terms and conditions is a compromise in life, what independence could mean for him ?
Don't buy anything less than a BMW
A few years ago I was having a discussion with one of my friends and in his views, having something below Mercedes or BMW is a compromise as all other brands do not give importance to safety standards and life is precious more than anything else.
At that time owing a Honda city and maintaining it was the kind of life I wanted to live for all early retirement calculations and now since I can afford Honda City easily, I have a choice, either to keep working to be able to buy Mercedes or BMW one day or put my life always at risk while driving mass-produced cars!
We can retire the day we are BORN
On second thought, I achieved financial freedom years back, the moment I had enough money to be able to afford public transport all through my life. In fact, to take it to one extreme side, we have the potential to retire the day we born and it is only afterward that we enter into the working force in this world, fall into the financial trap and again want to get rid of it.
This wish of 'Not working one day' can make you lazy, averse to work and afraid of accepting challenges as in your thought process you are always after something else and it is quite natural that you will not focus on the very basic aspect of life you want to get rid of one day.
Here is a great answer which deals with this issue on quora thread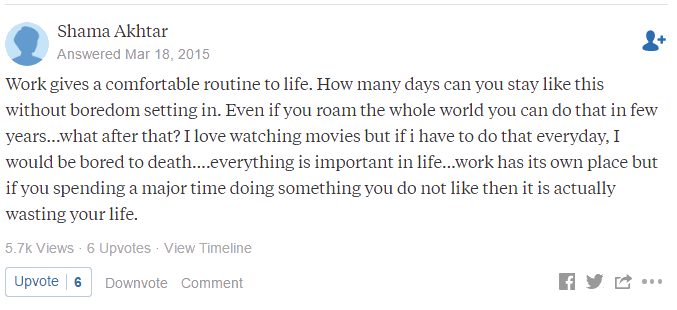 These days a lot of people think of retirement at an early stage, some talk about retirement in the late '30s or early '40s and there are various articles circulating around to tell how to achieve it.
But, this kind of thinking pattern in today's youth is preventing them from acquiring skills which can help them in their current job profile and make it interesting.
Story of my father
My father achieved his financial freedom just after his retirement and both of his sons are well settled and living a decent life and he does not have any liability in his life, yet he is always focused on 'working life' and whenever he gets any chance of making money with guest lectures etc., he always looks forward to it and that's what he says is the secret of his healthy life.
Had he focused on early retirement, this 'fire' or 'energy' inside him would have subsided quite early and he could have attracted many lifestyles related diseases like blood pressure and diabetes etc, which is happening these days even to the young generation.
So, one should not focus on achieving early retirement any time but should think of living a simple, satisfied, and an exemplary life and realize that the 'Work' is the only thing that matters in life and for this you need continuous practice for sound physical and mental health to keep your body fit and energetic and let other things come on its own without worrying about it.
Watch this TED video which talks about an experiment of living a simple life in a tiny home.
It is a good idea and in fact a necessity to have the habit of saving and investing, but the idea should come from the need to meet future expenses and not to achieve early retirement.
So what should be your plan in life?
The financial goal in one's life should be to have sufficient inflation-adjusted funds for all major expenses in the future like owing a house, Kids education funds, children's marriage funds, emergency funds, and retirement funds in present terms and all funds invested properly.
At large, one can think of a 'stage' where he or she will not be worried about 'Net savings' from the income and can live a life one desires with his current income from job or business and even If he/she spends all of the earnings he should not be worried financially.
The more one earns, the more facilities one can desire and his current lifestyle will remain in accordance with his income levels and this is what I call real 'Financial Freedom'.
That is an inherent assumption here that the rise in expenses (with inflation) will be taken care of by salary increments/ job changes or business expansions and for there is no other alternative but to 'Work'.
What do you think about Early Retirement?
So let us know what you feel about this concept and my points regarding it? Do you agree with them? Is there any point where you can add?
Would you like to share your own story in the comments section and how you have dealt with the concept of early retirement? We would like to thank Vikram for his contribution on this subject on this blog.
Also, if you feel you can write on jagoinvestor and contribute, please click here