POSTED BY Jagoinvestor ON May 29, 2017
Do you want to save more money each month?
Today, I am going to reveal a secret trick that will help you to increase your monthly investments by some margin. This trick is more of a psychological shift in the way you think about money, emergencies and how much should you invest.
However, this is applicable to only those who are already investing some money on a regular basis each month.
Let's start …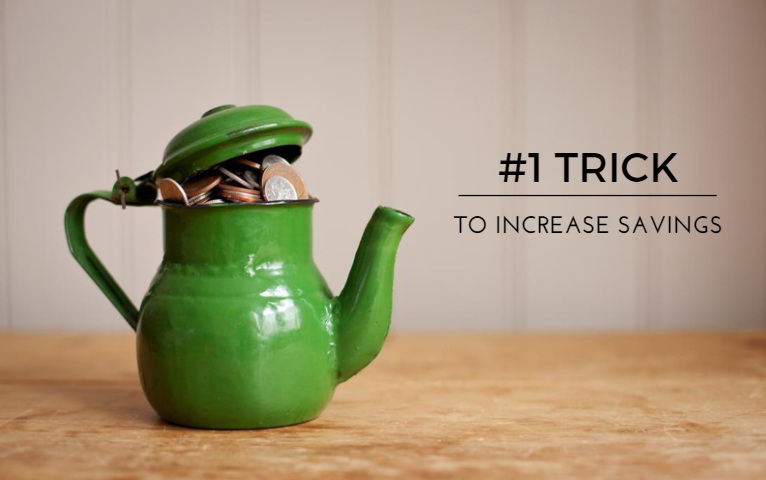 You might be thinking that my secret is nothing but making your savings "automatic". But no, it's not the case. Making your investments "automatic" is just the first step, but there is something else that will take your savings to the next level.
Let's get into it!
Here is how most people invest their money
They earn a salary
They spend money on their regular expenses (Rent, Grocery, Movies, travel)
Some money is left at the end of the month
and finally, a partial amount out of that is invested
Did you see that last line?
Only a "partial" amount is invested in the leftover savings at the end of the month is invested, not FULL.
Let's dig deeper into this …
Take a sheet of paper (or open an excel sheet). Write down the total income you get in a month on the left-hand side, and on the right side, mention all kinds of expenses you have. Put Rent, Groceries, Maid expenses, Travelling, Eating out, movies and whatnot.
Now add up all the expenses and find the total expenses and deduct it from the total income you get each month. You will get your Monthly Surplus!. This is the amount you are left over each month and you should ideally invest this whole amount.
Below is a template which you can use for the calculation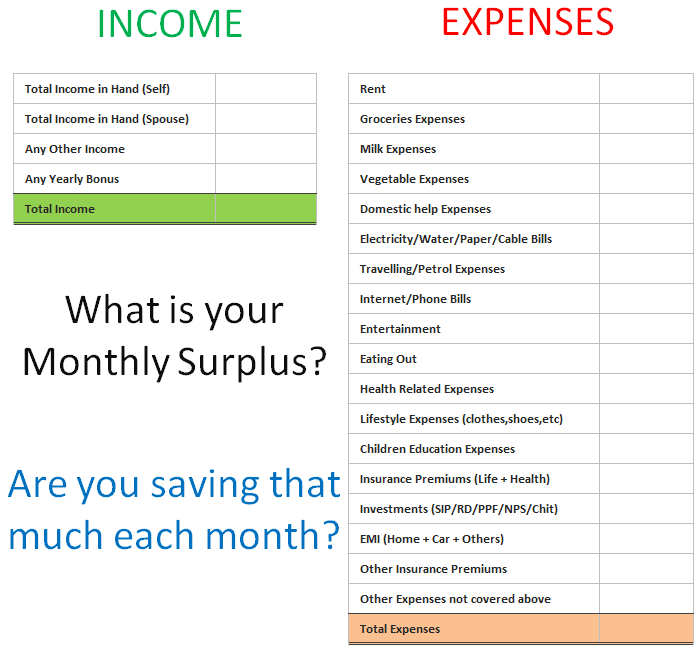 What is your monthly surplus?
Will you start a Recurring deposit for that amount or start an SIP?
I guess the answer is NO.
As an example, if a person is earning Rs 1 lacs per month and their expenses are around Rs 60,000, their monthly surplus is Rs 40,000 per month.
But this person will probably invest only Rs 15,000-20,000 per month on a regular basis. They will keep the rest as "Margin of Safety" amount which they might need, because what if they suddenly need it?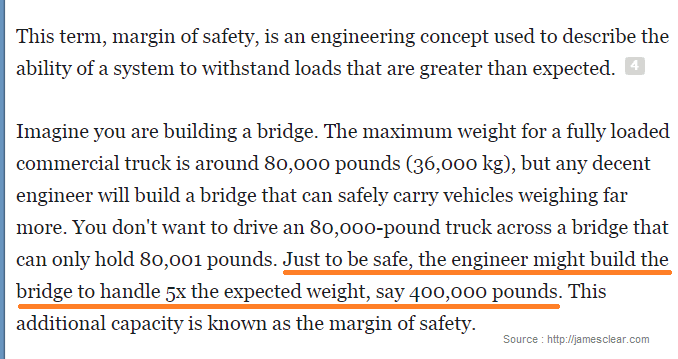 The margin of safety is a simple concept, it's just an "extra buffer" for "what if things go wrong" kind of situations.
This is called a traditional style of cash flow handling which is a very intuitive and natural way of thinking. We all do it and it feels right!
But there are some problems with this approach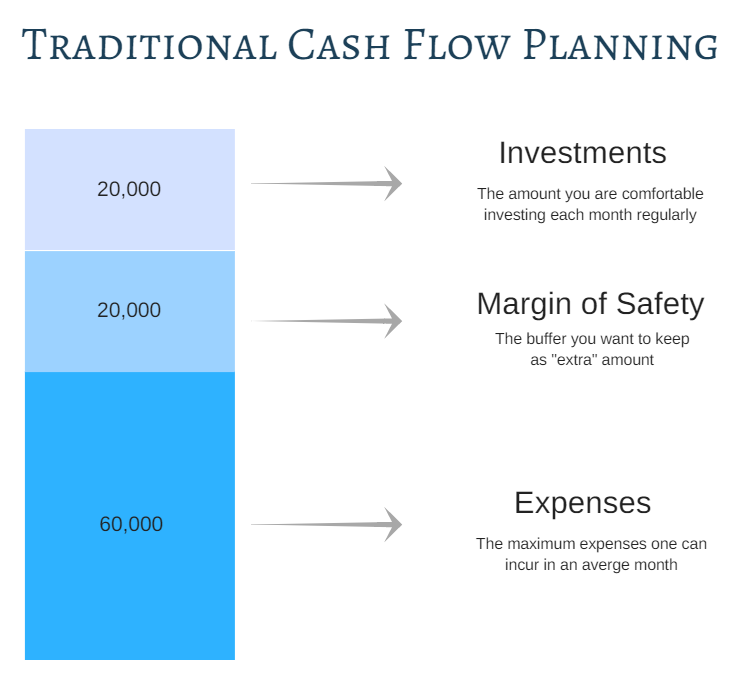 But there is one big problem
While this traditional method looks very natural, there is one big issue with it. Here it is!
Once your investments are set, you feel a sudden excitement that now your investments are in shape, but because you have left a big margin of safety (the extra buffer), your expenses will automatically expand and eat away your margin of safety.
The mere availability of the buffer money will create various short term demands in your financial life and you will use that buffer each month.
Suddenly you will start ordering various things online (most of the time things which are not required), your eating outs will increase, upgrading your phone will appear within your budget, etc.
Supply creates its own Demand – Economics 101
The availability of money will create the demands in your expenses and almost all the time you will justify them. So from Rs 60,000 expenses, you will see that automatically it's reaching Rs 80,000.
And after some time you will be used to Rs 80,000 per month expenses.
Just imagine, if the person had started a Rs 30,000 SIP and left just Rs 10,000 as a margin of safety? Can you see that here the person still has a margin of safety and invests 50% more amount each month?
What about Rs 35,000 SIP and just Rs 5,000 as a margin of safety?
Welcome to 10% margin Cash flow Management System
This is the crux of the system.
We all feel that we need to keep a big margin of safety because in our mind things will go wrong. And they will!
There is no doubt that things can go wrong in some months and some unexpected expenses can come up which can really disturb your regular investments and that's why most of the people leave a big buffer between expenses and investments.
However, let's deal with reality.
Most of the times these emergencies are not real emergencies and if we didn't have enough margin of safety, we would have justified them as "not important" expenses!
Also, you should not depend on your monthly cash flows for emergencies and have a separate fund that can be touched in case a real surprise expense comes up. I call this new system as "10% margin Cash flow System"
10% margin Cash flow system
Here is how you design this cash flow system
Step 1: Write down all your expenses and make sure you put realistic numbers, neither less nor very big.
Step 2: Calculate 10% of your expenses and that's your margin of safety. If your expenses are Rs 40,000 per month, then your margin of safety is Rs 4,000
Step 3: This margin of safety amount is the only extra money you will keep with you each month apart from your expenses, and even this money should be auto invested in a liquid fund, which can be redeemed on a short term notice of 24 hours.
Step 4: Make sure that before you start your actual investments on a monthly basis, you create enough emergency funds which can be 3X of the size of your monthly expense. Any sudden surprise expenses which are outside of your regular expenses list will be taken care of from this emergency fund and not your monthly surplus.
Step 5: Set up your investments in an automatic mode (like SIP in a mutual fund, or a recurring deposit or a combination of both) for all the money left other than regular expenses and 10% MOS (margin of safety)
Here is how it looks like
Taking the same example of Rs 1 lac income, the guy has Rs 60,000 expenses in total. His margin of safety is Rs 6,000. Rest amount left is Rs 34,000
For the first month, he puts this full 34,000 in a liquid fund. If any additional money is left from the 6,000 MOS then he puts that in an emergency fund, else he can spend it. For next 2 months, he puts 68,000 more in a liquid fund and his total liquid fund amount is around Rs 1 lacs +
Now, this guy will set up his SIP of Rs 34,000 per month.
Now imagine what happens in 4th month
In 4th month, here is how it looks like
Rs 34,000 SIP is executed and the money gets invested (make sure the SIP date is in the start of the month)
Rs 60,000 is the regular expenses
If there is any need of extra spending, then Rs 6,000 extra is already there (most of the months should be like this)
If for some reason, some surprise expenses come up, you redeem that much money from liquid fund and use it.
Repeat!
Can you see how the whole game changes here?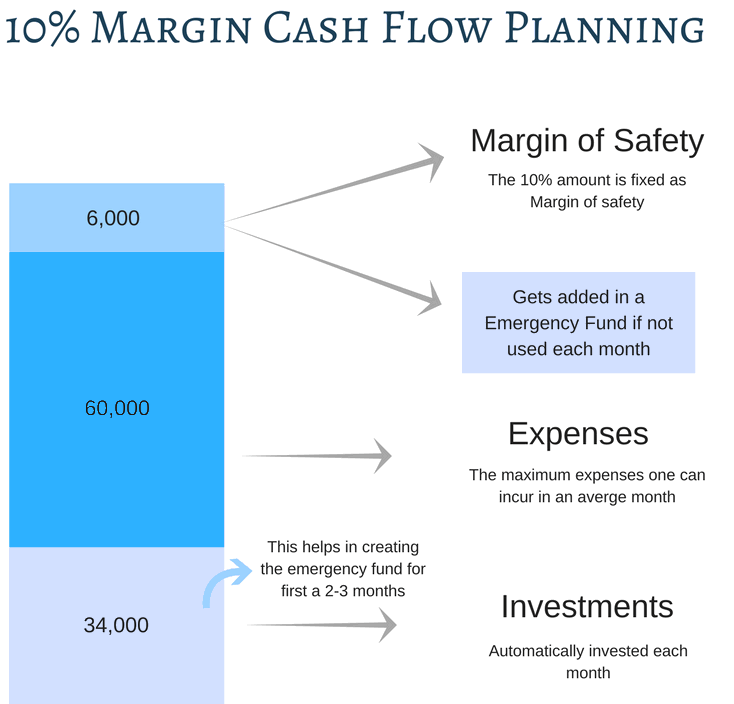 I hope you got the whole idea of this new model now.
You can always withdraw the money if a real emergency arises
I tried this concept on one of my friends last year. I asked my friend if he will be able to do any SIP?
He said "NO".
His expenses were almost equal to his income. However, I said that he should start a small Rs 5,000 SIP. He said that he will not be able to because he is not left with any money at the end of the month.
My simple solution was – "Withdraw the money in a month if you really need it"
His SIP ran for the next 12 months
He finally started his SIP with a lot of reluctance and the SIP ran for 12 months straight ! with 1-2 withdrawals in between. However, my friend was proved wrong.
The mere unavailability of money made sure that he had to fit his expenses into this "visible income".
So don't worry and dare to start a bigger SIP then you can handle, in the worst case, you can always STOP it, you can always redeem some money back if you need it. But in my experience in most cases, people are able to handle bigger investments each month compared to what they imagine.
Let us know if you liked this article and if you are going to implement this new model of investing?
Do you really think this unconventional way of cash flow management can bring different in your financial life?