POSTED BY Jagoinvestor ON February 17, 2017
Today I am going to share 17 amazing tips you can use to book cheap flight tickets in India. Many of the tips I will be sharing would be already known to many people, but some tips might be new or unexplored by many.
While you might not get very big discounts using these tips, still you will be able to benefit some margin.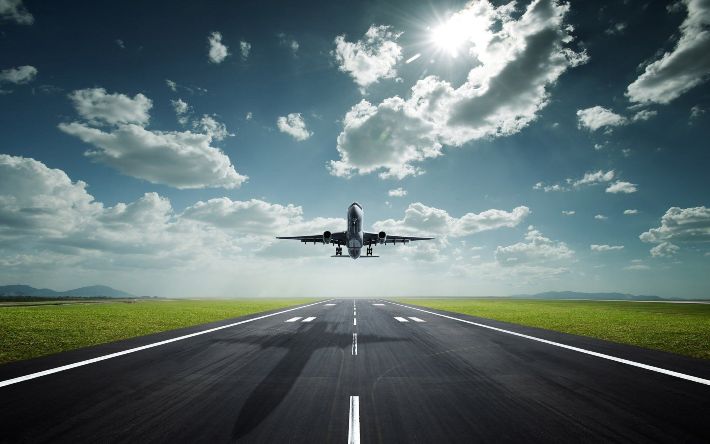 Make sure you read all the tips mentioned below, as some people might feel that they already know most of them so it makes no sense to look at all. I myself got to know 2-3 new things while writing this article.
#1 – Use the special debit and credit card offers
I personally never give a lot of thought to this tip earlier. I mostly used the coupons and codes mentioned on the social media or coupon sites, but there are various special offers designed especially for the debit card and credit cardholders only.
For example, if you have Kotak bank card, you should search for "Kotak offers flight tickets" on Google and you will surely get some page on the Kotak website or flight booking websites which will give you some special codes for getting additional discount.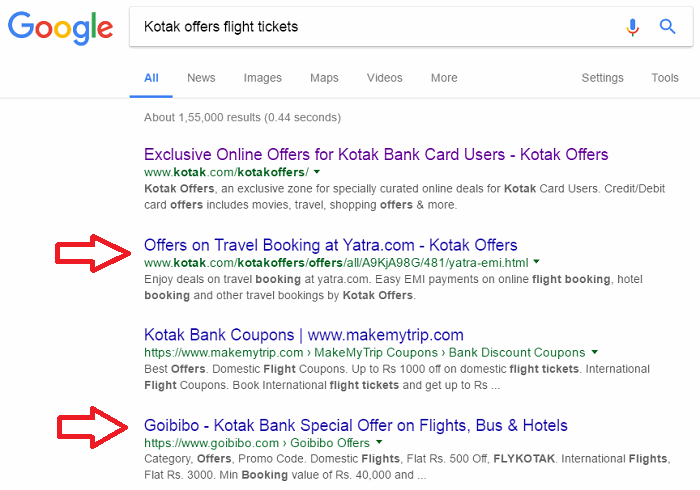 When I went to that page on Yatra, it shows me various offers.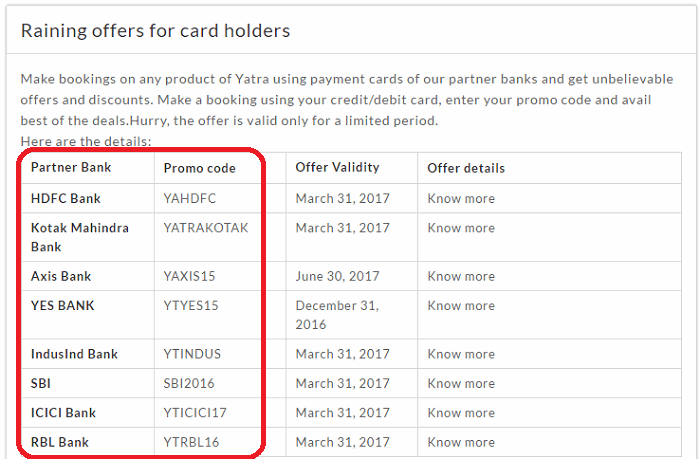 If you look at the offers above, you can see that ICICI bank offer for yatra website is there with code YTICICI17, but it's only applicable for the flight before 31st Mar and the airfare should be minimum Rs 3,500.
So I found a flight from Kolkata to Ahmedabad for 15th March and applied the coupon code and it showed me Rs 500 instant discount (It was a real discount, not cashback)

So whatever is your bank name, just search for "bank name + flight discounts code" and you will surely get some offer page.
You may also want to explore the special credit cards which are launched in association with the airlines (like The Jet Airways American Express card) which earns you JPMiles or frequent flyer miles.
#2 – Use the wallet cash to get a further discount
I think goibibo started this and became hugely successful due to this factor. It's one of the most trusted ways to get further discounts on flights/hotels and other bookings.
All the websites like MakeMyTrip, Goibibo, yatra have this concept of virtual wallets and you get some cash backs in this wallet which can be partially used while making the payments.
Goibibo calls it as goCash, Yatra has eCash and Makemytrip simply calls it as Wallet money. I have been an extensive user of Goibibo and no matter how great other websites offers were, after applying goCash, I always got the best price at Goibibo.
However now I get some great offers at MakeMyTrip compared to Goibibo (maybe because they are now merged).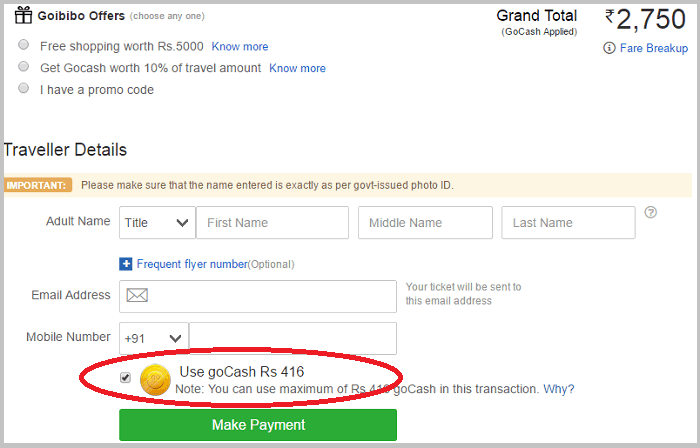 This virtual cashback can also be used for booking hotels and you keep getting this virtual cash with most of your booking. You can also get Rs 3,000 worth of goCash by downloading goibibo App from this link
My teammate Kunal uses ixigo app, and the best part about it is that they offer the cashback directly into citrus account which can also be taken back in your bank account, so it's a real cashback in that sense.
#3 – Book within 30-90 days in advance
Expedia did a very interesting study and found out that on an average the lowest flight tickets sold was 57 days in advance. They studied various domestic flights prices and saw the trend and found out that booking a flight very early is not always the best option. There is enough time left to fill the seats so airlines are not desperate to grab more and more customers at cheap prices.
As per their study, the prices were moderate in the start, and kept on declining and somewhere around 50-60 days before the departure date, the prices started rising and then shot up during the last 2-3 weeks.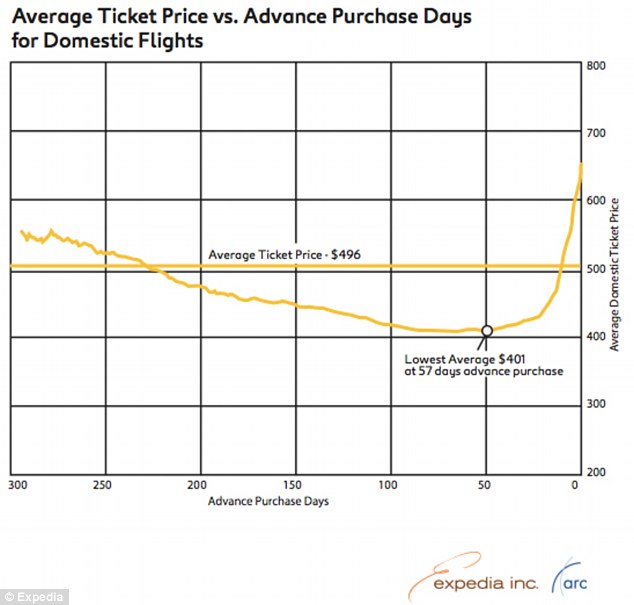 They found out that the average ticket price was $496, while the cheapest one was at $401 and that was sold around 57 days in advance.
Now, this is not a study based in India and things are different here. Also, we know that this is just the average of 100's of data, the conclusion here is that you should neither buy the airlines tickets very early like 5-6 months (not applicable for international flights) nor too late. Ideally, if you buy it in the window of 30-90 days in advance, you should always great a very good deal.
However, this is not true for festival times and some destinations which see a rush in some particular season. Here a small infographic on this topic.
#4 – Take flights at odd hours
If you are ok travelling very late at night, then you can get a low price on flights. But this might not work when you are travelling with family or when you need to reach your destination at a particular time (like for some meeting or a seminar etc)
However, people travelling solo who do not have a fixed time to reach can explore this option.
I travel from Pune to Ahmedabad many times a year and I like to take late-night flights as they are comfortable for me and I also don't have to face traffic 🙂 and mostly they are very cheap. Check the snapshot below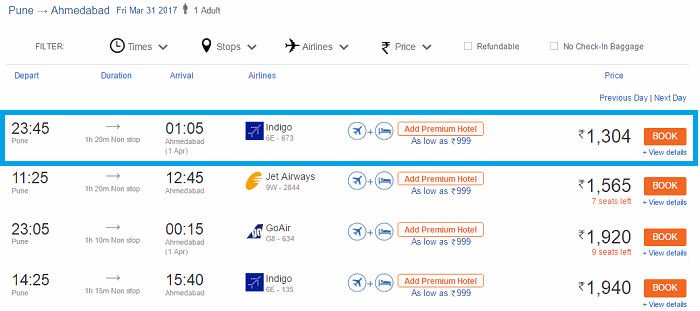 I think the simple reason for this might be that many people do not want to reach their destinations by 1 or 2 in night and hence avoid flights at night, which means there is less demand for flights at night.
But you will not get a cheap flight if you are booking it at the last minute.
#5 – Try flexible dates
If you do not have rigid plans, you can surely look at dates which are either 1 or 2 days earlier or later than your planned date. Often, you will find out that many times you might get a cheaper option on a different date very close to your planned date.
A quick way to find this out is to the first search for your flight for the date you have planned for, and then when you try to edit the date, it will show you the calendar with the prices for various dates.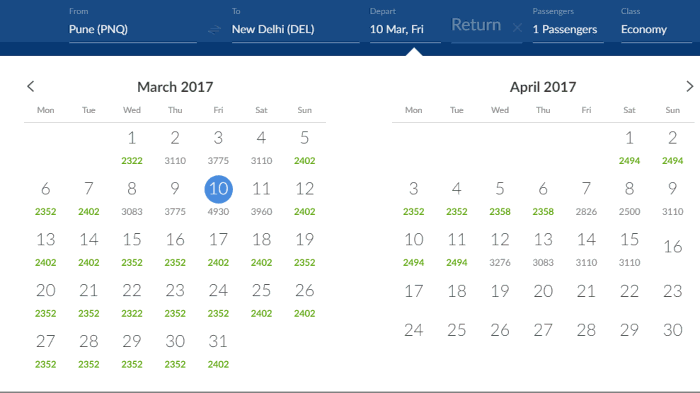 Above you can see how the flight ticket for Pune to Delhi for 10th Mar shows the price as Rs 4930, but the price just 3 days before that and 2 days later is Rs 2402, which is almost 50% less.
According to many international studies on airlines prices, it's concluded that the cheapest dates to fly are Tuesday and Wednesday, as they are weekdays and the traffic is less. So keep that in mind while travelling.
#6 – Use mobile apps for booking
If you are still using the web browser for booking fights, you are missing some awesome offers provided by various websites. From time to time websites offers some discount codes (not cash back) which will reduce your fights prices by around 5-10% at least.
I recently booked a flight from Pune to Dehradun on MakeMyTrip mobile app and used a coupon code FLTAGAIN which reduced the flight price by Rs 800. This coupon was only valid for mobile app and only for those who got the offer on email.
It surely compensated for all the convenience charges and the travel insurance charges. Here is the snapshot of the offer taken from my mobile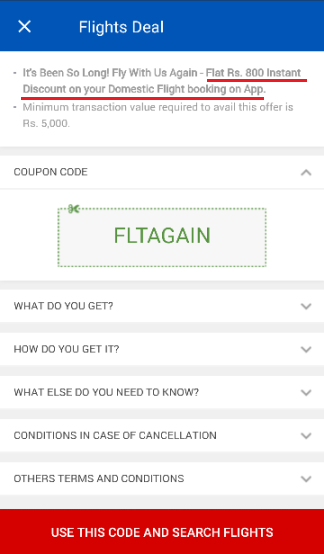 Here are the benefits you generally get when you book your flights from mobile apps
You generally get more reward points (cashback points)
You get exclusive discount/cashback offers
Airlines mobile apps also provide good discount on meals booking
#7 – Make payments by Wallets
Do you know that you can get some additional cashback when you pay from wallets like Mobikwik, paytm, freecharge, payumoney?
Yes, that's true.
Below is an example of free charge offering 10% cashback on the base fare of jet airways flights. If you book the flight on the app or website of jet airways and make the payment using the free charge wallet, you will get the cashback provided all the terms and conditions are met.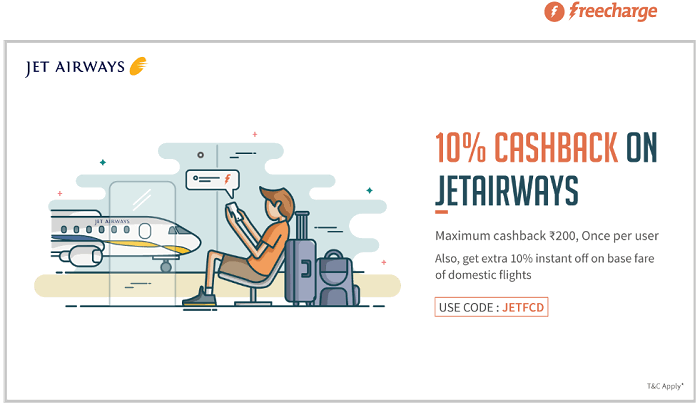 Almost all kind of wallet companies have a dedicated page for these kinds of offers and it will share various deals for hotel booking, bus booking, flights etc..
Like Mobikwik has a dedicated offers page, and I can see that it shows a deal where you get Rs 200 cashback if you book a flight on MakeMyTrip. This is above and over the other discounts and cashback.

#8 – Book two single flights from different providers
If you want to go a little extra mile and are ready to spend your "valuable" time then you can also explore booking two single flights instead of a return flight or connecting flight and maximize the cashback and discounts.
So if you are planning to go from point A -> point B and also returning back, then instead of booking A-> B return flight form a single website, you can book A->B flight from one website (and use their cashback and discounts) and book B->A from another website (use their cashback and discount offers)
While this may not give you a better deal all the times, it's a good idea to explore especially when you are booking tickets for a higher value or international flights.
Here is an example
Imagine if a website is giving a 10% discount on tickets above Rs 5,000, with a maximum cashback of Rs 500. So if you book your return flight and total charges would be Rs 10,000, but you will get the maximum discount of Rs 500 only.
Instead of that you can book a one-way flight from one website and get Rs 500 discount and the same way you can get Rs 500 discount for other flight on another website.
The only problem in this is that you will have to enter all your details two times instead of one and the same for making payments
#9 – Book directly from the airline's website
If you are not getting any cashbacks or discounts on the intermediary websites like paytm, makemytrip, ixigo, Expedia, goibibo etc, then it's a good idea to check the flight rates directly on the website of the airlines. Airlines pay some commission to the middleman websites and often the prices at the airlines are a little cheaper (not much, but a little).
So first you should filter and search for the appropriate flight best suited for your requirement and then note down the flight number and timing of the flight and then head over to the airline's website and directly book the flight from there because you might end up saving few bucks there.
Why does this happen?
Because you will save on the convenience fees as the airline's fees are lesser than what is charged by the intermediary websites.
To check this points, I searched for one way fare from Kolkata to Ahmedabad on 3rd Mar 2017 (around 3 pm) and I found out assuming no cashback and discounts are available, would the total amount payable (just before you make the payment) is lowest at the airline's website?
I did flight comparison on Yatra.com, Makemytrip, Paytm and Indigo website and found out that the cheapest was indeed at the indigo website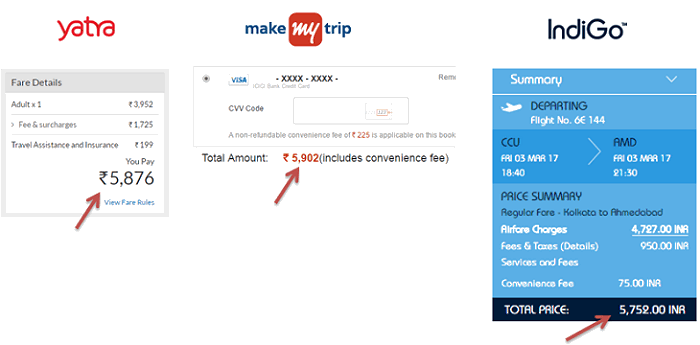 #10 – Use incognito mode while "researching"
Most of the airlines now keep changing their flight ticket prices dynamically as per the demand and supply. This is called dynamic pricing.
So when you search for a particular flight on a particular day, and then keep researching about it for next 20-30 min, the airlines and the intermediary websites understand that there is a demand for a particular flight and if you spend too much time just researching, they know that your chances of buying a flight ticket are high now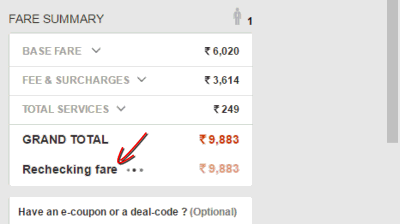 And suddenly you will find that when you go to book the ticket, the prices go up dynamically ! . There are technical things like web cookies which track and remember what you are searching for, so as a precaution it helps if you use incognito mode while browsing.
Also, note that this might be more applicable when you are using the mobile apps for booking because the websites know who exactly is doing it (you register your email/phone in-app)
#11 – Use Student & Senior Citizen Discount if applicable
Some airlines allow students and senior citizens some basic discount on the base fare, it's a small discount like 8-10%, but still saves you some money. If you are travelling with your children or parents, you might want to check if you can get some further discounts.
However, these discounts are applicable only on the airline's websites. For example, Spicejet has an 8% discount on base fare for students. Here is a snapshot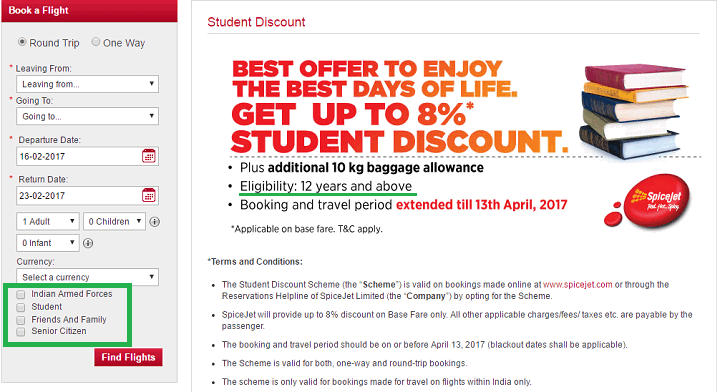 Do read the terms and conditions for this student and senior citizen discount offers as they might not be applicable on some dates or routes.
#12 – Use hand-baggage-only fare tickets
If you are travelling solo and don't have much luggage, choose the hand-baggage only option while choosing the flight. Airlines expenses increase if the flight is heavy and hence they give incentive to you if you carry less stuff
#13 – Check out for coupons and offers
Something which everyone can do is search for offers while booking for the flights. Almost all the times there are various websites which offer different types of discount or cashback for booking flights.
Sometimes you will find offers for booking both way flights, or for international flights and sometimes it's based on the total ticket price (like "applicable only if tickets prices are above Rs 8,000")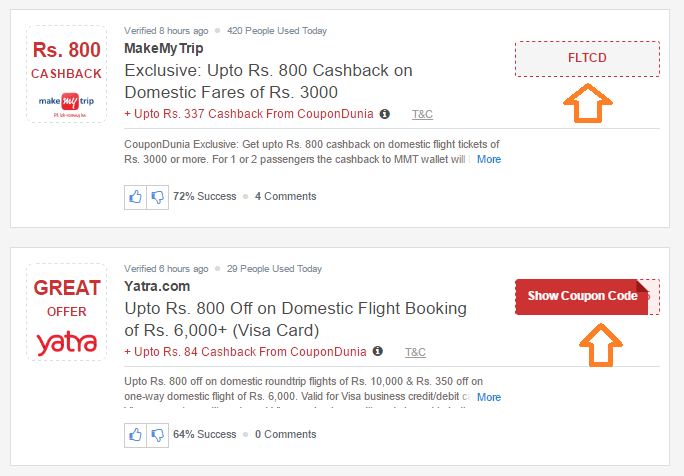 It never hurts to spend a few minutes to look at the offer pages of websites like Makemytrip, goibibo, Yatra, Cleartrip and other websites.
You can also try to search for flights coupons on various coupon websites. Make coupons website offer their own cashback to you additionally as they get some commission from the aggregator websites.
#14 – Put the alerts for price decline
Google Flights give you an option to track the prices of a particular flight and will email you from time to time when the prices change. So if you have a lot of time left and can wait for the booking, better wait and track the prices.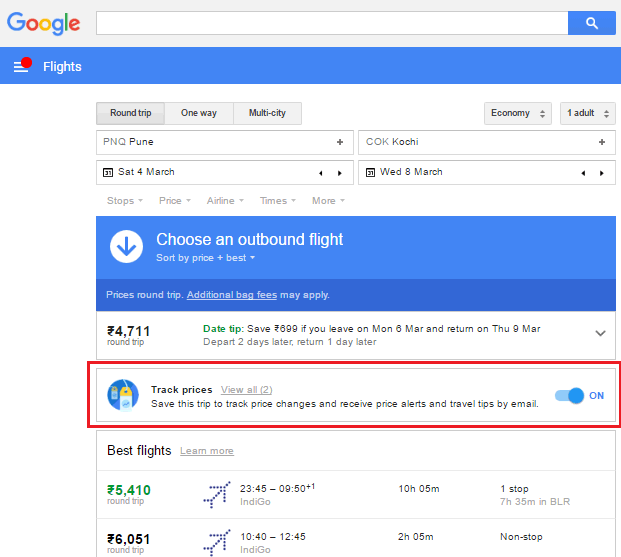 Just make sure that you should be clear when you will book the flights, else it might happen that you just keep prices to fall down and never book it and then pay a lot towards the end).
#15 – Subscribe to the Airfare Newsletter
Various airlines and intermediary sites keep sending various offers from time to time, you can subscribe to their newsletters if you don't mind constant emails on offers. I will surely help someone who travels a lot.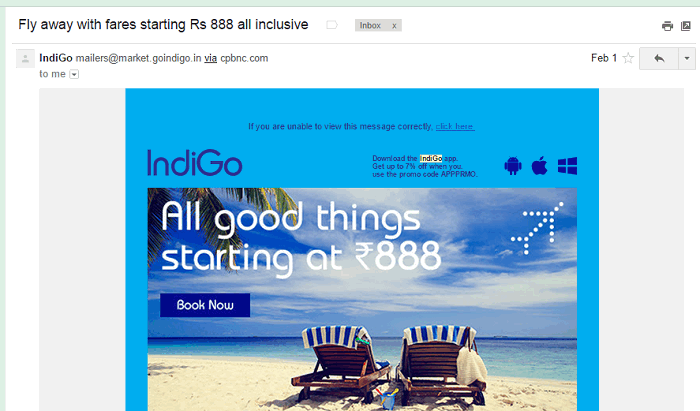 #16 – Book now, Pay Later
Some websites like goibibo and Yatra have introduced options to book the flight without paying the money (it's like blocking the seats). You can block it and pay it later after a few days.
So if you are not sure about your schedule or plans, just block the seats and pay when your plans are confirmed OR if you are not getting cheaper flights later:).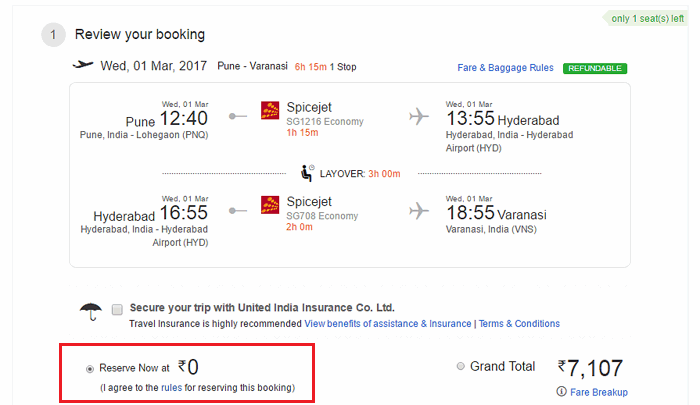 The cancellation and rescheduling charges are very high anyways.
#17 – Don't be loyal to one website itself
If you are loyal to one website (intermediary) or an airline, then you might be missing some good offers from other websites. I know some people feel it's not worthwhile to spend a lot of time trying to save few bucks, in which case it's ok to be loyal, but otherwise, you can quickly surf 3-4 options and then choose the best option.
However … Here are the precautions
While I have talked about various things you can do to book the cheap flight tickets in India, there are a few points I want to make.
If you feel you are getting a good deal already, just try a bit to improve it and book it. Don't get paranoid trying to bring the price down. While it's great to get some discounts, you should check for yourself if it's really worth your time.
If you like to eat every time you are on the plane (like me), it makes sense to prebook the meal, What you can get at Rs 300 in-flight without booking is available for Rs 250 or Rs 200 if you pre-book it. So if you are already clear that you will be eating, why not save that money.
If you are looking for cheap international flights, some of these points might not be applicable, but still, you should try most of these as it would be great to save money because of high prices for international flights to US and European countries.
Make sure you consider the full cost going from point A -> B. If you choose a cheaper ticket which has a 6 hours overlay in a city in between, please understand that you will also spend on food, lounge or some entertainment etc. It should not happen that to save Rs 200, you have spent Rs 500 in between. People don't consider these points while searching for the cheap tickets
Also, consider your time worthwhile finding low-cost tickets. If your time is highly valuable and you can spend 2 hours in something valuable like writing a book, or solving some important thing worth something, then don't waste your energy and time waiting for the connecting flight just because you are saving few hundred rupees
In the end, you want some more information on this topic, you can look at this infographic which will give you some more understanding about how airlines work and where they spend etc.
Let me know if I missed some points or some trick?