POSTED BY Jagoinvestor ON December 19, 2016
The EPFO department (Employees Provident Fund Organisation) reduced the EPF interest rate to 8.65% today. The old interest rate was 8.8%.
This interest will be applicable for the deposits made for financial year 2016-2017. Which means that all the deposits which were made after 1st Apr, 2016 by the employers will be earning the interest of 8.65% only, and not 8.8%.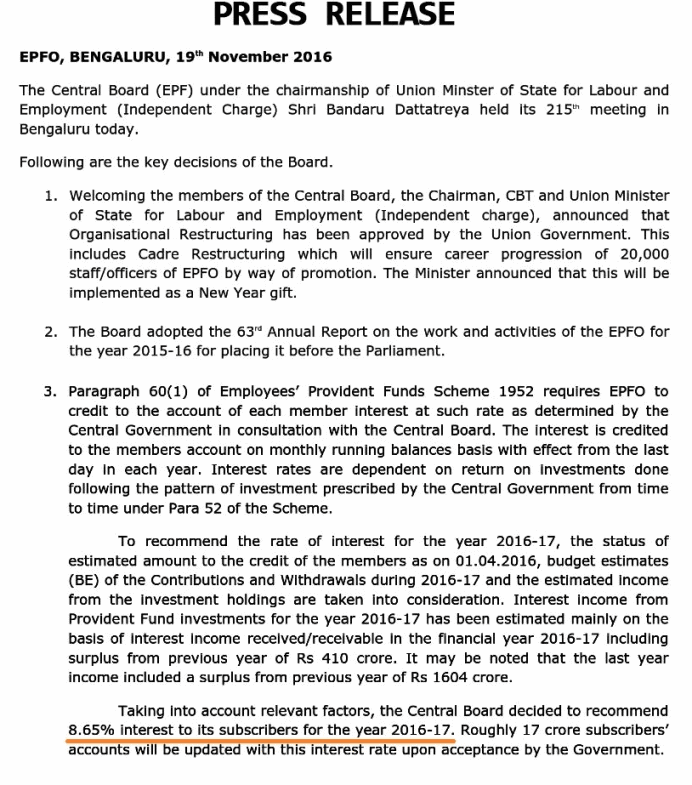 Why was the EPF Interest rate was reduced?
As per a Hindu report
While an interest rate of 8.62 per cent would allow the EPFO to keep a surplus of around Rs 22 crore, fixing the interest rate at the present rate of 8.8 per cent would have left it with a deficit of Rs 700 crore, EPFO's income projections showed.

According to sources in EPFO, the lower interest rate is on account of poor rate of return on investments made by the EPFO on all fronts.
You will notice that the bank deposits interest rates were also reduced recently and this move might be in tune to that decision, as it's tough to provide high interest as the money availability is high.
What do you think of this EPF rate cute?