POSTED BY Jagoinvestor ON August 3, 2021
Do you know that there is a possibility that your grandparents or someone else in the family might have some bank account or some policy that you are not aware of till today and the money is lying unclaimed for decades?
Yes, that can happen!!
Can you believe that a whopping Rs 98,779 crore is lying in various investment products in India like banks, EPF, PPF, Mutual funds, LIC, and many other entities!!
In the last 18 months, so many people lost their lives and their families had no idea of the investments made by them, or if they had any life insurance policy or not. A lot of them still don't know and will never come to know probably.
What happens to that money? How will family members get access to them? How will they claim it?
They WON'T!
Here is the breakup of how much money is lying unclaimed at various places in India, have a look!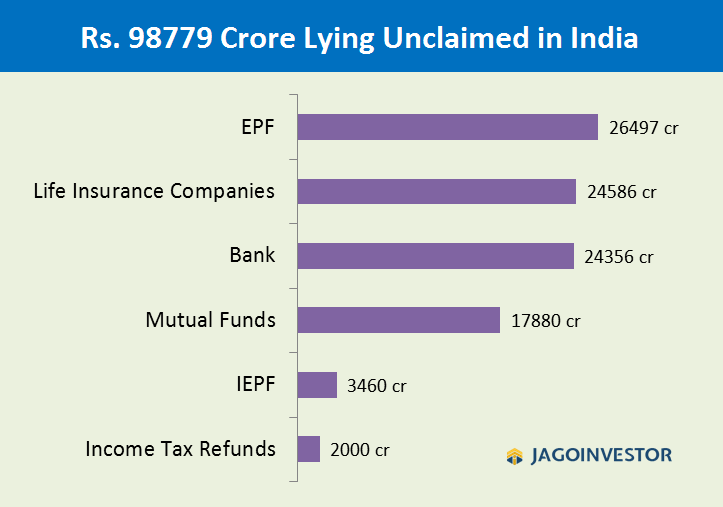 Let's talk about these
Rs 24,356 in Banks
As per the RBI report, Rs 24356 crore is lying unclaimed in around 8.1 crore bank accounts as of December 31, 2020. This turns out to be close to Rs 3,000 on an average per bank account. The biggest share in this unclaimed money is in SBI bank and then other private sector banks.
Rs 26,497 crores in EPF
This is the amount of money lying unclaimed in EPF accounts across the country. Some of this money may be of those people, who have not withdrawn the money after changing or leaving jobs, but a bigger chunk is lying there for years and years and many of them may never be claimed as the families are not aware of these investments
Rs 17,880 crores in Mutual Funds
A big chunk of money is also lying in inactive folios which is close to Rs 17,880 crores. A lot of investors have invested in mutual funds in physical format decades back and many family members may not be aware of these investments after their demise. This unclaimed amount is close to a little less than 1% of the entire AUM of mutual funds.
Rs 24,586 crore with Insurance Companies
LIC alone had close to 10,509 crores lying unclaimed with them as of Mar 31, 2018, and another 4,657 crore was with private insurance companies. The current figures as per IRDA is at a whopping 24,586 crore with all the insurance companies combined. Most of this is with LIC and you know there are so many policies that are never claimed after maturity due to various reasons.
Here is the old breakup of these amounts companies wise as per financial chronicle report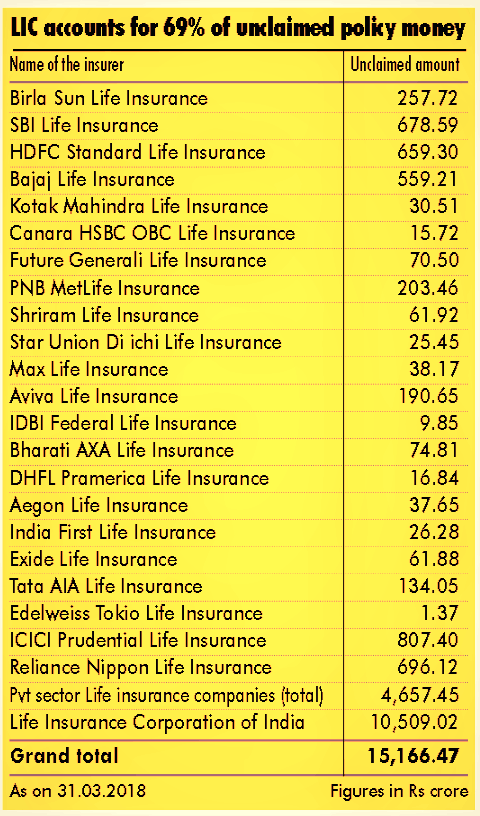 Rs 3,460 crores with IEPF
A big chunk of money is also lying with IEPF in form of unclaimed dividends and debentures etc., which were lying idle and no one, claimed them back on time. These amounts are transferred to something called IEPF after 7 yrs which is then used in things like investors' awareness and protection of the interests of investors. Moneylife did an extensive story on this entire topic
Rs 2000 crore from Income Tax Refunds
As per a 2015 report by NDTV, close to Rs 2,000 crore of tax refunds were lying unclaimed with them. If a person pays the extra tax due to excess TDS deduction, one can claim the refund back by filing the returns (for the last 6 yrs). However many times investors are not even aware of these refunds or due to laziness, they don't file the returns. Now the figures must be on the higher end.
Where does all this unclaimed money go?
The question is – If all this money is unclaimed, who exactly gets benefitted? Does the bank or insurance company keep all this money and just use it for their own benefit unless someone does not claim it back?
The answer to that is that govt has formed some of the FUNDS where these amounts shall get transferred after some number of years and that fund will be used for some purpose. Here are those funds
1. Senior Citizen Welfare Fund (SCWF)

All the unclaimed money from EPF, PPF, Insurance companies and postal deposits go to Senior Citizen Welfare Scheme which works for the betterment of senior citizens who are below poverty line in the country. I am really not clear which are the schemes or ways they do it.

2. Depositor Education and Awareness Fund (DEAF)

All the money which is lying claimed in the banks like saving bank account, fixed and recurring deposits, demand drafts etc. is transferred to this fund called DEAF and it's used for depositor's awareness and protection.. Which I really don't understand what it means !

3. Investor Education Protection Fund Authority (IEPF)

IEPF is another fund which is created for investor protection and financial awareness and it gets all the unclaimed dividends, shares, matured unclaimed dividends etc. I have already written about how to claim refund from IEPF here
Make sure your money does not become part of unclaimed money in future
The learning from this is that you shall make sure that all your investments details etc. are shared with your family properly and they shall be aware of it.