POSTED BY Jagoinvestor ON March 29, 2016
Good news, the inactive EPF accounts will now get interest from next month, i.e. Apr 1, 2016. Around 5 yrs back, under UPA rule, EPFO came up with the rule that any inoperative EPF account will stop getting interest after 3 yrs of inactivity.
So if a person left the job and never withdrew the money, he would stop getting the interest after 36 months. Inactive accounts are those accounts where there is no addition from employer or employee side. Now that old decision is reversed. There was a meeting of Central Board of Trustees at EPFO and this decision was taken.

A lot of employees will be happy due to this change because at a lot of people do not want to withdraw their EPF and still want to earn the interest. Also the withdrawal/transfer process is a bit cumbersome and many investors do not want to take the pain and let their accounts be there.
Inactive vs. Active EPF Account
As per a report, around 27,000 crore is lying in 40 million inactive EPF accounts (total accounts = 150 million), This money will now start earning interest.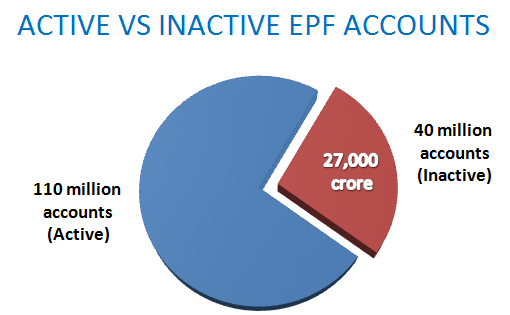 Few weeks back, Govt also decided to restrict employees to withdraw the employer share in EPF till the retirement age of 58 yrs.
That time many people were confused if the interest will be given to them or not if the accounts become inactive? Now that confusion is also cleared.
65% investment in G-Sec
As per this report, there is one more change in the way money will be invested by EPF in G-Secs
When asked about a proposal on enhancing proportion of incremental investments of the EPFO in government securities (G-Sec) from 50 per cent to 65 per cent, Labour Secretary Shankar Aggarwal said, "It has already been decided by the Ministry of Finance."

The Secretary said that the limit of 50 percent was enhanced as they were getting good offers but unable to invest in such instruments as the limit had been exhausted.

"If we get higher returns in G-Secs then we should be allowed to invest more in these instruments," he said further.
Please share what is your reaction on this move?