POSTED BY Jagoinvestor ON November 13, 2015
Are you an existing mutual fund investor? If YES, then you must have got an email from the fund houses where you have invested to provide some additional information about yourself and about your tax residency related questions in the name of FATCA declaration.
In this article I will quickly guide you about what is this FATCA Compliance and how you can update this information with AMC online in 5 min.
What is FATCA Compliance?
Foreign Account Tax Compliance Act or FATCA was passed in US in the year 2010 to make sure that the financial institutions across the world share some basic information of their US based clients.
A lot of investors from US (US citizen and NRI's residing in US) were supposed to disclose their investments outside the US, but it didn't happen the way US govt was expecting.
So finally, US govt passed this FATCA law and signed treaties with various countries across the world. India is one of them. So now various financial institutions based in India are asking all their customers to give a declaration about their tax residency, place of birth and if they are paying taxes in any other countries. I am not going into too much of detail here, because you can read it in detail in this moneylife article here .
The main purpose of this article is just to help you understand, how you can update these FATCA details quickly in 2 min online.
All mutual funds investors are supposed to update their information with AMC's by the end of Dec 2015.
If an investor fails to update their FATCA declaration, then their additional investments will not be processed in future and any SIP which is currently running will also get stopped. So it's suggested that you complete the declaration as soon as possible. Note that your existing investments will remain intact and there is no impact on that.
How to update your FATCA related information online?
It's very simple. All you need to do is visit the following two links and update your information.
I have created a short video tutorial on how to update the FATCA information online. Please check it below
Note that a mutual funds is either serviced by CAMS or Karvy (all funds except franklin Templeton, go this link where you can update FATCA for franklin). So these agencies have come up with the links online where one can update all their information.
When you update your information online, an OTP will be generated which will be send to your email/phone which is registered in their records. If you are invested in mutual funds which are services by CAMS (like Birla, ICICI, HDFC etc) , you just need to update the first link (cams one). If you are invested in mutual funds which are serviced by Karvy like Reliance, UTI or Canara Robeco, then you will have to update the karvy link as well.
Below is the snapshot explaining how you can update the CAMS link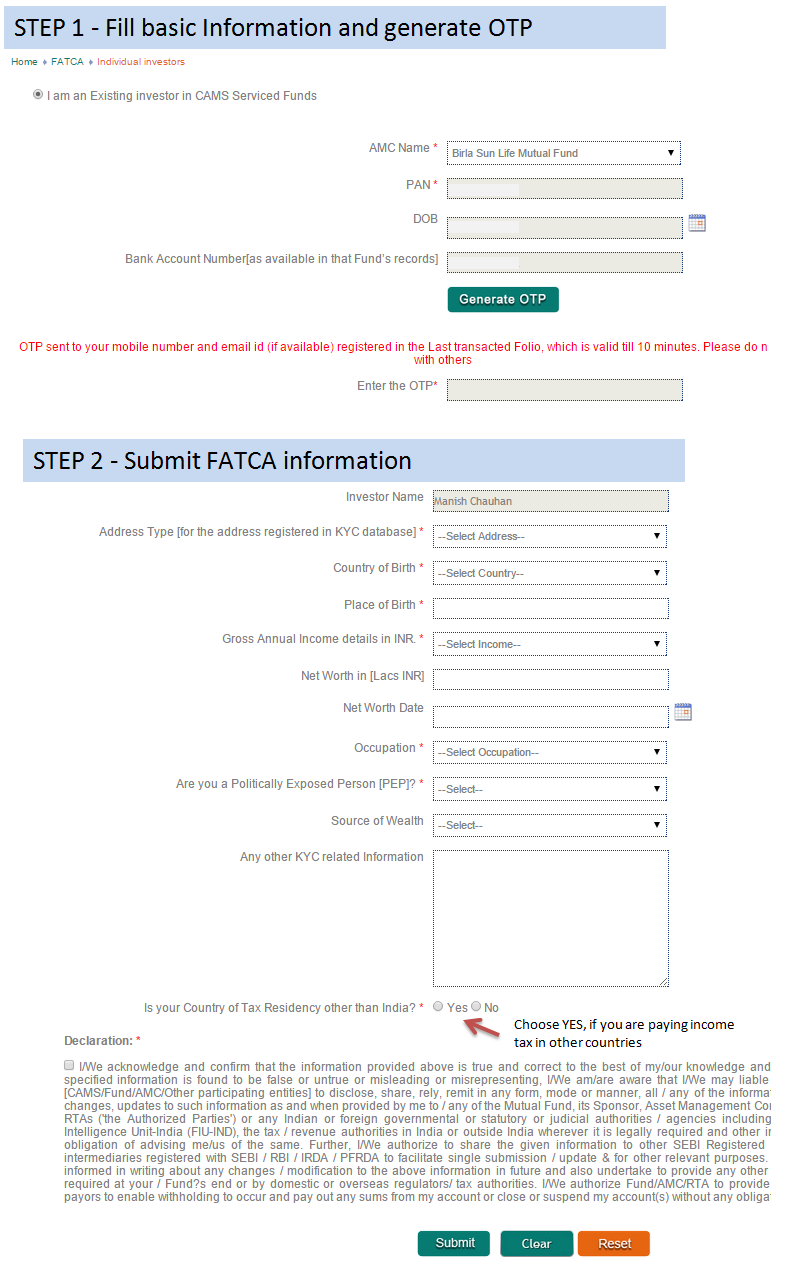 In the same manner, you can update the Karvy link with your FATCA information. The OTP will be generated in that case also and all the information is same. You need to update the karvy link, only if you have invested in any mutual fund serviced by them in past.
In anycase, my suggestion is to try to update both the links. There is no harm anyways
FATCA Impact on US & Canada NRI's ?
So what is the impact of this FATCA declaration on those NRI's who are based in US and Canada. Let me be very brief and to the point here. Only 3-4 AMC's in India are going to except fresh investments from US & Canada based NRI's. Few of them are UTI, L&T and Sundaram mutual funds. so if you are a NRI based in US and Canada, now you will not be able to invest in mutual funds from HDFC, ICICI, Birla, Reliance and many others.
However any existing investments can be continued (SIP wont be continued, but the current worth in those funds will be as it is) . One can redeem them whenever they wish to.
NRI's based in other countries can invest in any fund house they want.
Incase you have any question on this FATCA declaration, feel free to ask your queries in comments section