POSTED BY Jagoinvestor ON November 4, 2015
I recently visited Mumbai for some work and it was 7:15 pm in the evening. When I came out of a building in Andheri East, Mumbai.
I had booked a cab from Pune to Mumbai and I was now ready to be back. I called up the cab driver and here is the conversation…
ME – "Bhaiya, kidhar hain aap?"
Driver – "Bas sir, Yahi hun 200-meter piche, 20 min me aa jaunga, aap gate ke pass hi rahiye"
ME – "Main aa jata hun paidal chal kar, Aap bataiye kidhar hai exactly"
Driver – "Arre nahi sir, aap wahin rukiye jidhar hai, itni bhid me Mujhe nahi khoj payenge"
Finally, after a long 20-30 min, I saw a car near me, honking like hell and flashing lights on me. It was my cab driver and he was indicating – "Get inside the car asap" …
Finally, I was inside the cab and we were going back to Pune. It took us another 20 min to just get out of the lane. It was really frustrating to just see yourself in the middle of traffic and move nowhere.
The first half of the total time took us to come out of Mumbai and the second half took us to reach Pune. Finally, I reached Pune at 11:30 in night.
Story of the Cab Driver and his Financial life
In this article, I just want to share with you a conversation between myself and a cab driver I met recently. I asked him some questions about his life, a bit about his financial life and his work schedule. I know, it's not directly related to personal finance, but I think, it's a good idea to share it with you all as it has some good things to know about.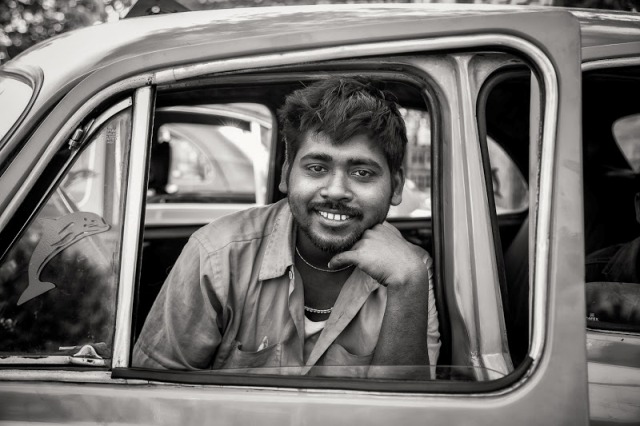 (The photo above is not the real cab driver in question)
The moment we were out of the lane we were stuck in at Andheri, the driver looked really irritated by the sheer amount of traffic. I asked him – "Bhaiya, Mumbai ki life Kaisi Lagti hai aapko?"
And his answer stunned me – "70 saal jeene waala insaan 50 ke khatam ho jayega, yahi hai Mumbai ki life"
While I knew he was a bit tired and his frustration was making him speak these words, there was surely some element of truth in his words. The way of life, the speed, the running around for everything. It's really mind-boggling in Mumbai.
Anyways, One my way back to Pune, I had conversations with Driver and here are few things I came to know.
1. He drives 400 km EVERYDAY
Did I ask him if travels to Mumbai often? He said every day. YES – Everyday .. 30 days in a month… May be once in a while there is no pick or drop but in general every day. He said that he does close to 10,000-12,000 KM every month. His legs and Back pains a lot and sometimes it's so bad, he can't explain it. We reached Pune around 11:30 pm at night and he had to get back at 4 am again to take someone to Mumbai airport.
2. No family life
I think we felt by good talking to me, and he kept on going.
"Family life nahi hai Kuch Bhi Sir .. Ghar Jata hun, khana khata hun aur sidhe so jata hun". He told how his life is tough and there is no energy left once he is back home. He has no motivation to talk to his kids, spouse or enjoy with them.
Even when he has to drop or pick someone, he has nothing to do and he just sits inside the car and it's really tough to do that, day after day, month after month and year after year … It's the height of boredom"
He was a calm person, but he said that when he is stuck in jams atleast he feels he want to throw away the car like HULK. It was a calm frustration coming out of him.
3. He had Life + Health insurance
I realized that his job is very risky. He has to drive each day and he is prone to accidents. His legs are so important for his job and to earn the money. I thought I will explain to him why he should think of covering these risks and I asked him – "Do have Insurance?"
I was happy and a bit shocked to hear that because I didn't expect him to have that. He told me that one of his agent friends had explained to him about these products and how it might help him. I congratulated him on that point and said that it's a great thing that at least he has something. Thank god he did wait to find the "best product"
4. He saved Rs 4,000 per month in Recurring deposit
Though his earnings were limited and he was on a tight budget, he told that he managed to save Rs 4,000 per month. He gave it to his wife every month which is invested in Recurring deposit. I thought it was a great thing and didn't say anything like "why don't you invest in equity?". I think it would have confused him a lot and it was not the right time for all that Gyan. He was doing well.
What do you learn from this?
Let me know what you feel after reading the story of this cab driver? I think that the cab driver did a few things correctly which even many with a lot of privilege fail to do. Like if you see this cab driver, he has a habit of saving some part of his income even though he does not earn as we all do. He had life insurance and health insurance which is really commendable. I know he does not represent an average cab driver from that angle, but still.
Please share your thoughts